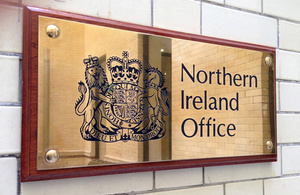 The Secretary of State, Rt Hon Julian Smith MP, has today announced the renewal of the appointment of David Seymour CB as the Independent Reviewer of the exercised powers under the Justice and Security (Northern Ireland) Act 2007.
Mr Seymour's appointment will be renewed for a further period of one year from 1 February 2020.
Notes
Background:
The role of the Independent Reviewer is set out within the Justice and Security (Northern Ireland) Act 2007.
In particular, the Independent Reviewer has a responsibility to review the operation of sections 21 to 32 of the Act and those who use or are affected by those sections; to review the procedures adopted by the military in Northern Ireland for receiving, investigating and responding to complaints; and to report annually to the Secretary of State.
The Reviewer will act in accordance with any request by the Secretary of State to include in a review specified matters over and above those outlined in Sections 21 to 32 of the Act.
Terms of appointment:
Length of Appointment: 12 months from 1 February 2020
Remuneration: £650 per day
Pension: The position is not pensionable
Time Requirements: 3 – 4 days per month
Political Activity
All appointments are made on merit and political activity plays no part in the selection process. However, in accordance with the original Nolan recommendations, there is a requirement for appointees' political activity in defined categories within the last five years to be made public. Mr Seymour has not been engaged in any political activity in the last five years.
Regulation
This appointment is not regulated by the Commissioner for Public Appointments.
/Public Release. View in full
here
.