The winners of the 2023 Australia Day Awards were announced at ceremonies across Greater Shepparton today.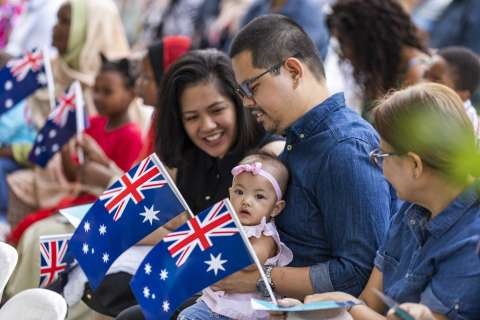 Michael D'Elia was announced as the overall Greater Shepparton Citizen of the Year, with Denni Bathman named Greater Shepparton Young Citizen of the Year. Kathleen Treacy was announced as the Greater Shepparton Senior Citizen of the Year and Elsie Boyer was the winner of the Greater Shepparton Australia Day Sports Award.
Greater Shepparton City Council Mayor, Councillor Shane Sali congratulated each of the award recipients and acknowledged the contributions they have made to our region.
"We are lucky to have so many residents who continue to make meaningful and important changes to Greater Shepparton. It is great to be able to acknowledge their achievements through the Australia Day Awards," Cr Sali said.
"A big congratulations to the four overall winners of the Greater Shepparton of the Year Awards. These residents have each made a huge impact to our region in their own unique ways.
"Thank you to everyone who took the time to submit a nomination to recognise their fellow citizens. It is great to see both individuals and groups having a positive impact on their community and it is important that we recognise them."
Awards were presented in Shepparton, Dookie, Mooroopna, Murchison, Tatura and the Greater Shepparton Citizen, Young Citizen, Senior Citizen, and Sports Award of the Year were chosen from these regional winners.
See below a list of all the award winners from the day, as well as individual profiles on each recipient.
Winners
Shepparton
Citizen of the Year – Michael D'Elia (overall winner of Greater Shepparton Citizen of the Year)
Michael has demonstrated a high standard of leadership with the Shepparton Search and Rescue Squad. He has been part of many deployments, involved with the Road Crash Rescue Helicopter crew and was heavily involved with the recent floods. Michael also provides relief and friendship to our young Veterans in the Greater Shepparton community.
Not only does he hold a lead position in the Shepparton Search and Rescue Squad, Michael has also been providing excellent community service for Shepparton and surrounding areas through being the administrator of the Veterans Fruit Bowl website.
Senior Citizen of the Year – Judith Longley
Judith Longley was nominated for her excellence in her field of music administration for both quality and longevity. She began as secretary to the Shepparton Performing Arts from the 1970's until it evolved into ANPA (Australian National Piano Awards) in 1992. Since then she has doubled as both Secretary to the ANPA Board and its associates. This involves hours upon hours of skilful voluntary work.
Judith has been instrumental in organising the biennial Piano Competition which attracts world class Australian musicians aged 21–35. The event puts Shepparton on the map of recognised music events. She also organises piano workshops for local talent (primary and secondary schools) with an artist-in-residence which progress into junior competitions. Her natural leadership inspires others to become associates to the award and others to donate funds or their time and even offer their homes to host the competitors. On an academic level, Judith has encouraged plenty of young people to continue with their music careers.
Young Citizen of the Year – Cassidy Ahmet
Cassidy has always been a generous, empathetic individual and these qualities continue to blossom as she does. Cassidy is studying to become a teacher and is currently working as an education support worker in a local school. Her perspective changed as she became aware of the circumstances some people face, and she became determined to promote equity and allow individuals to realise their potential and thrive. Her determination at work and at university has led her to become a much loved member of the community. Her commitment to professional development and growth is outstanding for such a young person.
Cassidy is generous, empowering, positive and empathetic. She thrives from the positive impact she makes to the community, which ultimately pushes her to strive for more meaningful change. Throughout her studies she has received high distinction, which is reflective of her commitment and determination to the teaching field. She believes that her most valuable achievements are watching her students learn and grow in a happy, safe learning environment, as well as seeing the smiles on people's faces that she comes across in the community.
Mooroopna
Citizen of the Year – Neville Musgrove
Neville is well known for his contribution to the community, charity and sports within Mooroopna. He has volunteered at the Mooroopna Football Club, Golf Club, Historical Society, Cricket Club and Rotary Club. Not only does he volunteer for these organisations, he also goes to residents houses to mow lawns when people are sick, clean up mess and takes items for recycling and assists those who are unable to get to appointments.
He was a solid contributor during the recent floods with sandbagging then cleaning up after the event. He also assisted a family who had a fire at their home. He set up a caravan in his own backyard until they got back on their feet. This is the type of person Neville is. He gets involved and brings others along for the journey. Nothing is ever a problem for Neville, if anything needs to get done, call Neville and he's there.
Senior Citizen of the Year – Kathleen Treacy (overall winner of Greater Shepparton Senior Citizen of the Year)
Kath is president of the Rodney Park Village Residents Committee and also volunteers at Mooroopna Place. Kath is firmly committed to ensuring the residents of Rodney Park and Mooroopna Place get first rate care at all times. She does this through organising events, providing one-on-one support through cooking of meals, doing welfare checks in the village and being a voice for the residents in a calm, considered and caring way. Kath will do anything to help anyone and spends a lot of time coordinating activities, helping with the dissemination of key information and speaking up for the Village and nursing home residents.
During the recent flood, Kath coordinated and arranged material and practical assistance for many people at Rodney Park who needed help with procuring medications and food items as they were unable to leave the village. At this time, she continued to ensure people were not socially isolated. Kath goes above and beyond every day to help the residents and staff of Mooroopna Place. No matter the task, Kath has a smile on her face and helps as many people as she can, including her husband who lives at Mooroopna Place. Prior to joining the Shepparton Villages community, Kath was a teacher at St. Mary's Primary School and a strong member of St. Mary's Church.
Dookie
Citizen of the Year – Suzie Hall
Suzie has been a strong community member for many years and has been an asset to all community groups that she has been involved with. These include the Dookie Agricultural Show (for six years including 2022), a member of Lifestyle Dookie and a member of Lifestyle Dookie Ball Sub-Committee. Strong committee members are the lifeblood of small towns and Suzie is at the top of this list.
Senior Citizen of the Year – Joy Sims
If you are ever in need of a good friend, Joy Sims is the one you can rely on to have a cuppa and a yarn. Being a member of Lifestyle Dookie and also on the committee for the Uniting Church in Dookie, Joy has always had a very strong sense of place in the community and assists anyone in need. She is often know to prepare a meal for people that are ill or in need – no questions asked.
During the COVID lockdowns, Joy was instrumental in producing a newsletter for locals to assist in maintaining community connection. Over the years, Joy has also volunteered when required and on many occasions had her cutting up all the onions for the Dookie Lions Club for their BBQ's. Nothing is too much trouble for Joy. Joy is an Elder for the Dookie Uniting Church, often leading the congregation as minister when required.
Murchison
Citizen of the Year – Gordon Newton
Gordon has been a great asset to Murchison district for the past 50 years. He and his wife have run properties in the district including sheep, cattle and cropping. He has certainly been a successful farmer. He has been a charter member of many local community organisations and has been a wonderful mentor to younger committee members sharing a wealth of knowledge and experiences.
Gordon has been a prominent member of the community involved in the formation of the Murchison Nursing Home, Wybalena Retirement Village, Community Centre and has held many positions in the Murchison Fire Brigade. Gordon was a member of the Murchison Lions Club (for the past 38 years) and was also an active member of the Murchison Cemetery Trust and the Uniting Church. He also served on the committee for the recent Boxing Night Carnival which was a very successful event.
Gordon has mentored many young men and women who joined the Fire Brigade, of which he has been involved for over 58 years, willingly offering assistance, explaining processes and methods within his fields of excellence. He has been the treasurer of the Murchison Lions Club for the past 15 years and has demonstrated a high level of expertise in honesty and organisation in bookkeeping. After the recent floods, he was instrumental in distributing Lions Club Funds to residents whose homes were affected.
Young Citizen of the Year – Denni Bathman (overall winner of Greater Shepparton Young Citizen of the Year)
From an early age, Denni demonstrated a real love for the local community. For example, when the Murchison Meteorite 30 year anniversary celebration came along, Denni stepped forward and helped in a wide range of tasks. Denni applies herself wholeheartedly to any enterprise she is involved in. While attending Murchison Primary School, she attended DP Jones Nursing home as she was interested in assisting residents. She also spent time at the heritage centre, capably fulfilling a variety of tasks.
Denni is very personable and works well with the community, is bright, positive and inclusive. In her part time work at the bakery, she is energetic, reliable, capable and a wonderful ambassador for Murchison. Denni exceeds at school and on the 16 May, 2022 was awarded the Young Volunteer of the Year Award. She was also fortunate in gaining work experience with a local politician in Parliament House in Melbourne. She is a keen member of the Murchison and District Historical Society and also is a member of the Greater Shepparton Young Champion Youth Committee.
Australia Day Sports Award – Aaron Niglia
Aaron isn't short on performing on the athletics stage. He was awarded Best and Fairest for the Under 18's Bendigo Association Soccer League (BASL) for the whole Central Victoria Soccer Competition with a 28 vote win (18 points in front the next person). He also received the Golden Boot for the league's highest score of 34 goals in a season of 13 matches, breaking the leagues record. Aaron led his Under 18's Tatura soccer team to season victory as Captain and from a striker position, converted 34 times from 13 games. He is a role model for his team always caring and encouraging his team mates. Whenever the opportunity would arise, Aaron would pass the ball to his team mates to give them the opportunity to score to boost their confidence. He is also not shy of assisting in the clubs canteen-serving food when required.
Aaron assists the 18's coach with soccer training whenever required and is a great communicator and acknowledged the efforts of the club's committee during his speeches at the BASL League and club's Presentation Night. His personal achievement was winning the 14 and Under Boys Single Championships in 2019 and was also awarded the Australia Day Murchison Sports Award in the same year. Aaron has been a member of Tatura Soccer Club since 2009 and is a member of the Dhurringile Tennis Club.
In 2021, Aaron and his dad Roc Niglia attempted to grow "mo's" for the Movember prostate cancer fundraiser. From this activation, Aaron made a donation of $50 to the cause. He also shaved his head in support of his mum for ovarian cancer and made his friends and club members aware of the disease. Aaron is now on his gap year and is pursuing a role in the Education Department for 2023. He is a very passionate young man with a love of sport, especially in the field of soccer.
Community Event of the Year – Lizzie's Legacy
Liz Ewart was a long term member of the Murchison and District Historical Society who has now sadly, passed away. She was dearly loved by all who knew her. Lizzie's variety of artistic creations was wide, covering pottery, painting, clothing and decorative ornaments. Lizzie's Legacy was a community event officially opened on 7 May 2022. Initially planned to run for two weeks, but owing to popular demand, the exhibition was continued for another three weeks until 13 June 2022. The show exceeded expectations with over 500 visitors (twice as many as anticipated) who continued to express their pleasure in viewing the pieces of charming, colourful and lively pottery. Lizzie's artistic creations were described as 'moving' and 'joyful', with the exhibition providing community members an opportunity to express appreciation for Lizzie's talent.
The Historical Society's junior member, 16-year-old Denni Bathman, created a slide show of Lizzie's artwork that displayed pictures of items that were too large to move or too delicate to transport and include in the exhibition. This was played in the meeting room where refreshments were served. The event was a lovely tribute to Lizzie and a lasting memory for the Murchison Historical Society.
Tatura
Citizen of the Year – John Lowe
John is very deserving of this award. He has tirelessly contributed to the local community over many years and has gone above and beyond to put others first. He is a very quiet achiever, constantly involved in the Tatura community, willing to assist where needed and happy to help and guide others. His contributions span over many years in many different ways. He is always there to listen and is gentle and considerate to all. John has been involved in the Tatura Apex Club for 11 years, Moyola Aged Care committee for over 40 years including six as President, Tatura Milk Industries including a Director representing his fellow Dairy farmers for 17 years, and he is currently a big support of the Tatura Football and Netball Club. John is also an active member in the Shepparton Probus club.
John has volunteered many hours to different fundraising activities where the funds go back into bettering the local community. He is a role model for future generations and is a highly respected and valued member of the Tatura community. John has been involved in the local community for his entire life, born in Merrigum, educated in Shepparton and raised his family on the Tatura family dairy farm. Today, you can often see John sitting on the sidelines and cheering on his grandchildren as they play sport for the local community.
Senior Citizen of the Year – Thelma Wood
Thelma has been a strong member of the community in both Byrneside and Tatura as the Sporting Field Coach and as a charity worker for the Byrneside Community Cancer Fundraising Committee. Thelma has strong leadership skills and this quality, along with her ability to put pen to paper, whether it be to write an update on the history of the Byrneside Hall and District, writing poems or writing applications for grants, has been a great benefit to all the organisations that she has been a part of.
Thelma was Secretary of the Byrnside Hall from 2005-2013 and has been a large supporter of the Byrneside Tennis Club, Byrneside Primary School, Byrneside Hall Committee, Rodney CWA, Byrneside Community Cancer Fundraising Committee since 2015, Anglican Church and Tatura Rotary Club. Thelma has a strong sense of community responsibility, is friendly, generous and supportive.
Australia Day Sports Award – Elsie Boyer (overall winner of Greater Shepparton Australia Day Sports Award)
Elsie excels as a young sportswoman, but particularly at her preferred sport of netball. She has played her entire career at Tatura. She commenced her pathway at the Tatura Netball Association (TNA) and currently plays with the Tatura Football Netball Club (TFNC) in the Goulburn Valley League, the premier regional Victoria Netball Competition. Elsie started playing netball at the age of five and is now only 18. She has been a multiple squad representative at all levels for netball, including the Shepparton Netball Association (SNA), Netball Victoria Talent Academy, Association and State Championships, GV Interleague level and Victorian Netball League. Elise also umpires and coaches and holds her C grade badge which allows her to umpire the foundation and coaching accreditations.
Elsie has been instrumental to the TFNC. She manages the club's social media platforms and is a vital contributor to the club's link to the broader community. She has also been the driver responsible for the ongoing update and ecommerce platform for the club's merchandise and uniforms. She is a distinguished and decorated Tatura junior netballer of recent times, if not of all time. Consequently, she is a role model for netball success for Tatura junior netballers. Likewise, she is also a prime example of the pathway for high achievement at the elite level of netball. She not only inspired those junior netballers of lower age, but constantly provides the same to her teammates through her natural leadership abilities. In addition to the TNA and the TFNC, Elsie has been a member of the Tatura Lawn Tennis Club (TLTC), squad basketball representative and state athletics representative.
/Public Release. This material from the originating organization/author(s) may be of a point-in-time nature, edited for clarity, style and length. The views and opinions expressed are those of the author(s).View in full
here
.