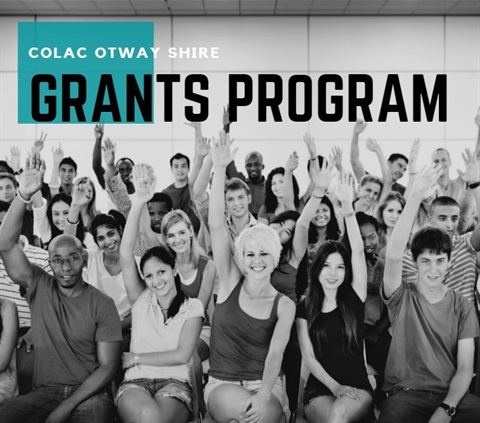 Sixty-five community groups, event organisers and businesses from across Colac Otway Shire are set to share in more than $240,000 in Council grants.
A variety of facility improvements, sustainability initiatives, events and façade improvements are among the items which have been approved for funding by Council at the June meeting.
Mayor Cr Kate Hanson said Council were very proud to endorse the Colac Otway Shire Grants Program and support such a wide range of community groups, clubs, events and businesses.
"It's really heartening to see our community start to look to recovery and renewal as we ease our way from the difficulties faced in 2020.
"We had a great response to the Grants Program this round with requests for funding for a diverse range of community initiatives.
"There's some really interesting projects taking place in Colac Otway, like the History Trail and Diprotodon Dig elements at Cororooke Open Space which will be great to see come to life.
"Then there's facility upgrades that will have flow-on positive benefits for our smaller communities, such as a cubby house at the Birregurra Preschool Centre and a refurb of the tennis clubrooms at Gerangamete.
"Importantly, Council's Grants Program is providing support to businesses to implement sustainability initiatives into their operations. We're confident interest in this category will continue to build as more businesses see the benefits and opportunities Council can help facilitate.
"We've had the Building Façade Improvement Program included in the grants funding for a few years now, it's wonderful to see 11 businesses will receive a revamp to help improve shopfronts in Cororooke, Colac and Apollo Bay.
"Events in the shire which will receive funding include a range of artistic, sporting and community celebrations; we hope the financial support will help events get back on their feet and attract visitors to the region, along with providing entertainment and opportunities for our local communities to come together.
"Council grant funding creates leverage for further investment in the region with the requirement for groups and businesses to make a contribution and we strongly encourage applicants to make use or shire-based trades and suppliers where possible."
"The annual grants program creates significant partnerships between Council and the community and we'd like to thank everyone who made a submission."
#MORE#
Successful Colac Otway Shire Grant Program 2021 – 22 applications include:
Category 1 – Community Grants
Item No.

Applicant

Project Name

Grant Recommended $

1

Forrest Horse Riding Club

Viewing shelter shed revitalisation

$3,000

2

Birregurra Community Group

Storage Facility

$10,000

3

Tomahawk Creek Cricket Club

Addition of second cricket practice net

$4,000

4

Warncoort Tennis Club

Divert water/mud away from

Tennis Courts

$8,000

5

Cressy & District History Group

Public Arts Project on Cressy Water Tower 'CRESSY, OUR STORY'

$10,000

6

The Gerangamete Community

Auspiced by Forrest Lions Club

Refurbishment of Tennis Clubroom on the Gerangamete Recreation Reserve

$5,225

7

Birregurra Preschool Centre

Birregurra Preschool's Cubby House and Storage Improvement

Project

$10,000

8

Rotary Club of Colac West

Rotary Show Shed Upgrade

$5,455

9

Colac & District Historical Society Inc

Storage facility for preservation of Heritage Collection

$3,934

10

Red Rock District Progress Association

Cororooke Open Space: Welcome Gateway signs, History Trail and Diprotodon Dig elements added to

the park

$7,088

11

Southern Otway Landcare Network (SOLN)

SOLN Community Nursery Support Centre

$10,000

12

Warrion Recreation Reserve

Committee of Management

Reserve Seating Replacement

$4,615

13

Simpson Car Club Inc

Safety Suits

$4,262

14

Kawarren Recreation Reserve Committee Inc

Reserve External Toilet/Shower Facility Refurbishment

$10,000

15

Positive Ageing Ambassadors

Auspiced by Community Hub Inc

Wiser Drivers and Safer Scooters

$4,500

16

Beeac Golf Club Inc

Water sustainability project (water tanks)

$3,000

17

Pirron Yallock Committee of

Management

Supply and install CCTV with 4

Cameras and Security Lighting

$2,779

18

Alvie Football Netball Club Inc

Sparkly Clean Glasses

$2,075

19

Warrowie Recreation Reserve

Masterplan

$5,445
Category 2 – Community Events and Support (including *2A Major Community
Organised Event)
Item No.

Applicant

Event Name

Grant Recommended $

1

Rapid Ascent Pty Ltd

Otway Odyssey and Great Otway

Gravel Grind 2022

$5,000

2

Rotary Club of Colac

The 2022 Otway Trail Run

$2,000

3

Birregurra Festival Committee Auspiced by Birregurra Community Group

Birregurra (Covid Safe Adapted) Festival

$5,000

4

Warrion Public Hall Committee

110th Warrion Flower Show

$3,636

5

Colac Show N Shine Committee Auspiced by Colac RSL Sub- branch

Colac RSL Show N Shine

$5,000

6

Colac Kana Festival Inc

Colac Kana Festival

$5,000

7

Southern Exposure

Run Forrest Trail Run 2022

$5,000

8

Elliminyt Primary School

School Production

$770

9

Otways Tourist Park

Gellibrand River Blues and Blueberry Festival

$5,000

10

Anam Cara House Colac

10 year Anniversary Celebration

Book Launch

$1,850

11

IMG Pty Ltd

2022 Keiser Great Ocean Road Running Festival

$5,000

12

Let's Talk Colac Otway

Wellbeing Expo

$2,000

13

Creative Otways Inc Colac Otway Arts Trail

Colac Otway Arts Trail

$5,000

14

Apollo Bay WordFest

Apollo Bay WordFest: Making

Waves

$5,000

15

Otways & Coast Permaculture Group

Otways & Coast Permaculture Workshop Program

$900

16

Golden Gumboot (Community) Working Group

Auspiced by Old Beechy Rail Trail Friends Inc.

Hunt for the Golden Gumboot 2021

$4,730

17

Colac Chamber of Commerce

Colac Otway Business Excellence

Awards

$3,292

18

Gellibrand Community House Incorporated

Winter Dinner

$3,000

19

Colac RSL sub branch

100 year anniversary of Colac RSL

sub branch

$2,000

20

Apollo Bay Seafood Festival

Auspiced by Apollo Bay Chamber of Commerce

Apollo Bay Seafood Festival 2022

$10,000*

(Major event)
Category 3 – Small Grants
Item No.

Applicant

Project Name

Grant Recommended $

1

Colac Camera Club

Upgrade digital projector system

$1,108

2

Beeac Progress Association

Concrete slabs for new picnic tables

$725

3

Apollo Bay Mechanics Hall

Exterior Front repairs

$1,800

4

Irrewillipe Sports and Entertainment Complex

Defibrillator

$1,270

5

Red Rock Regional Theatre and

Gallery (RRRTAG)

Purchase of Vacuum Cleaner &

Coffee Machine

$2,000

6

Colac Pony Club Inc

Replacement of Shade Sails

$1,303

7

Colac Cake Decorators

Teaching expertise

$300

8

Birregurra Landcare Auspiced by Upper Barwon Landcare Network

Riverbank Rehabilitation Project

$1,250

9

Elliminyt Public Hall Inc

Install floor covering on Hall stage

and steps

$1,325

10

Birregurra Golf Club

Greens Equipment

$251

11

Beeac Community Centre Inc

Let's get Buffed (Vinyl floor cleaning)

$750
Category 4 – Building Façade Improvement Program
Item No.

Applicant

Project Name

Grant Recommended $

1

Cororooke General Store

Façade Clean Up

$2,888

2

Apollo Bay Fishermen's Co- operative

Apollo Bay Fishermen's Co-op on Pascoe

$3,000

3

Otway Plaza Body Corporate

Otway Plaza Shop Front

Beautification

$3,000
4

The Shop, Cororooke

Auspiced by Red Rock Regional Theatre and Gallery

Improve The Shop Facade

$3,000

5

Ziibo

Building Facade Improvement

$667

6

The Flower Room

Upgrade Facade

$700

7

Colac Otway Disability Accommodation Inc

Minor works at The LEAP Shop

$3,000

8

Captain George's Seafood

Business Signage

$3,000

9

Toshco Music

Beautifying Facade by updating business signage

$1,672

10

Colac's Murray Street Market

New signage and clean-up of

awning

$2,898

11

Cow Lick Books

Cow Lick Bookshop Facade Upgrade

$1,793
Category 5 – Small Business Environmental Sustainability Program
Item No.

Applicant

Project Name

Grant Recommended $

1

Brae Restaurant Pty Ltd

Purchase of a Closed Loop

Organics Composting System

$5,000

2

Great Ocean Road Brewhouse

Going Green (Water Tanks)

$3,992

3

Jo's Pantry

Dishwasher to provide sustainable usage of water

$1,969

4

Sound Audiology Pty Ltd

Clinic Revamp – insulation

$2,000
/Public Release. This material comes from the originating organization and may be of a point-in-time nature, edited for clarity, style and length. View in full
here
.