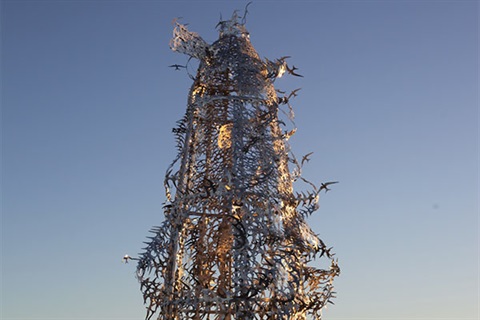 Byron Shire Council has resolved to decommission the controversial sculpture, The Lighthouse, on the roundabout at the intersection of Bayshore Drive and Ewingsdale Road.
It came after a staff report on the next steps for the sculpture which recommended decommissioning the artwork.
The report detailed several recent incidents where people have been climbing the sculpture and hanging banners and stuffed toys from it. People have also been having their photos taken on the busy roundabout, and as well using it to protest about local issues.
Councillor Sarah Ndiaye, and Chair of the Public Art Panel, said the sculpture was not designed to be climbed and, because of the height and location of the artwork, there were concerns about the potential for serious personal injury as well as the risk of compromising the structural integrity of the installation.
"There are no signs that people will stop climbing, or hanging things off The Lighthouse sculpture, no matter how many times we ask them not to, and this is a primary reason for Councillors deciding to decommission the piece," Cr Ndiaye said.
"I am acutely aware some people will be very happy about this decision.
"Many disliked it strongly but some were growing accustomed and more accepting of it and others liked it and will be sad to see it go," Cr Ndiaye said.
It's estimated the cost to decommission the structure is between $11,000-$13,000.
The sculpture will be taken down as soon as possible and any undamaged birds will be sold for $20 each from Council's Resource Recovery Centre at Myocum.
The money raised from the sale of the birds will go towards the cost of the decommissioning. Any remaining funds will be used to develop a Byron Shire Cultural Policy as well as projects to reduce homelessness in the Byron Shire.
/Public Release. View in full
here
.