When MM Kembla was founded in 1916, Australia was just embarking on its path to become a manufacturing powerhouse.
There was growing recognition that a country rich in resources was far too reliant on imported materials, and that companies like MM Kembla could play a central role in both serving and protecting Australia's national interests.
It's an ethos that is just as relevant in COVID hit 2020 and one where cheap imported steel and copper from China are threatening Australia's proud manufacturing industries.
Today, MM Kembla is Australia's last remaining copper manufacturer and is determined to see off the overseas threat by continuing to produce a far superior product.
MM Kembla site
AWU delegate and Gold Member, Sash Stojanoski, who has been with MM Kembla for 25 years, said: "What we manufacture here is the highest quality and our customers know that. China might be trying to flood the market with a cheaper product, but it's inferior, there's no quality control and it just doesn't last. There's a reason we have been around more than 100 years, and that's because our workmanship is second to none."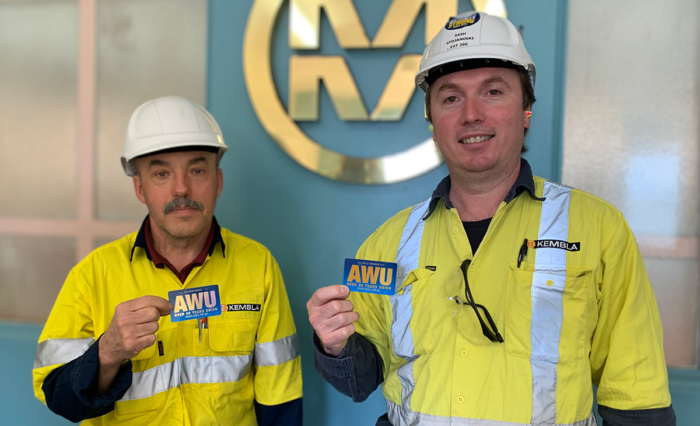 AWU Gold Member, Sash Stojanoski and AWU Platinum Member, Joe Borges
MM Kembla used to employ more than 3000 people at its peak, ranging from fitters, to engineers, to machine operators and even plumbers and carpenters. The once sprawling site had its own petrol bowser, tennis courts and was so central to the area that the next door beach was named after it.
At its peak capacity in the 1990s, it produced 160,000 tonnes each year – making a whole range of copper tube, rod and wire products.
Copper produced at MM Kembla
Today that number has dropped down to around 9,000-10,000 tonnes per year of copper tube only, and staffing levels have dropped to the 100 mark with many of its buildings now sold off.
AWU platinum member Joe Borges has fond memories of MM in its heyday. He started with the company more than 40 years ago and has survived many rounds of redundancies.
Mr Borges, 60, said: "When I joined, MM was seen as a place where you could work all your life and you'd get a decent man's wage. It's been a very stable place to work and I am proud of what I produce.
"It wasn't nice at all to see so many workmates lose their jobs over the years but I am hoping I will make it another seven years, and then will retire."
The AWU has long campaigned for laws to stop illegal dumping of goods that are designed to destroy Australia's manufacturing base and make us more reliant on foreign imports, particularly from China. The AWU campaigned for the successful creation of the Anti-Dumping Commission in 2013 and continually advocates for stronger trade laws.
AWU NSW and National Secretary, Daniel Walton said that it is vital that Australian industries were not sacrificed to dumped products which deliberately undercut and aim to bankrupt Australian producers.
"Dumping is trade cheating – and it's not something we will stand for at the AWU. Australian industry and Australian workers only expect a level playing field. AWU Members at MM Kembla know they can compete with anyone in the world, because they make the best products in the world. We should let them." Walton said.
It's a view shared by every AWU member at MM Kembla.
Mr Stojanoski added: "It's hard to compete when you are faced with cheap copper being dumped here, but we have never given up. We have worked really hard to continuously improve so that we remain as competitive as possible and we are still here. If we get the right support there is no reason why we should not be here in another 100 years.
"COVID-19 is showing that we need to rebuild our manufacturing industry and use Australian made products in our major projects.
"Our products last, they are made by highly skilled workers like Joe who have decades of experience. We also don't cut corners and we also have strict health and safety measures in place to protect out workers. You can't say that about a product in China."
Earlier this year the AWU revealed that if 90% of the steel, aluminium, glass, cement and other heavy manufacturing items used on major government projects was Australian, it would pump $3.5 billion into the economy and create 53,000 new jobs, while helping support 500,000 existing jobs.
Assistant National Secretary, Misha Zelinsky said he was proud of MM Kembla's economic history and contribution to the region.
"Anyone from Wollongong knows the brand MM Kembla and knows its products are world leading. As a Wollongong local, it's vital that we give people a chance to earn a good wage secure a good career right here in the Illawarra. MM Kembla has given generations of locals a chance to build a life – and we need to see that for generations more.
You can join the fight to protect sites like MM Kembla by joining your union today.
/Public Release. The material in this public release comes from the originating organization and may be of a point-in-time nature, edited for clarity, style and length. View in full
here
.