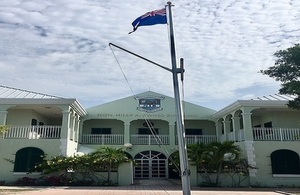 All ministers were present with the exception of the Hon. Minister for Home Affairs, the Hon. Minister for Border Control and the Hon. Minister for Tourism.
At this meeting Cabinet:
approved an application for Crown Land parcel 60804/134 to be advertised as a tender for which there is a proposal for the development of a hotel
approved an application for a long-term lease (49 years) over Crown Land parcel 60000/618 for the development of an eco-friendly resort
approved the establishment of a National Quality Infrastructure Steering Committee, subject to financial provision
approved a Business Licence application for Moore's Fisheries to operate in a restricted business activity under the Business Licencing (Amendment) (No3) Regulation 2014
approved a request for a development agreement for development concessions for Sandy Point Resort and Marina (SPH Ltd.)
approved a request for specific duty concessions from Somerset Development Ltd. for the importation of materials under the Refurbishment Policy
noted a paper on the former TCInvest loan portfolio and the TOLCO loan portfolio managed by TCIG
noted a paper on progress by the National Disaster Recovery Task Force
his Excellency the Governor reported on his intention to establish the Boundaries Commission
were updated by the Hon Premier as regards the NHIB
the Hon Premier informed Cabinet of her prospective visits to Cayman and St Lucia
his Excellency the Governor informed Cabinet that Alex Mills, his Financial Advisor, would be leaving TCI shortly following the conclusion of his contracted term, and expressed thanks for Mr Mills's work over the past two years
Further information on these matters will be provided by Ministers in due course.
/Public Release. View in full
here
.