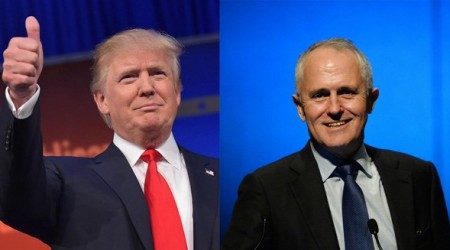 As European leaders voiced concern over Donald Trump's executive order that temporarily bans the citizens of seven Muslim-majority nations from entering the US and indefinitely bans all Syrian refugees, senior Australian government ministers have come out in support of the US policy, with treasurer Scott Morrison saying the nation's border protection policies are "the envy of the world".
Speaking to Ray Hadley on 2GB about Trump's policy, Scott Morrison, a former immigration minister, said it is up to the United States to determine its border control arrangements, and noting the rest of the world is now "catching up" with Australia's harsh deterrence policies.
"They have had an election and the President is implementing what he said he would do," Mr Morrison told 2GB Radio in Sydney.
"I remember when we came in in 2013 and I was implementing our border protection policy people threw their hands up – and I said I'm doing what I said I would do in the way I said I'd do it – and guess what, I'm now getting the results I said I'd get," Morrison told Hadley during their weekly Monday morning chat.
"And we did that as a government, and we've continued that as a government, and we are the envy of the world when it comes to strong border protection policies.
"The rest of the world would love to have our borders and the way they are secured and the immigration arrangements we have put in place, particularly most recently over the last three or four years.
"We have got a good history around this and really the rest of the world is catching up to Australia now."
The foreign minister, Julie Bishop, has reportedly stated Australia would support Donald Trump's "strong immigration and border protection policies".
"The Australian government is working very closely with the administration and the US officials and we want to ensure that Australians continue to have access to the United States, as they have in the past, and people from the United States have access to Australia," Bishop is reported to have said in Los Angeles.
Australia's prime minister  told reporters he wouldn't critique every one of the US president's policy decisions, adding that his and Donald Trump's commitment to secure borders as the fallout from the President Trump's latest executive order continues.
"If others wish to emulate what we're doing, they're welcome to do so," Turnbull said when asked about the United States' immigration ban.
"It is not my job, as prime minister of Australia, to run a commentary on the domestic policies of other countries."
Any Australian citizens affected by the seven-country ban on entering the US would have their situations discussed on a case-by-case basis, the prime minister noted.
"We have a very close relationship with the United States and when we want to engage in discussions of this kind, we do so privately and frankly."
Australia's Department of Foreign Affairs has updated its travel advice for the US to include President Donald Trump's executive order to halt visas for nationals from seven countries, but the impact on dual citizens remains unclear.
The Smartraveller website was updated on January 30 to include the changes to entry requirements from January 27, 2017.
"The US State Department has advised visa issuance to nationals of Iraq, Iran, Libya, Somalia, Sudan, Syria and Yemen has been temporarily suspended following the signing of the Executive Order on Protecting the Nation from Terrorist Attacks by Foreign Nationals on 27 January 2017," it read.