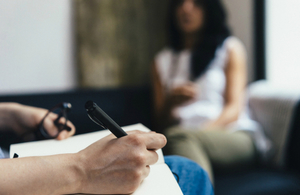 Six groups supporting victims and survivors of sexual abuse have received £750,000 from the Home Office to set up support lines, counselling services and specialist tailored support.
The funding, awarded through the Support for Victims and Survivors of Child Sexual Abuse (SVSCSA) and the National Sexual Violence Support Fund (NSVSF) will be invested in UK-wide projects to support victims and survivors as they rebuild their lives.
Projects being funded through the SVSCSA are:
National Association for People Abused in Childhood (NAPAC) to fund a support line for adults who suffered abuse in childhood

NSPCC's Letting the Future in programme to support children with learning difficulties who have been sexually abused

Safeline's specialised telephone and online counselling service for adult survivors of sexual abuse
Projects to receive funding through the NSVSF are:
Rape Crisis England and Wales's services, including specialist website, to support victims and survivors of rape and sexual violence

The Survivors Trust's services to work directly with survivors of sexual violence

Survivors Manchester's Male Survivor Partnership, to increase awareness of and support to male victims and survivors of sexual violence
Minister for Crime, Safeguarding and Vulnerability Victoria Atkins said:
Sexual violence and sexual abuse are horrific crimes, which shatter the lives of victims.
The work of these organisations in supporting survivors is important and will provide people a lifeline and hope when they need it.
This funding will make a real difference in ensuring that any victim of sexual violence or abuse – adult or child, man or woman – receives the support they need as they rebuild their life.
National Association for People Abused in Childhood chief executive Gabrielle Shaw said:
Over the past year, NAPAC has doubled the capacity of its support line, helping more survivors than ever before. This funding will help us to support around twelve thousand survivors who call our support line in the coming year.
We also plan to double the number of survivors accessing in-depth support through our support group programme, which uses innovative and proven approaches to trauma recovery, based on the latest research.
NSPCC head of development and impact Jon Brown said:
We are delighted to be awarded this funding from the Home Office which will enable the NSPCC to further develop and assess the impact of our therapeutic work specifically tailored to meet the needs of children and young people with learning difficulties who have been sexually abused.
Safeline chief executive Neil Henderson said:
Many survivors of childhood sexual abuse find it very hard to speak face to face about their experiences and so the telephone online counselling service is a very effective alternative.
Safeline is one of the few specialist support agencies in the UK who have this capability and can offer this type of support and we feel very proud that the Home Office have recognized the value of this service.
Survivors Manchester chief executive & co-founder of Male Survivors Partnership Duncan Craig said:
We are delighted that the Home Office is committed to investing in the Male Survivors Partnership through the NSVS Fund, which will allow us to build on the foundations we have already laid in supporting organisations to deliver quality assured services to boys and men affected by sexual violence.
This grant, which follows the historic position statement on male victims affected by crimes recognised in the VAWG strategy, will develop our workforce; increase our offer to support organisations, and help us build a wider evidence base to identify the changing and specific needs of male victims and survivors.
Rape Crisis England & Wales chief executive Dr C Quinn said:
This grant will help Rape Crisis England & Wales to continue improving the lives of victims and survivors of child sexual abuse, rape and all forms of sexual violence, and representing and promoting their needs and rights. It will contribute to both our direct support work with victims and survivors, and to the support and resources we provide our member Rape Crisis Centres and their specialist services.
Survivor's Trust chief executive Fay Maxted OBE said:
Rape and sexual abuse can devastate lives and leave a lifelong impact on all aspects of someone's life. This funding will allow the Survivors Trust to continue to provide strategic support and representation for the specialist voluntary sector services that fulfil such a crucial role in helping victims and survivors to recover and seek justice.
Demand for support is at an all time high, and our role is even more important in ensuring that the voices of survivors and specialist voluntary sector services are included in policy and service delivery plans.
The SVSCSA funding is part of a wider package of funding to support victims of child sexual abuse. In each of the last three years the government has provided £7 million in funding for charities supporting victims and survivors, including £1.7 million for rape support centres and £4.7 million for police and crime commissioners to support organisations working locally with victims and survivors.
In addition, the Home Office has provided funding for the establishment of 'The Lighthouse' a pioneering service for victims of child sexual abuse offering medical, investigative and emotional support all under one roof. It is the first facility of its kind in the UK
The NSVSF funding has been provided through open competition since 2018. Before this, the Home Office provided core funding to organisations to support victims of rape and sexual violence from 2011.
Alongside supporting victims and survivors of sexual violence and child sexual abuse, the government has committed to tackling these crimes head on.
The Home Secretary has made tackling child sexual exploitation and abuse his personal mission. Last month he announced the government would be publishing a Child Sexual Abuse strategy to drive improvements in tackling offenders and supporting victims, both online and offline.
In April this year, the government launched its Online Harms White Paper which sets out ways to keep children safe online, including imposing a statutory duty of care on tech companies, enforced by an independent regulator.
In addition, the government is committed to supporting victims and survivors of sexual violence. Earlier this year, the Home Office published a refreshed Violence Against Women and Girls (VAWG) strategy which sets out additional measures to tackling this issue including an end-to-end review into how rape and sexual violence cases are handled in the criminal justice system and commissioning research into the connection between pornography and violence against women.
/Public Release. View in full
here
.