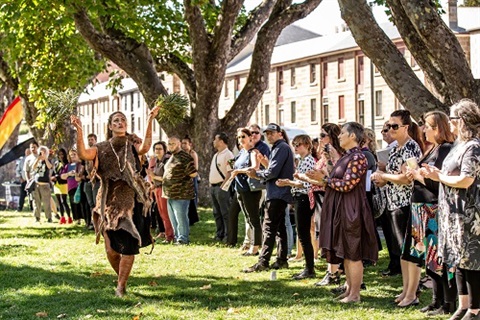 Tasmanian Aboriginal culture has been embraced at the launch of a plan that details the City of Hobart's commitment to supporting the city's Aboriginal people and their heritage.
The City's Aboriginal Commitment and Action Plan 2020-22 (ACAP) was officially launched today by the Lord Mayor Anna Reynolds and community leaders.
The ACAP includes significant actions for the City to deliver over the next two years with the aim of building relationships, raising the profile of Aboriginal people, heritage and culture across the city and building a culturally safe workplace.
"This important document is about acknowledging the truth of our history and developing ways to work collaboratively with Aboriginal people into the future," Cr Reynolds said.
"On a practical level, it supports City employees to improve their understanding and processes in this area and sets achievable objectives for our organisation."
In 2019, the City of Hobart began updating its previous Aboriginal Strategy 2002 with a new framework and action plan, designed to drive the City's work in Aboriginal Programs, both internally and in communities in which it operates.
The year-long project was guided by Aboriginal people, City of Hobart employees and the broader Hobart community.
Community Development Officer Jessica Quin has been closely involved in the project. "The process has been very genuine and real," she said. "There were many face-to-face conversations, including difficult conversations. The level of engagement was actually quite overwhelming."
An employee since early 2019, Ms Quin is one of a small number of Aboriginal employees at the City. The ACAP includes actions to support a greater number of Aboriginal employees working for the organisation in the future.
Stepping Forward (2019) by Alan Mansell
Created by Tasmanian Aboriginal artist Allan Mansell, Stepping Forward will feature at the launch and is also on the cover of the ACAP document.
A collograph print, the image shows black and white footsteps travelling on different sides of a timeline, on their own journeys but coming together at the campfire – a place of truth-telling – sharing and welcoming. Meanwhile, the black and white Yula (mutton bird) fly overhead, representing freedom and courage. The enclosing gum leaves are a reference to the life force embodied in trees.
"My images tell stories about contemporary Tasmanian Aboriginal culture, as in the past our art, dance and language was stolen and discarded," Mr Mansell said.
"I have been influenced by the journeys of my nomadic family traversing throughout Tasmania and my work in the Tasmanian bush. My art work is unique to Tasmania and is not influenced by mainland Aboriginal art."
The launch of the ACAP was followed by a hands-on cultural printmaking session with Mr Mansell.
/Public Release. View in full
here
.