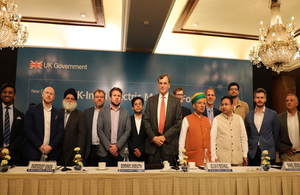 This follows a similar visit by a delegation of Indian government officials to the UK last month.
Representatives from the UK government, together with a mix of private sector organisations, are on a week-long visit to Mumbai, Pune and Hyderabad, culminating with a workshop on 19 July in New Delhi focused on state- and city-led initiatives to scale up electric mobility markets in India. The visit is part of a scoping project exploring future partnerships with India on electric mobility. Delegates will discuss how to bolster charging infrastructure development, grid management, renewable energy integration, grid impact assessment, fleet transition programmes, pilots, vehicle to grid systems and city level planning.
Increasing the uptake of electric vehicles will require a transformational change to the transport and mobility sectors. The UK and India are helping to drive that transformation through continued knowledge exchange and joint development of innovative solutions for sustainable and zero emission mobility.
The British High Commissioner to India, Sir Dominic Asquith, said:
Pioneering work on e-mobility is taking place in both India and the UK. Whilst local needs may vary, the challenges we face are similar. Innovative technologies, practices and ideas bridge the gap and bring us closer.

India is already demonstrating global leadership on electric mobility – the UK is the right partner for that work, together helping to drive progress through innovation. Another example of the UK and India working as a force for good.
The UK is taking significant strides towards making electric mobility an integral part of its domestic transportation policy. The 2018 Road to Zero Strategy to reduce emissions from road transport is one of the most comprehensive plans globally – mapping out how the UK will make all new cars and vans zero-emission by 2040.
Last year, one in five electric cars sold in Europe was made in the UK and it was the second largest market for Ultra Low Emission Vehicles (ULEVs) in the EU. The Faraday Institute is investing £246 million is working with premier UK universities and battery and electric vehicle manufacturers in the UK to address challenges around battery manufacturing.
India is working towards a 'shared, connected and electric' mobility system and is exploring innovative ways to increase the share of low carbon vehicles across the country. It recently announced a set of incentives in the Union budget, including tax incentives, to accelerate the adoption of electric vehicles. The two countries are already working together across a number of areas related to the development of clean energy.
/Public Release. View in full
here
.