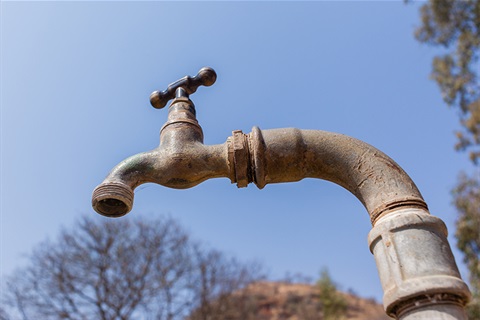 Queanbeyan-Palerang Regional Council has today announced that Level 3 water restrictions will come into force in Braidwood from Friday 13 December 2019.
Level 3 sets a 35% reduction target based on the long-term average usage for this time of the year. For the town of Braidwood, this means a total average daily usage target of 360kl.
The Level 3 restriction means sprinklers cannot be used and lawns cannot be watered. Gardens can only be watered by using a watering can or hand-held trigger nozzle. Watering can only be done between 7am and 10am and between 7pm and 10pm on alternate days under the odds and evens system. The system refers to houses with an odd number street address being able to water on odd numbered dates (1, 3, 5 etc) and even numbered houses being able to water on even numbered dates (2, 4, 6 etc).
Level 3 also means no emptying, filling or topping up of public or private swimming pools without written exemptions; no cleaning of paved areas, buildings or windows unless required due to an accident, fire or health hazard; no filling of water tanks with other than non-potable water; no washing of any vehicle except at commercial car washes that recycle water or hold an exemption; and other restrictions on use of water in construction.
Queanbeyan-Palerang Regional Council Mayor, Cr Tim Overall said that the need to raise the level of restriction is a result of no rain, a rapidly declining primary source of water and high levels of water usage while the community has faced the threat of recent bushfires.
"The fires surrounding Braidwood over the past two weeks has been the major focus of many Braidwood residents.
"But as the fires begin to subside, we must now face the reality that water usage has understandably, and very reasonably, been higher than we would have liked.
"That, combined with the Shoalhaven River rapidly declining, means that greater effort now needs to be made to conserve what water we have left," the Mayor said.
Braidwood's water is pumped from the Shoalhaven River to an off-river storage dam before going through a treatment process and into the town water system. The dam has a 72ML capacity and is currently just under 85% full. Braidwood is currently using water quicker than Council can pump it from the river. When the river source is exhausted, the off-river dam will be the only remaining water.
"We are often asked when will Braidwood run out of water. An exact date is difficult to predict and is influenced by a range of factors including daily usage, Council's ability to extract water from the river and rainfall. Slight changes in any of those factors can have a big impact on predictions, which is why we are calling on all residents to increase their conservation efforts to prolong the water supply.
"If water consumption stays as it currently is and there is no decent rain soon, water will likely run out in the first few months of next year," said Mayor Overall.
Council is working with Government on options to prolong Braidwood's water supply. This includes exemptions and changes to licensing arrangements to allow pumping of water from other sources as well as scaling back on Council's own activities such as road works. Council has already announced a temporary suspension of maintenance grading of unsealed rural roads because of the lack of water.
Council is also looking into options if a worst case scenario eventuates and water sources are exhausted. Like other towns that are already on severe water restrictions around the country, this would see water needing to be trucked into Braidwood.
"Council does not take the decision to raise the level of restrictions lightly, because we know the impact it can have on business, and the impact a dry and dusty town can have on everyday life," Mayor Overall said.
Bungendore, whose water supply is drawn from underground bores, currently remains on Level 1 restrictions and is being closely monitored.
Water for Queanbeyan and surrounds comes from Icon Water in the ACT who increased the size of their storage capacity in recent years through the expansion of Cotter Dam. Icon recently launched a 'Care for Water' campaign asking residents to reduce their usage in attempts to stave off any future restrictions which Queanbeyan and surrounds would be required to comply with.
"While Icon Water have not yet declared Canberra and Queanbeyan to be on water restrictions, the community does not need to wait until formal declarations are made to increase their water conservation efforts," the Mayor said.
Council will be looking to increase community education and awareness within the local community and visitors over the Christmas/New Year period.
The requirements of water restrictions can be found at: www.qprc.nsw.gov.au/water-restrictions along with tips for water conservation.
Businesses and other users may apply for exemptions from the restrictions. These exemptions will be considered by staff on a case-by-case basis.
/Public Release. The material in this public release comes from the originating organization and may be of a point-in-time nature, edited for clarity, style and length. View in full
here
.