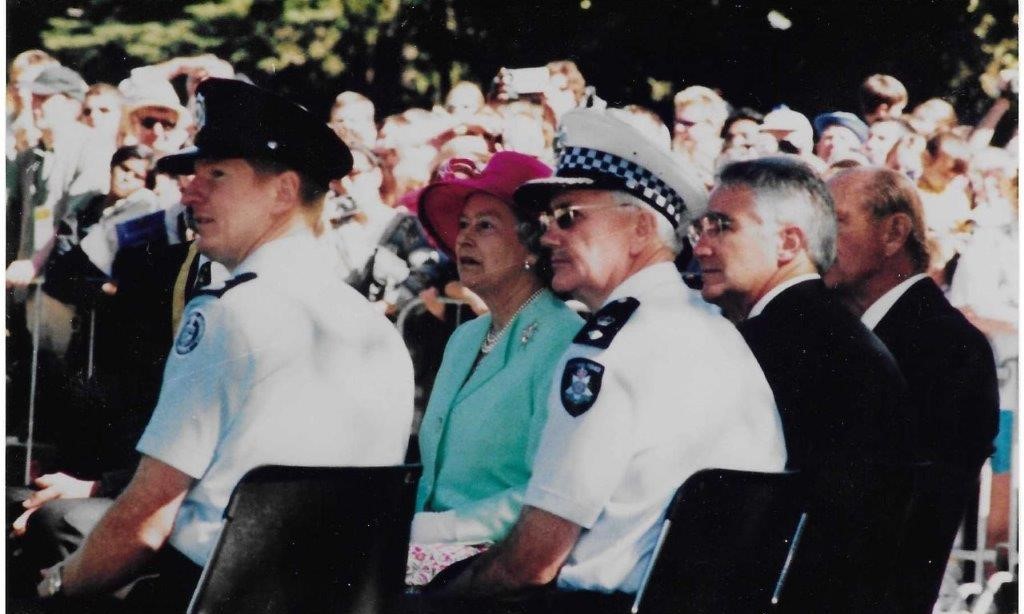 (left to right): CFA Operations Manager Greg Leach, Her Majesty Queen Elizabeth, Police Superintendent Lindsay Florence, City of Ballarat CEO John McLean and The Duke of Edinburgh
As the world takes a moment to honour Queen Elizabeth II, CFA reflects on Her Majesty's ongoing support of Victoria's emergency services.
The Queen and the Duke of Edinburgh visited Ballarat as part of their Royal visit to Australia in March 2000, where they spent the afternoon viewing an emergency services display at Ballarat Botanical Gardens.
Soon after it was confirmed that Ballarat would be included in the Royal visit, then Region 15 Operations Officer Neville Britton recalls answering the phone at Ballarat City Fire Station to a well-spoken British accent and almost telling the caller "where to go".
"When the caller said he wanted to set up a meeting with The Queen, the Duke of Edinburgh and local emergency service members, I honestly thought it was the firefighters on duty playing a practical joke on me," he said.
Neville soon discovered the legitimacy of the call and learned The Queen had explicitly requested to meet with Victorian emergency service members and personally thank them, in the wake of a particularly bad fire season.
Plans for an emergency service display worthy of Royal viewing were swiftly put in place, with all emergency service agencies consulted and every detail meticulously planned, down to ten second intervals.
The final plan for the Royal visit was a multi-agency simulated rescue exercise, to be held in the Ballarat Botanical Gardens.
The demonstrations included rappelling of firefighters from a helicopter and fighting of a simulated bush fire in inaccessible terrain, a simulated mine rescue from a collapsed mine shaft and an air evacuation of an injured person from the mineshaft rescue.
A representative from each emergency service agency sat between The Queen and the Duke of Edinburgh during their agency's respective phase of the demonstration, describing the processes and techniques used by their personnel.
Following the carefully executed display, Queen Elizabeth and the Duke of Edinburgh met with members of local emergency service agencies, including those who took part in the earlier demonstrations.
Those present on the day have fond memories of meeting the royal couple.
Current Ballarat City Fire Brigade Captain Nicole McGrath recalls the Duke asking what she did for a living and when she informed him she "only worked at a pub", he smirked cheekily and said it was "an extremely important job".
Alwyn "Snowy" Parker, a long-time CFA volunteer, recalls with pride how Smythesdale Fire Brigade brought their tanker to the Botanical Gardens for the Royal visit.
"There was strict protocol around meeting with Her Majesty, we weren't allowed to speak or put our hand out until Her Majesty did," he said.
This wasn't the first, nor last time Her Majesty expressed her support of CFA and Victorian emergency services.
Her Majesty sent a letter to James Gobbo, then Governor of Victoria, following the Linton tragedy two years prior, in which she offered her condolences to the families of the deceased firefighters as well as to their colleagues and fellow CFA volunteers.
Former Premier John Brumby reportedly stated that Her Majesty requested for his daily briefings regarding the 2009 Black Saturday bushfires to continue in the months following, to keep her informed of bushfire recovery efforts.
Queen Elizabeth sent another heartfelt letter to CFA following the 2009 bushfire season expressing her sympathy, after which the Royal Family made a considerable donation to the Victorian Bushfires Appeal Fund, reinforcing her genuine concern and continued support of Victorian emergency services.
/CFA News Release. This material from the originating organization/author(s) might be of the point-in-time nature, and edited for clarity, style and length. Mirage.News does not take institutional positions or sides, and all views, positions, and conclusions expressed herein are solely those of the author(s).View in full
here
.