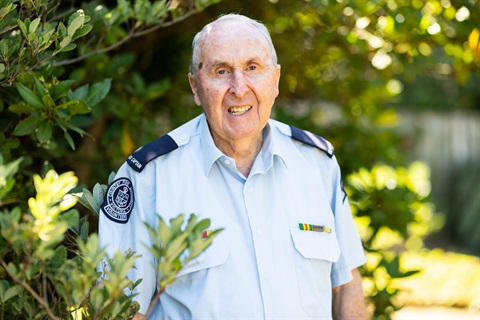 Empathy and efforts to help the community has caught the attention of others, prompting Australia Day Award nominations for community leaders, volunteers and those willing to lend a hand.
Council's annual awards were handed out in a COVIDSafe, remote ceremony on Wednesday, 26 January, following an online ceremony for 40 community members receiving their Australian Citizenship.
Yarra Ranges Mayor, Jim Child, said this year's recipients have all worked hard to improve the region and lend their skills to others in the community.
"Between the pandemic, its flow-on impacts to businesses, residents and the tourism industry, then the June 2021 storms, we've had our fair share of adversity over the last few years," Cr Child said.
"But difficult times so often bring out the best in humanity – we see community members jump into action and sharing their skills, their time and their compassion to help others make it through.
"The pandemic has worn so many of us thin, and the June storms was another devastating blow for a community already reeling, but it has been so heartening, so reassuring to see community spirit blossoming through people stepping up for others in all facets of daily life.
"This year's award celebrates those people. People who in the short term and the long term have shown so much care for others and the world around them – who have helped without a thought of recognition or reward.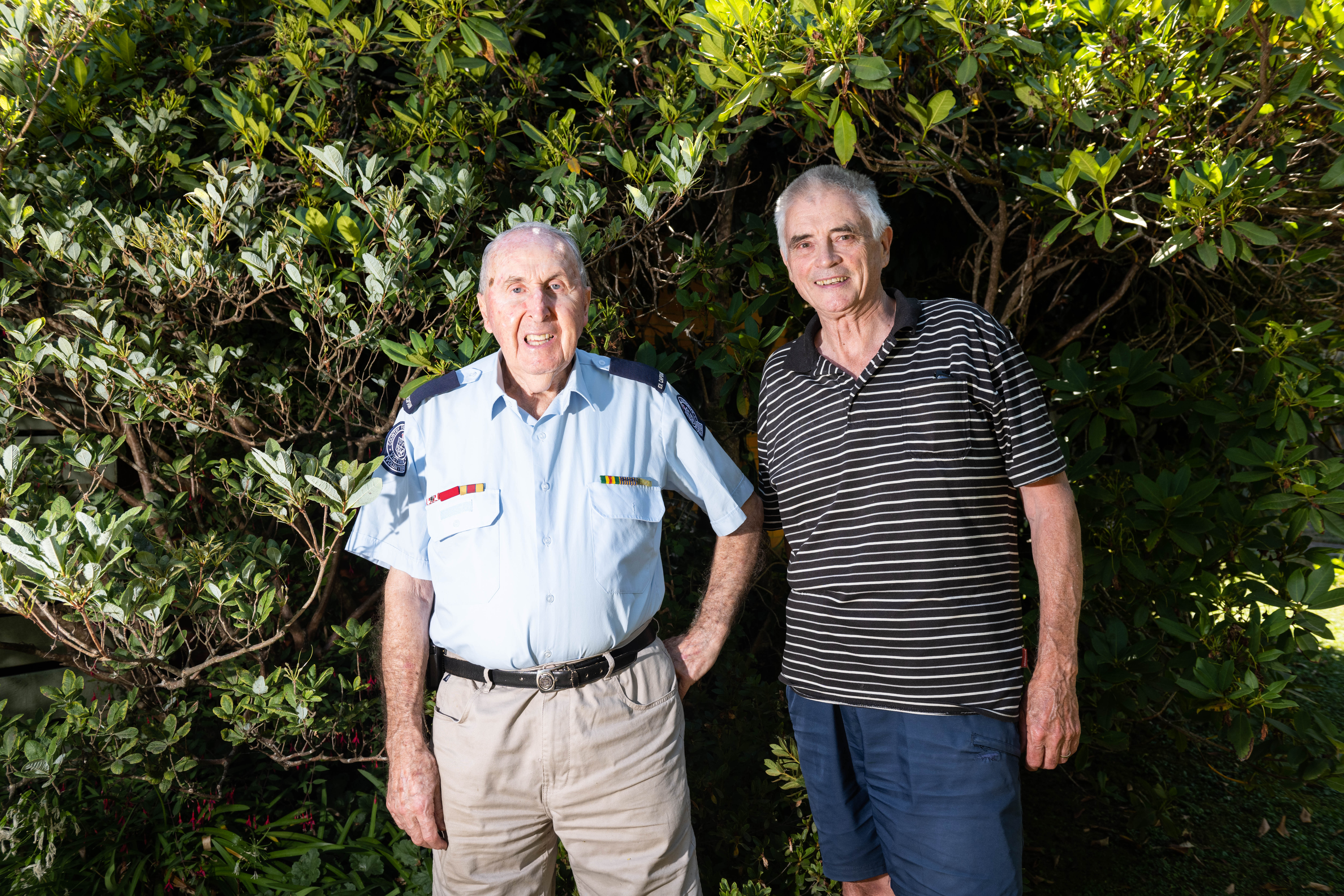 Mayor's Lifetime Achievement Award winner, Barry Marshall, with Mayor Jim Child.
"These efforts mean the world to those on the receiving end, and we as a community are stronger for having such compassionate, empathetic, dedicated people among us. Our community, our environment and our sense of togetherness all flourish as a result of people like this.
"Congratulations to this year's award winners – all wonderful and worthy recipients, who we're proud to celebrate here at Council."
The 26 January Australia Day Awards were livestreamed on Yarra Ranges Life TV.
To watch the ceremony, visit www.facebook.com/YRLife.tv
Award winners
This year's award winners are as follows:
Citizen of the Year: Keren Greenwood
Council is excited to announce Mt Evelyn's Keren Greenwood as its Citizen of the Year.
Keren has worked in the foodbank space for many years, leading volunteers and looking after their wellbeing – along with the wellbeing of the community she serves.
She has been instrumental in establishing a foodbank in the Yarra Ranges, where large distances and limited public transport options can limit the services community members are able to access.
For the last four years, Keren has diligently coordinated and served in this foodbank program, helping alleviate food insecurity for about 25 families every week. She brings more than 30 years of work in the wellbeing and care space to this work and selflessly offers a listening ear, her time and referrals to whoever she encounters in the community.
Nominated by her co-workers, who cited her commitment and her loyalty to people around her, Keren has navigated the difficulties of the COVID-19 pandemic on service delivery while creating a space to support community members to improve their long-term wellbeing.
Her co-workers noted that her "heart to serve and persevere to lead makes her an inspirational role model in the community," with influence and impact on communities in the Yarra Ranges.
The significance of this work cannot be overstated. Food insecurity affects many in the Yarra Ranges and outer-east and is interconnected with insecurity in housing, accessing services and long-term health and wellbeing. There are many incredible individuals in the region who are working and volunteering to support others in the community, and there is a very real impact of this work on every person that receives this support.
Our community could not function without people like Keren, and we are proud to award her as 2022's Citizen of the Year.
Young Citizen of the Year: Harry Bruce–Tennant
At the age of 14, Harry Bruce-Tennant has already shown thoughtfulness, care and compassion for his community.
The storms of 9 June, 2021, felled more than 25,000 trees across the region, damaging more than 130 properties and destroying 74.
One of these homes, in Olinda, belonged to Harry and his family. The morning after the storm, a neighbour showed compassion and generosity, opening their heart and home to the family. This compassion inspired Harry to develop the idea for Hope Bracelets – gemstone bracelets to be shared with community members, as a reminder of the community spirit and the hope that carries people through some of their hardest days.
After receiving funding through Council, Harry found a wholesale supplier for bracelets, established a website for people to tell their stories and distributed bracelets at emergency relief centres in the Dandenongs.
Over five months, Harry has shared more than 500 bracelets to people, who all now carry a reminder of this hope around their wrist.
This work has been recognised by the wider community – in August, 2021, Harry was chosen as a finalist in the Edstart Achievement Awards for Social Impact, receiving a grant, and was successful for a Regional Arts Victoria Creative Recovery Grant.
Council's Youth Team have shared Harry's story with the community on social media, and Harry has been a wonderful and positive presence at Storm Recovery Information Sessions, sharing bracelets.
Harry's Hope Bracelets are a symbol of giving hope, providing optimism and a sense of community, helping people feel stronger with a sense of togetherness.
Council is pleased to award Harry the Young Citizen of the Year Award for 2022, and to thank him for his spectacular work during one of our community's darkest years.
Community Group of the Year: Caladenia Dementia Care
One of the greatest reminders to come from the recent years of the pandemic is that vulnerable people in the community deserve care and protection.
Community members living with dementia face significant barriers to everyday activities, and require compassion, empathy and care – which Mooroolbark's Caladenia Dementia Care offers in spades.
A not-for-profit, Caladenia has a team of dedicated staff who have excelled at providing care over many years – particularly during the last two years of the pandemic.
When face-to-face services closed in March 2020, to reduce transmission of COVID-19, many service providers had to adapt quickly to provide care and services remotely. Staff at Caladenia switched to remote, telephone, online and home-delivered services, resulting in overwhelmingly positive feedback from family members and others in the community.
Using zoom, skype, facetime and phone calls, staff were able to engage one-on-one with people living with dementia, giving their carers a small break for up to an hour and a half each week.
The last 20 months have also showcased the ability of older people in the community to learn new skills and embrace social and peer support through new mediums.
In a time when the importance of social connection has been extremely high, but access has been increasingly difficult, the work of Caladenia staff and volunteers to engage with and support community members has been so crucial for every person receiving it.
The work of Caladenia has helped to reduce the devastating impact of lockdowns on community members, while keeping them safe from COVID-19 – a wonderful and commendable effort.
Council would like to congratulate Caladenia Dementia Care, our Community Group of the Year.
Environmental Achiever of the Year: Healesville CoRE
Healesville CoRE has achieved a significant amount in their five years in the community. Formed with a mission of transforming Healesville to a solely-renewable-energy town, they quickly attracted more than 100 people willing to put their hands up to the cause, uniting the community on a practical renewable energy transformation.
Running educational events, hosting guest speakers and pulling together industry partners to provide cheaper, locally-available renewable energy alternatives, the CoRE group have already made huge strides towards their goal. This work was most recently recognised by the State Government, with a $400,000 grant to form the Yarra Valley Community Power Hub.
Healesville CORE works to unite the community behind their cause. Their vision and work will have a tremendous positive impact on the environment, while ensuring community members benefit from financial savings and learning about the how and the why along the way.
A testament to Paul Kelly's From little things, big things grow, the small beginning of Healesville CoRE has already become a groundswell, full of positivity and practical actions to leave the community – and the earth – in a better place.
The Healesville CoRE group is a worthy recipient of this year's Environmental Achiever Award, and we look forward to seeing where the future will take this wonderful group of community-minded people.
Ken Mclntosh Memorial Award for young environmental achievers: Gang Green (The Patch Primary School)
Gang Green – a group for students in years 5 and 6 at The Patch Primary School – is still building environmental awareness 24 years after its inception.
Created in 1998, the group formed to help students understand the environment and the actions everyone can take to value and protect it.
Every Tuesday afternoon, the group meets under the supervision and guidance of STEM educator, Nina DeVreeze, and school gardener, Ken Colley.
The work of students coming through Gang Green has shaped a multi-award-winning landscape at the school, providing outdoor classrooms for all facets of the school curriculum. Students have designed and created Indigenous wildlife corridors, edible and ornamental gardens, plantings for biodiversity, fern gullies and wetland environments which also mitigate stormwater impacts at the school – incredible projects for students to put their hands to before starting high school.
This has provided numerous benefits to the local community – from providing habitat for local animals, building environmental awareness and skills in young children that they will take into their adult lives and sharing that awareness with others at conferences and expos.
Despite the interruptions of COVID-19, Gang Green have met wherever possible to improve the outdoor environment at their school: planting flowerbeds, collecting and planting seeds from garden edibles and harvesting the produce, creating outdoor seating areas and even working with Yarra Valley Water to plant around the newly-established sewerage pumping station. This work will continue over 2022, and shows a fantastic perseverance despite the circumstances of the last couple years.
No matter the year, Gang Green is comprised of students who are naturally curious, deeply connected to their school and keen to make a difference in the world. Their hardworking attitudes, enthusiasm, positivity and persistence are all remarkable attributes for young people in the community, and it's heartening to see a school like The Patch Primary weave their curriculum around care and nurture for our precious natural environment.
Congratulations to Gang Green – our Young Environmental Achievers.
Mayor's Lifetime Achievement Award: Barry Marshall
Barry Marshall has lived a life in the public eye, seeing many people on their worst days but endeavouring to help them make it through.
He joined the Warburton Fire Brigade on 13 February, 1956, serving as the CFA's First Lieutenant from 1973 to 1978; Captain of the Brigade for 22 years from 1978 to 2000 and; Chairman of the Brigade during his 66 years of service.
The day-to-day work of the CFA varies from assisting in car accidents, attending house and building fires, grassfires and bushfires – but the overarching goal of their work is to protect the community.
Barry attended major bushfires in the Upper Yarra in 1962, 1967, the Ash Wednesday fires of 1983 and fires in 1991. He is also largely responsible for the replacement of the 1932 Warburton Fire Station, which was replaced in 1982 – and has since been replaced once more with a larger station.
His commitment to his community also flowed into Barry's work with the Warburton Chamber of Commerce, Warburton Advancement League, the Warburton and Yarra Junction Community Banks and the Cricket Club. Many will have seen Barry's generosity at work when he drove Santa Claus through town every Christmas.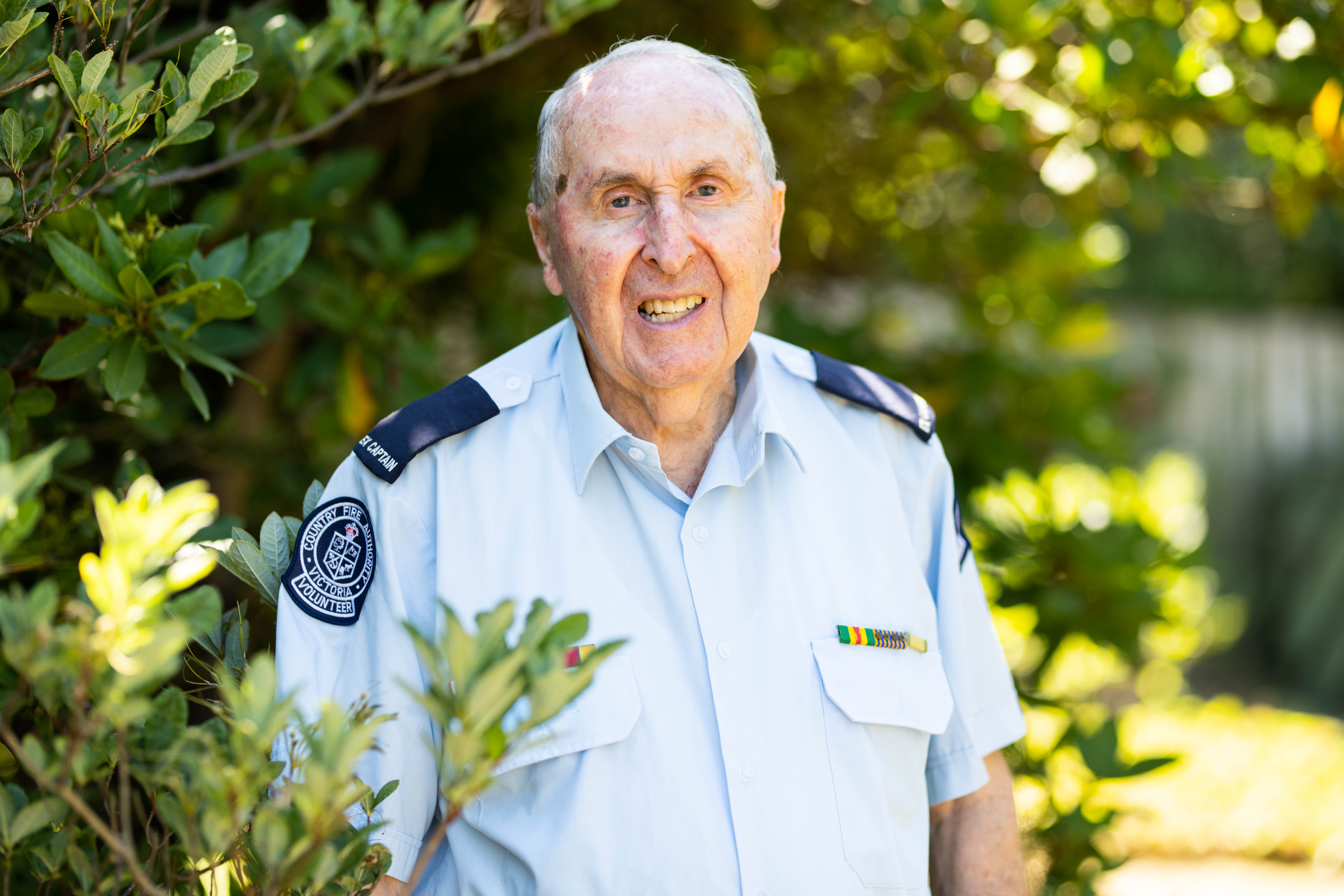 This work has not been undertaken in isolation, of course. In an interview with our local press in 2021, Barry noted that he would not have been able to maintain his involvement with the CFA and community causes if not for his wife, Sue. To quote Barry – "Sue is my backbone and has supported me all the way."
The efforts of volunteer firefighters is something we should always recognise and commemorate. They are the people who protect our homes and our lives – doing difficult and dangerous work, often in the worst of circumstances. To commit almost 70 years to this cause is a phenomenal dedication, undoubtedly worthy of a Lifetime Achievement Award.
Congratulations, Barry – and Sue.
Ian De La Rue Award for Community Leadership: Geoff Earney
Council is excited to announce its winner of the 2022 Ian De La Rue Award for Community Leadership, Moorolbark's Geoff Earney.
Geoff embodies leadership in his community, and has from a young age. As a child, he volunteered with the Ferny Creek Scouts, rising to become Scout Master.
When he was old enough to sign up, he joined his father as a volunteer in the Ferny Creek Rural Fire Brigade – and worked with the brigade to protect the community during the 1962 Dandenong Ranges bushfires.
In 1971, Geoff served with the 4th Battalion, Royal Australian Regiment, in the Vietnam War, and was one of the last Australian troops to leave Nui Dat.
When he returned, he joined the Mooroolbark CFA, serving the brigade for 30 years – 12 of these as Captain – and receiving a Life Membership as a result of his work.
In the same period of time, he became a member of the Mooroolbark Chamber of Commerce, then joining the Mooroolbark Traders' Association where he served as president a number of times.
He joined his father at his real estate business, E Methven Pty Ltd, becoming director and helping thousands of families find a home locally as Mooroolbark slowly evolved from farms to a suburb.
The business, now Methven-Professionals, expanded into five local offices, employing hundreds of locals and winning numerous awards for their work.
Geoff has supported and sponsored numerous community groups, charities and individuals through his work, all throughout showing a deep commitment to his community.
Nearly every progressive community organisation – from the Chamber of Commerce to the war memorial committee – has benefitted from Geoff's commitment.
As his nominee, local historian Anthony McAleer OAM, noted, "Every town needs a Geoff Earney, someone with the passion and dedication to progressing the lives of those who call it home in so many practical ways."
We couldn't agree more, and think there's no better candidate for this year's Ian De La Rue Award for Community Leadership.
Thank you, Geoff, for all you have done.
Certificate of Recognition: Upwey Pizza
The team at Upwey Pizza were nominated for an award, for their work over recent years to support the wider community.
The Upwey Pizza owners were nominated for "paying it forward" and supplying food to soup kitchens every week, as well as supporting local sporting clubs with sponsorship and awards.
During the COVID-19 pandemic and earlier, the business provided support to schools and clubs with kindness, never turning away others and offering food to those who need it.
The kindness and generosity shown makes the Upwey Pizza team a worthy recipient of a Certificate of Recognition.
Certificate of Recognition: Mick Corrie
Mick Corrie has been nominated for an award for his work in keeping Millgrove beautiful.
Mick works hard for his community, cleaning, mowing and planting around the Millgrove traffic lights and picnic area, donating his time to improve the look of the town for visitors and community members alike.
So many people call the Yarra Ranges home for its natural environment, the look and feel of the townships and the community spirit that runs through all 55 of our towns. There are wonderful people throughout the region who regularly donate their time, seeking no reward or recognition – only the benefits of helping out.
That community spirit is what Mick shows here – lending a hand to help others, help the environment and improve his town.
I'm proud to provide this Certificate of Recognition to Mick, and to thank him for his work in the Upper Yarra.
Certificate of Recognition: David Ferrier
David Ferrier has been nominated for an award to recognise his efforts to collect fallen trees, branches and wood debris following the June 2021 storms.
A trained arborist, David is passionate about using fallen timber – where possible – as a way of educating people about the importance of timber, the processes taken to use it and how crucial it is to reuse it.
In the aftermath of the storms, David created a database while collecting fallen timber, so that when the wood has been seasoned – which may take years – the owner of the tree will know what happened to it.
This means that people with emotional links to the vegetation on their property don't see fallen trees as going to waste, but know they will be used for a good cause and treasured by others. David's initiative has been called Treasuring our Trees.
David is continuing to work with residents in the Yarra Ranges and has shown enormous community dedication. We're proud to present him with this Certificate of Recognition.
Certificate of Recognition: David Jewell
David is a prime example of how volunteering keeps the community turning.
Burrinja Cultural Centre, a community, art and entertainment hub in the Dandenong Ranges, has relied on David's IT expertise for 23 years. Advances in technology, IT upgrades and new software is all guided by David – the benefits of which are enjoyed by staff, visitors and artists using Burrinja's spaces.
As a result of David's work, more than 20,000 annual ticket purchases occur smoothly, free wi-fi is available for visitors and Burrinja staff can deliver services easily and effectively.
He has made his services available to his wider community, with the Anglican Church in Tecoma, the Sherbrooke U3A and Belgrave Heights Christian School all benefitting from his generosity and time.
IT support and systems can be unaffordable for community organisations, hampering their ability to connect, work and share services with the community. It is estimated that David delivers more than $40,000 worth of services to Burrinja alone, all in volunteer hours.
His commitment is inspirational, and his attitude of generosity and openness makes him a joy to work with. Without people like David, the hills would – in some ways literally – grind to a halt. The community is better for his presence, and we'd like to award this wonderful effort with a Certificate of Recognition.
Certificate of Recognition: Help for the Hills
Paul Yandle is the brains behind Help for the Hills – Dandenong Ranges Taskforce.
Paul is the CFA Captain in Emerald, a role he has held for 21 years of his 36 volunteering with fire brigades.
An active member of the community, Paul used his leadership, CFA and community knowledge to gather a huge and skilled workforce (eventually numbering 200) and coordinate an emergency response effort, Help for the Hills.
The group included people with chainsaw experience, donations of truck and machinery use, funding via Rotary Club of Emerald and District and those donating time to help significant quantities of timber. As a result, 125 storm-impacted properties were cleared over 3500 volunteer hours.
There are already plans to bring Help for the Hills back together ahead of the fire season, and we know the efforts undertaken to date have made a world of difference for people impacted by the June storms.
We've seen over the years that disaster can bring out the best in people – a willingness to lend a hand, listen and help, putting others ahead of yourself and creating a safety net to catch those going through some of the worst times of their lives. Paul's work and the wider Help for the Hills group is a perfect example of this.
On behalf of Yarra Ranges Council, thank you so much for your work. We'd like to award this effort with our Certificate of Recognition.
Certificate of Recognition: Luke Pedley
In the aftermath of last year's storms, we had a tremendous community effort to respond, clear debris and provide essential supplies, power and water.
Of course, the essentials help keep us going, but it's connection to others that helps us to get through.
This is clearly evident from the work of Luke Pedley – a volunteer with the Kilsyth Football Club. When the storms hit, Luke brought together an amazing group of committed volunteers to set up The Hangout – a safe, intimate place to connect with others, find company and warm yourself by the fire that ran 24/7 for three weeks.
Luke's efforts provided moments of connection, relief and humanity in the aftermath of one of the state's most devastating storms, which left many displaced and disconnected.
Working with community groups, volunteers and the Council, Luke ran the show – paying for food, drinks and a barbecue out of his own pocket before Repco and other suppliers stepped in to fund the effort.
In a time of severe upheaval, Luke's efforts helped to unite the community and provide sorely-needed social support.
Luke, his wife, Tracey, his family and the small team of local volunteers are to be commended for this effort. The selflessness and caring evident in The Hangout is something Luke should be extremely proud of. We're thrilled to present Luke with this Certificate of Recognition, and proud to have him in our community.
Certificate of Recognition: Mt Evelyn RSL
For more than five decades, Mount Evelyn RSL has been a place for community support, education, gathering and telling history and commemorating the unforgettable efforts of our servicepeople.
After armed conflict, the welfare of ex-service people is of the utmost importance – the RSL has been a place of connection, support and commemoration for so many who have served, and for the wider community.
A key part of cherishing our history is presenting and sharing it with future generations, a role that Mount Evelyn RSL has enthusiastically taken on. Ceremonies, memorial and publications give our community a chance to learn and reflect on those who came before and served in armed conflict.
On top of these efforts, the RSL has been actively involved with the community, creating working partnerships and projects to commemorate local history in ways that engage community members and better one of our largest townships.
The power of their efforts and community engagement can be seen every year, with the attendance for ANZAC Day services and the support that comes back to the sub-branch through fundraising and commemorative events.
The RSL has played an incredible role in supporting our ex-servicepeople and showcasing the rich history of our region in the context of conflicts abroad. In turn, it has become an integral part of the history of Mount Evelyn, and I'd like to thank them for their phenomenal work with this Certificate of Recognition.
/Public Release. This material from the originating organization/author(s) might be of the point-in-time nature, and edited for clarity, style and length. Mirage.News does not take institutional positions or sides, and all views, positions, and conclusions expressed herein are solely those of the author(s).View in full
here
.