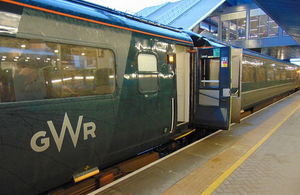 At around 22:04 hrs on 1 December 2018, a passenger travelling on a train from Bath to Bristol struck her head on a tree branch near to Twerton, about 1.5 miles (2.4 km) west of Bath Spa station. The train was travelling at about 85 mph (137 km/h) and the passenger sustained fatal injuries.
The train was the 20:30 Paddington to Exeter service formed of a GWR High Speed Train (HST). Witness evidence indicates that the passenger was standing at a door on the side facing away from the other track. The door was fitted with an opening droplight window, which is used to access the door handle fitted to the outside of the door. A yellow 'Caution' label above the door states 'Do not lean out of window when train is moving'. The window was reported to have been opened and the passenger had her head out of the window.
Our investigation will encompass examination of the measures in place to control the risks from persons leaning out of train windows, including the threat from vegetation.
Our investigation is independent of any investigation by the railway industry, the British Transport Police or by the industry's regulator, the Office of Rail and Road.
We will publish our findings, including any recommendations to improve safety, at the conclusion of our investigation. This report will be available on our website.
You can subscribe to automated emails notifying you when we publish our reports.
/Public Release. View in full
here
.