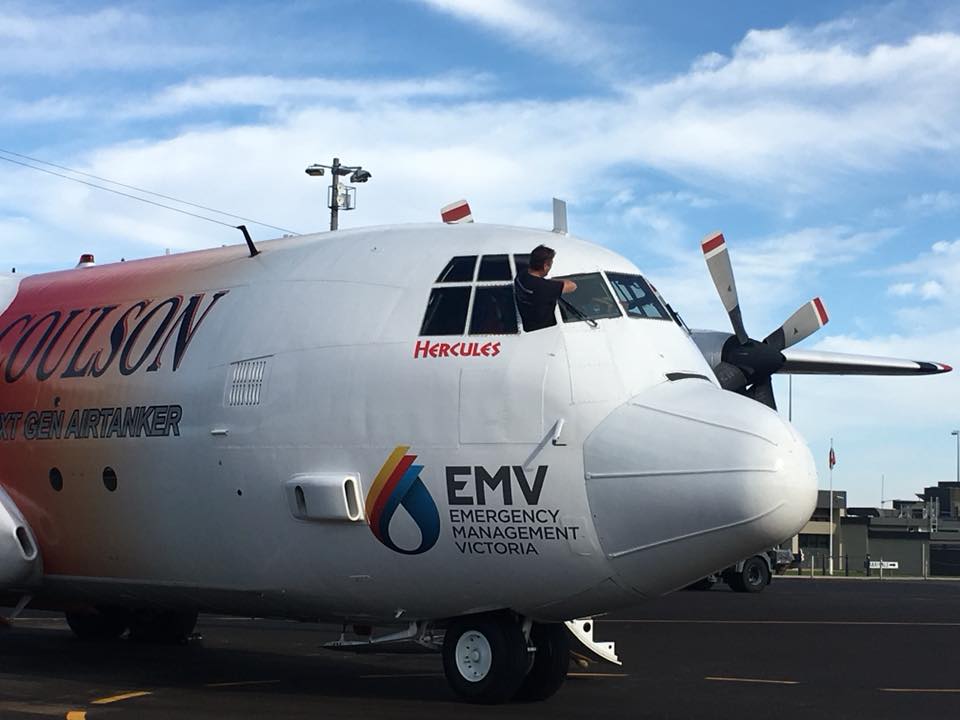 NSW Premier Gladys Berejiklian announced that flags would fly at half-mast around the state tomorrow a sign of respect and remembrance for the three US specialist firefighters who died in a crash.
Out of respect for the three US firefighters who lost their lives operating a Large Air Tanker, flags will fly at half mast in NSW tomorrow.

— Gladys Berejiklian (@GladysB) January 23, 2020
Latest Update:
"We are deeply saddened to confirm there were three fatalities," said Coulson Aviation which operated a water-bombing aircraft crashed in southern NSW.
Coulson Aviation said the aircraft was on a firebombing mission with a load of retardant.
"Our thoughts and prayers are with the families of the three crew members onboard," reads the statement, signed "The Coulson Family".
Update:
The Australian Transport Safety Bureau (ATSB) says it will investigate the collision with terrain involving a Lockheed C-130 Large Air Tanker aircraft, registration N134CG, at Peak View near Cooma, New South Wales, on 23 January 2020.
The aircraft was conducting fire control operations when contact was lost with the aircraft, the bureau said in a statement.
The ATSB is deploying a team of transport safety investigators with experience in aircraft operations, maintenance and data recovery to the accident site, to begin the evidence collection phase of the investigation.
ATSB investigators will also analyse available recorded data, review weather information and interview any witnesses.
A preliminary report will be released in approximately 30 days.
However, should a critical safety issue be identified during the course of the investigation, the ATSB will immediately notify relevant stakeholders so appropriate and timely safety action can be taken.
All crew members on board, three American specialist firefighters, have been confirmed dead in an air tanker crash while fighting deadly bushfires in Australia.
A flight radar website shows the aircraft took off from the Richmond RAAF base northwest of Sydney.
It was operated by a Canadian company under a contract.
There are currently 3 emergency-level fires in NSW while extraordinary heat, low visibility and strong hot winds make firefighting efforts difficult.
The crash takes the death toll from bushfires in Australia to 32 since September with an estimated 1 billion animals also perished.
The ATSB will investigate the collision with terrain involving a Lockheed C-130 Large Air Tanker near Cooma, NSW this afternoon. pic.twitter.com/q8LYgmSeik

— ATSB (@atsbgovau) January 23, 2020
Prime Minister Scott Morrison said he was "deeply saddened" to learn of the tragedy.
Deeply saddened to learn of the death of 3 people in the crash of a C130 fire fighting aircraft, north east of Cooma in NSW earlier today. My deepest condolences to the loved ones, friends and colleagues of those who have lost their lives. Such a terrible tragedy.

— Scott Morrison (@ScottMorrisonMP) January 23, 2020
Update:
NSW Rural Fire Service Commissioner Shane Fitzsimmons says all of the three crew members killed when a water-bombing aircraft crashed in southern NSW are US citizens.
"All three occupants on board were US residents".
Authorities have yet to establish what caused the plane to crash.
"We simply lost contract with the machine and the flight tracker we used stopped," he said. "There is no indication at this stage of what's caused the accident."
"Tragically, there appears to be no survivors as a result of the crash down in the Snowy Monaro area".
It "impacted heavily with the ground and initial reports are that there was a large fireball."
"We've got a number of firefighters and a number of crew that are in the area and working to contain and work around the fire. It is an active fire ground. It did take some time with the use of ground crews and a number of aerial surveillance platforms to try to locate the wreckage."
NSW Premier Gladys Berejiklian said the crash shows the dangerous firefighting work currently being undertaken.
"it also demonstrates the conditions that our firefighters are working under," she added.
"There are in excess of 70 aircraft that have been used today alone and today is a stark and horrible reminder of the dangerous conditions that our volunteers, emergency services personnel across a number of undertake daily."
Update:
The wreckage of a C-130 water bombing aircraft crashed near Cooma in the Snowy Monaro area has been found.
All three crew on board were killed, according to ACT Emergency Services.
The aircraft is operated by Coulson Aviation, a privately owned company based in British Columbia, Canada.
Rural Fire Service Commissioner Shane Fitzsimmons announced the company grounded their large air tankers as a precautionary measure and was sending a team to Australia.
The aircraft was conducting water-bombing operation on a Adaminaby fire burning at emergency level under low-visibility and hot windy/smoky conditions.
Australian Bureau of Meteorology has warned about gusty storms expected across much of New South Wales today.
Earlier:
C-130 Lockheed Hercules Large Air Tanker performing firefighting operations is feared to have crashed in southern NSW after it disappeared from radar screens.
Helicopters and an Air Force plane were dispatched to search the Snowy Monaro region.
It is the largest air asset in the NSW Rural Fire Service's fleet with 15-tonne capacity.
In a statement, RFS said "contact had been lost with a Large Air Tanker which was working in the Snowy Monaro area".
The NSW Rural Fire Service is investigating reports of a serious incident involving an aircraft in southern NSW this afternoon.
Contact was lost with a Large Air Tanker which was working in the Snowy Monaro area. #nswrfs #nswfires pic.twitter.com/i6u1mlZsZ0

— NSW RFS (@NSWRFS) January 23, 2020