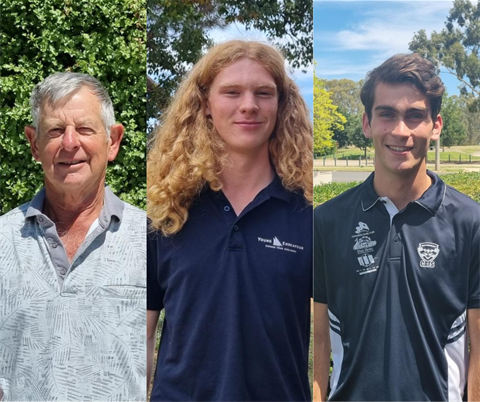 Rutherglen resident Laurie Thatcher has been named Indigo Shire's 2023 Citizen of the Year.
Mayor, Sophie Price, says the award recognises Laurie's significant contribution to the Rutherglen community over a number of years.
"Laurie's commitment to serving his community is to be admired and truly makes him a worthy recipient of this award. For over 40 years he has been a stalwart of the community, whether it be through committees of management, sporting or charitable endeavours. This recognition is so well-earned and deserved." Cr Price said.
Laurie has been a member of the Rutherglen Parks Committee of Management for more than 20 years, including 10 years as Chairman managing the Park user groups.
Laurie is currently a Charter member of the Rutherglen Rotary Club, holding many executive roles since joining in 1987. He was area co-ordinator of the Good Friday appeal for 14 years and was a key reporter of happenings in Rutherglen writing for several years for the Rutherglen Advertiser.
Laurie's been a member of the Rutherglen Golf Club for 38 years, as well as an active volunteer and committee member including three terms as President and currently serves as Club Handicapper. While his boys were growing up Laurie was a parent representative on the Rutherglen Primary School Council and coached Junior Cricket for five years.
In receiving the award, Laurie says he is humbled by the recognition saying, "I can think of a lot of other people ahead of me on the list worthy of the Citizen of the Year Award."
Laurie was similarly modest as he reflected on his many years of volunteering in the community, saying he gets as much out of it as those that his efforts have supported.
"Volunteering is great for making contacts in the local community, especially post Covid. You can come together and talk, laugh and connect."
"I've loved being able to distribute funds to school kids so they get to enjoy an end of year celebration or sending money overseas where it can help communities in need," Laurie said.
The Indigo Shire Young Citizen of the Year has been awarded to two outstanding individuals.
Seventeen-year-old Henry Rotherham from Yackandandah and Joseph Brooks, 18, from Rutherglen, will share the award.
Both Henry and Joseph have been described as exemplary young leaders in their community with Henry making a difference in young people's lives through mentoring.
"I find mentoring really worthwhile, and it is rewarding to see people progress. I feel I have had all these amazing experiences in my life and want to be able to give that to others," Henry said.
Joseph was School Captain of Rutherglen High School in 2022, representing students on School Council and leading school assemblies. Joseph has also demonstrated his natural leadership qualities through his work as a lifeguard at Rutherglen Pool and will soon be appointed Head Lifeguard.
"Being a leader and a role model is something I always wanted to be. I have looked up to many others on and off the footy field and have never taken my position for granted, either when I was junior school caption or senior school captain, aware I had expectations to live up to and the role being more than just a title."
"The aim of finishing high school for me was to leave a legacy, a positive impact, with teachers and younger kids,' Joseph said.
Councillor Price says it is young people like Henry and Joseph living in Indigo Shire that make its future that much brighter.
"Henry and Joseph are such strong leaders at school and within the community which has made them brilliant role models for other young people. Through their leadership, other local young people will be inspired to strive to do their best and be someone that their peers can look up to." Councillor Price said.
Upon hearing the news of his award, Joseph said it was quite a shock and unexpected to be nominated.
"I really appreciated being nominated and that someone saw something in me that I didn't see, it is really humbling," he said.
Henry was similarly thrilled and excited with his award, saying "I was very surprised to get the letter saying I had won, it was quite a shock for me. I had to do a double take!"
Totally Renewable Yackandandah (TRY) was awarded Community Organisation of the Year.
TRY is a voluntary organisation with a focus on a sustainable future at every level. TRY has been successful in building a local, state and national profile as a leader in community-led sustainability initiatives and in its five years of operation has supported Yackandandah to achieve 60% renewable status, the establishment of Indigo Power, launched one of Australia's first community batteries and is working toward a second.
"TRY has established itself as a true leader in working towards a truly sustainable future. The team's ability to bring the community along on this important journey and dedication to achieving tangible and practical progress in energy transition is truly inspirational." Councillor Price says.
Events to recognise the outstanding citizens, community groups and those receiving certificates of achievement are planned across the Shire – find the details here.
FULL LIST OF AUSTRALIA DAY AWARD WINNERS
Laurie Thatcher – Citizen of the Year
Joseph Brooks – Young Citizen of the Year
Henry Rotherham – Young Citizen of the Year
Totally Renewable Yackandandah – Indigo Shire Community Organisation of the Year
Ken Jones – Kiewa Tangambalanga District Certificate of Achievement
Rohan France – Beechworth and District Certificate of Achievement
Grace Brown – Emma George Sporting Scholarship
Yackandandah District Certificate of Achievement*
Barnawartha and District Certificate of Achievement*
Chiltern District Certificate of Achievement*
Wahgunyah District Certificate of Achievement*
*no nominations received in this award category.
/Public Release. This material from the originating organization/author(s) may be of a point-in-time nature, edited for clarity, style and length. The views and opinions expressed are those of the author(s).View in full
here
.