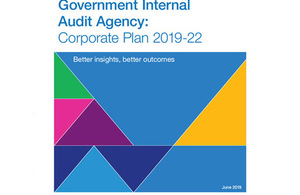 Last year, we introduced our new mission to provide better insights, better outcomes. As we prepare to take GIAA to the next level, we are proud to share our vision which outlines where we want to be in 2022 and our corporate plan which sets out the steps we will take to get there.
In our first few years as an Agency, we concentrated on building GIAA. We brought together internal audit teams and counter fraud and investigation professionals from across government and we now provide those services for the majority of Government departments and arm's length bodies. We're still growing and we were delighted to welcome the Student Loans Company internal audit team on board as our newest recruits when they officially joined us on 1 April 2019.
Our focus now will be on realising the benefits of our shared experience, expertise and talent by maximising what we can offer to our customers. Those ambitions are outlined in our vision which we have titled "Taking GIAA to the next level"
To enable us to bring our vision to life, our GIAA Corporate Plan sets out the strategic changes we need to make over the next 3 years to meet our own ambitions, and to fulfill our customers' expectations. The current year is covered in some detail in the plan, with a lighter touch for the following two years. We will refresh the plan each year to provide more information as we progress, making it a rolling 3 year document.
The actions we will take are grouped under the 5 strands of our vision which aim for us to be:
Demanding on customer impact
Unleashing our people's talent and confidence
Uncompromising on quality
Ambitious on innovation
Built on firm foundations
Through our actions we intend to keep driving up our quality, our capability and our confidence.
We know from consulting our customers that expectations are changing and we need to react to the ever-increasing pace of change in the Civil Service. That means we need to evolve our ways of working so that our insights have the right impact at the right time. Through our corporate plan we will work towards achieving our mission to provide better insights, better outcomes.
/Public Release. View in full
here
.