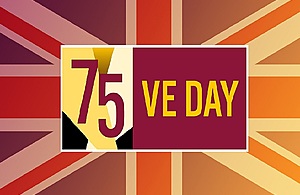 Today, the nation will unite to mark 75 years since the end of the Second World War in Europe, and the thoughts of people across Scotland will be with our wartime generation.
Victory in Europe is one of the most significant moments in Britain's long history, a crucial milestone on the road to peace.
By 8 May 1945, Britain had lived through six years of global conflict. We had seen terrible losses, and huge sacrifices made at home and abroad. So many lives lost, so much suffering, so many families torn apart.
But we also saw huge courage and unbelievable fortitude. People made enormous sacrifices – that to most of us today seem unimaginable – all to put King and country first.
Those years of courage, pain and loss secured the freedoms and way of life we enjoy today. We would be living very different lives if we had not liberated Europe from fascism.
It is only right that today we take time to honour those who served, including those who continued to fight in the Far East until the August of 1945. In due course we will mark VJ day, of course, and thank them again for their service.
We must also remember those – including so many from Scottish regiments – who continued to fight in the Far East until the August of 1945. In due course we will mark VJ day, and thank them again for their service.
Scottish regiments fought bravely throughout the conflict, including in the D-Day landings. We must also thank all those who fought on the home front. Communities faced onslaughts by the Luftwaffe as they tried to destroy our shipbuilding and munitions capacity. Clydebank was almost destroyed, and thousands of its citizens killed. But the Scottish people refused to be bowed, instead strengthening their resolve to defeat the enemy and fight for our country's freedom.
Hundreds of Scottish children were evacuated to live with families in the countryside. They were kept safe, and many made lifelong attachments to their foster families. But they dearly missed, and were dearly missed by, their own families.
We are, of course, in the middle of a current, unprecedented, battle to control coronavirus. NHS staff, care teams and a vast army of key workers and volunteers have gone above and beyond for the common good. , and I believe we now feel a greater empathy than ever with the generations who witnessed VE Day in May 1945.
Unfortunately, due to the current emergency, communities across the UK will no longer be able to mark this important anniversary in quite the same way as we initially planned.
I know the British people will mark this historic occasion in new ways, to show our deepest gratitude and respect for those that gave so much to bring peace, freedom and prosperity to Europe. So, throughout today, there will be a thoughtful programme of events in which people can safely become involved while staying at home.
The official commemorations will begin at 11am when his Royal Highness The Prince of Wales will lead the nation in a two minute silence. We will remember the fallen, and give thanks for those who came home to friends and family. People can join this national moment of reflection in whatever way is right for them – that might be sitting quietly inside, standing at your window or stepping outside your front door.
At 3pm, extracts from Sir Winston Churchill's victory speech will be broadcast across national television and radio, to recreate the moment the end of the war in Europe officially was announced on 8 May 1945.
The Prime Minister will read the recently discovered Edmund Blunden poem 'VE Day'.
Later in the day, there will be a broadcast of The Prince of Wales reading extracts from King George VI's diary, relating the experiences of his grandfather on VE Day in 1945, including the King's relief that the war in Europe was over.
In an uplifting aerial display, the Royal Air Force will provide breath-taking flypasts across the UK's capital cities – modern RAF Typhoon jets fly over Edinburgh. People are encouraged not to gather to watch the flypast but continue to follow public health guidelines and enjoy the coverage from home.
We are all encouraged to join in a nationwide rendition of Dame Vera Lynn's 'We'll Meet Again'. Open your windows or front doors and sing along with your neighbours.
Then, as a fitting finale, Her Majesty The Queen will send a special message to the nation at 9pm, the exact moment her father, King George VI, gave a radio address in 1945.
We are living through difficult times just now, of course we are. But we will get through them. We will get though them together. Now, more than ever, we can all learn from the bravery, the resilience and the optimism of our wartime generation.
/Public Release. View in full
here
.