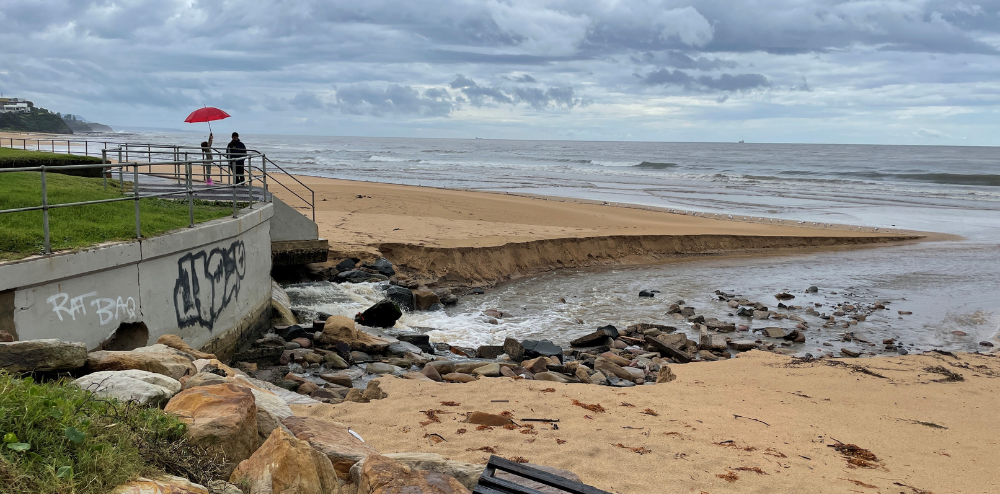 Over the past month, many in our city have experienced flash flooding.
Whether it's Darkes Road in West Dapto, parts of Figtree and West Wollongong or our city's northern suburbs last weekend, our community has seen how intense rainfall, can see water rise in our creeks, parks and on roadways quickly.
Just last weekend, heavy rains saw roads and gardens awash as the downpour contributed to some 132.5m rain recorded in Russell Vale between Saturday and Tuesday. This, added to the monthly total since January 2022 means more than 700mm of rain has fallen this year across the city. This is more than half our average annual rainfall falling within the first three months of the year.
"We saw some pretty dramatic images of stranded cars and flooded roads in and around Thirroul and Woonona over the weekend," Wollongong Lord Mayor Councillor Gordon Bradbery AM said.
"We're fortunate it happened during the day and people were able to see the water accumulate at low points and watch out for each other and their neighbours. We're also fortunate that the rain stopped when it did and that the water was able to clear through drains relatively quickly.
"We know Wollongong is a city that is prone to flash-flooding – and this is in part due to our escarpment backdrop. In our northern suburbs, where there is a shorter distance between the mountains and the sea, we can see the impact of flash flooding quickly. The fact that the water dispersed relatively quickly shows that the drainage systems were working – they were just overwhelmed by the sheer volume of water in a short period of time."
Cr Bradbery said the already-saturated ground also contributed to the flash flooding incident.
"The city is just so water-logged because of the prolonged and constant weather pattern we're experiencing at the moment. You can see it if you were to go and stand in one of our sports fields – the ground is so spongy and soggy," he said.
"This is why we're appealing to people to take care and be cautious over the coming days. The Bureau of Meteorology is warning that we're facing significant rainfall and the risk of flash flooding comes with this. There is also the potential for landslides or falling trees, and coastal erosion on our beaches and foreshore areas. We need to be extra cautious. Watch out for your neighbours, have a conversation with your family about what you would do if you needed to evacuate and please stay out of any floodwater."
Council crews have been out on the road this week, inspecting the city's creeks, culverts and drainage systems as part of our high-risk wet weather events practices. From our northern most point at Helensburgh to our southern boundaries at Windang and Yallah, we have some 800km of drainage and other assets linked to drainage, including more than 30,000 stormwater pits, to help move water safely across the city.
It's a significant amount of infrastructure, and if it was to be put in a single line it would stretch from Wollongong to past Coffs Harbour, a six-hour drive away. Its importance is recognised in Council's current Infrastructure Delivery Program which dedicates more than $38M to the ongoing care, maintenance, repair, renewal and development of new stormwater infrastructure.
"We have invested heavily in our city's essential stormwater assets over the past 12 months alone we have relined a significant number of stormwater pipes to ensure they will continue to convey stormwater efficiently, reconstructed key culverts and built priority drainage upgrade works," Cr Bradbery said.
"We have also moved forward on the design of debris control structures and priority flood mitigation works at high-risk locations, including around Ursula Road and Bulli High School and McMahon Street Fairy Meadow, as identified in our flood risk management plans.
"This supports our residents in times where we experience weather patterns like we have recently experienced across the city where we see a deluge of rainwater in a short period of time."
On Saturday, Council's floodplain staff were on the ground inspecting the aftermath of the storm and talking with locals in the northern suburbs about their experiences. This information, along with advice from industry experts, is fed into Council's detailed floodplain documents which include flood studies, floodplain risk management studies and floodplain risk management plans.
Our flood management information is updated and reviewed regularly to ensure we are capturing the most recent knowledge and understanding of flood behaviour and the local environment. They guide the future work of Council to manage these assets. We have plans for catchments across the city, including those in Hewitts Creek and Collins Creek, which are within Thirroul and Woonona. We'll be asking the community for feedback recommended options for managing flood risk in the Hewitts Creek and Towradgi Creek catchments. These options can include debris control structures near stormwater drains, protection works like raised embankments and detention basis and revising planning controls.
"The flood studies are an important tool for Council to draw upon when it comes to understanding flood behaviour and improving our city's response to stormwater run-off," Cr Bradbery said.
"These are one tool we draw upon to guide our works into the future and including works like new debris control structures. They're not standalone guides either – they're interlinked to other key documents like Council's recently-adopted Climate Change Adaptation Plan which clearly sets out that weather patterns like this are going to be a more regular occurrence as a consequence of our changing environment. Our flood risk is managed holistically with other considerations like coastal erosion events, extreme heat and the risk of bushfires."
While our city's experiences of this significant rain event is fortunately different from that in our state's north in areas like Lismore that have been devastated by flood waters, it is presenting new challenges for the city to manage.
For example, the weather conditions have seen significant beach erosion at several of the city's popular beaches including Woonona, City Beach and Bulli. The ongoing wet weather and heavy surf has meant it we've not been able to bring heavy machinery onto the beaches safely to flatten out the scarping, which is in some places up to four metres high.
Our 42 sport fields are sodden and the grass is unable to be cut as the pitches would be severely damaged if we were to attempt to mow them.
And in Helensburgh, we're investigating how to protect grave sites that are up to 120 years old with the rainwater washing away the topsoil in between a number of sites.
"Helensburgh Cemetery is a really good example of the challenges we're facing as a city in face of these difficult weather conditions," Cr Bradbery said.
"We've got an access road and grave sites that date back 70 to 120 years and the recent consistent and heavy rainfall is causing erosion to the sandy topsoil close to their headstones. We've put temporary measures in place to protect the site, and we are now looking into long-term actions that will protect these important resting sites into the future.
"This heavy, consistent and regular rainfall is not like anything we've seen before and we are doing our best to maintain and care for our community, our beaches, buildings, roads and facilities but it's a balancing act. Particularly, when we're seeing rain predicted on the long-range weather forecast for months to come and wind conditions over the next few days. I also want to thank our staff and contractors for their efforts in keeping the city going in challenging working conditions.
"However, the challenges we're facing as a city right now in terms of flood water management is nothing compared to the northern parts of our state. Our hearts go out to those in Byron Bay, Lismore and surrounds. It's just awful what those communities are facing right now."
/Public Release. This material from the originating organization/author(s) may be of a point-in-time nature, edited for clarity, style and length. The views and opinions expressed are those of the author(s).View in full
here
.