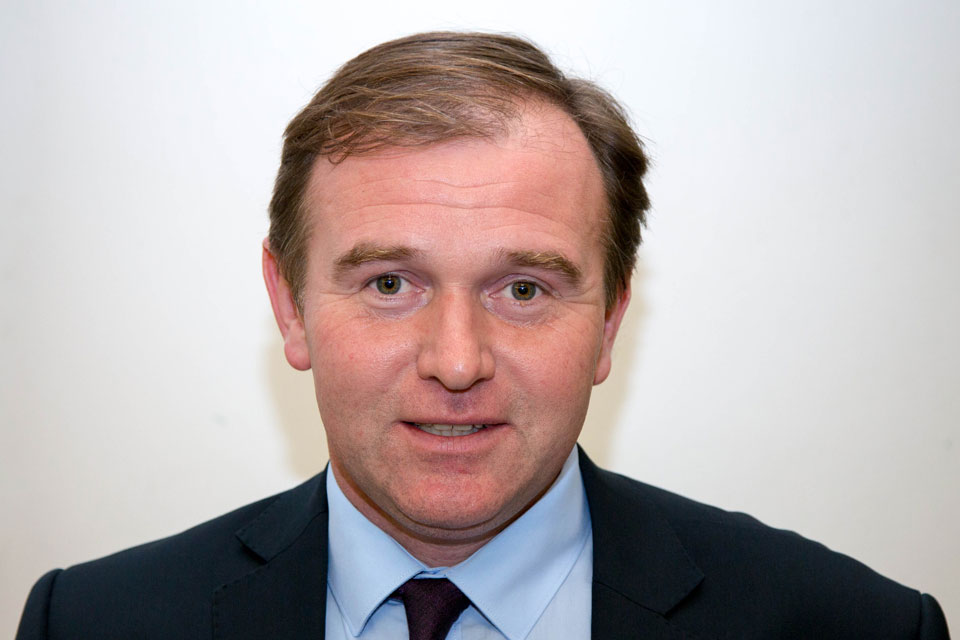 Thank you very much Minette and I very much appreciate all the work that you have done for farmers and also all of the insights you have provided us within Defra over these last two years.
I would also like to thank all of you for arriving so early and for accommodating a change to your programme enabling me to speak today. I understand Minette gave you all a lecture about staying out too late at the Walkabout pub last night and thank you for being here this morning. I am afraid the recent storms and consequential floods have given me a particularly difficult and busy start to this new role, and that meant that I had to attend a meeting of the Cabinet yesterday – so I am particularly glad to have been able to come here to Conference today.
Now it is also a great honour to have been recently appointed by the Prime Minister to the role of Secretary of State in Defra. As many of you will know, I first joined this Department in 2013, almost seven years ago. Indeed, you might say that I have been on a seven year transition to the top job. I know that there have been representations from some quarters that a seven year transition to a new agriculture policy is a bit quick, but I have to say in my particular role, seven years feels quite a long time!
Now as many of you will know, I also grew up on a farm and my family have farmed in West Cornwall for six generations. The names of different fields were passed from generation to generation. We knew our land and every field on each farm and we also knew how best to manage it. Our pedigree South Devon Cattle and British Lop Pigs were almost part of the family since they had been such an integral part of our family story from the beginning.
So I understand the responsibility and commitment that a farmer feels to the hard work and toil of previous generations. I understand the enormous social capital that exists in our farming community and that farmers will often be the ones to step in to help their community at times of crisis. I also understand the burden of expectation that can exist to loyally continue the family tradition and how this sometimes stands in the way of change. And I understand the pain and trauma of being wrenched from land that has been in the family for generations.
However, I also know that sometimes a fresh perspective can make a world of difference; the farmer's son or daughter who leaves the business to work in a different industry for a while and then returns armed with fresh thinking and new knowledge to take things to a new tot level; or those who never had any connection with farming, made a career elsewhere but always yearned to set up their own farming and food business and are finally able to get back to the countryside with their family. New entrants are the life blood of any vibrant industry and farming is no exception.
So, as I contemplate the biggest change in agricultural policy in half a century, I want to design one that is not only right for the farmers of today but which is also right for the farmers of tomorrow. The farmers we do not yet know. Who are not in this room. Those who yearn to go farming but cannot get access to land. The farm managers who want to set out on their own and maybe those who left the family farm twenty years ago but wish they could find a way to return.
It is because we are designing a policy for tomorrow's farmers as well as today's, that there can be no reprieve for arbitrary area-based subsidy payments. Direct Payments subsidise land ownership and tenure and that is irrational. The largest subsidy payments go to the wealthiest land owners. Direct Payments artificially inflate land rents and stand in the way of new entrants. They encourage some farmers to coast, to take no risks and simply remain in occupation of land in order to collect the subsidy. Area payments are useless as a risk management tool because across farming some of the greatest risks are taken by intensive horticultural enterprises like top fruit for whom the BPS payment is generally an irrelevance. Nor do I believe area payments really support the incomes of our most vulnerable sectors. Indeed some evidence suggests that around thirty percent of sheep farmers don't even get the BPS payment because they are forced to rely on temporary grazing or are in some form of contract farm agreement and do not qualify for the payment. And I meet these young farmers, who are in this position.
So in this moment of flux, where, for the first time in fifty years, we have a chance to do things differently, to think through from first principles what a coherent policy actually looks like, let's not cling to the railings of a sinking ship that is the Common Agricultural Policy. Let's not counsel for dither or delay. We have some of the most innovative farmers in the world. We can do this, so let's begin it now.
Yesterday we published
/Public Release. View in full
here
.