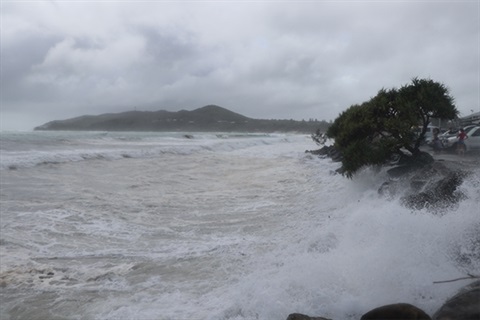 The Bureau of Meteorology (BOM) warning for heavy rainfall, abnormally high tides and damaging surf continues today (Tuesday 15 Dec) across the Byron Shire.
The BOM flood watch continues for the Brunswick River and its tributaries due to predictions for continuing showers and thunderstorms and the risk of flash flooding over coming days.
Rainfall rates are expected to ease later today or early Wednesday as the trough over the NSW North Coast weakens.
"We seem to be out of the worst of the storm event but we are still on flood watch as the situation could change under the current conditions," Council's Director Infrastructure Services, Phil Holloway said.
"We have Main Arm and other hinterland communities cut off due to flooding and we are coordinating our teams so they are on standby to fix infrastructure as soon as the water recedes," Mr Holloway said.
"We've been busy attending call outs overnight, clearing trees and debris from roads.
"We're also experiencing some pretty serious erosion on our Byron Bay beaches at the moment and continue to monitor this situation and take action as needed.
"We are looking forward to the easing of conditions currently predicted over the next few days," Mr Holloway said.
No Flags Mean No Swim – patrolled beaches closed in Byron Shire
Council advises that all patrolled beaches in the Byron Shire are closed including Tyagarah, Brunswick Heads, Ocean Shores, New Brighton and South Golden Beach.
All accesses between the Surf Club and the Beach Café, Byron Bay, are all closed due to hazardous escarpment, unstable vegetation and hazardous localised conditions.
All other formal accesses to beaches north and south remain open however we strongly advise people to stay away from beaches altogether as it's an unsafe environment. Please remember that No Flags Mean No Swim.
Surf is currently Hazardous to bathers and entry into the surf is unsafe.
A Hazardous Surf Warning is also current for much of the New South Wales coast. See https://www.bom.gov.au/nsw/warnings/hazardoussurf.shtml
Coastal erosion update
Council's inspection of storm damage this morning (Tuesday 15 December, 10am) showed the erosion is predominantly restricted to Main Beach and Clarkes Beach areas at the moment with a further 1m to 2m of land lost between Cowper Street and the Café with more vegetation down and another section of the disability access ramp lost.
"The erosion of the beach escarpment from the Byron Bay Surf Club through to Clarkes Beach is likely to continue today with waves from the king tide and large swell expected to cut into the toe of the dune," Mr Holloway said.
"During the high tide, waves have been periodically over-topping the rock wall at Main Beach car park and Apex Park and we are monitoring this for public safety.
"The erosion has created a steep escarpment on the beach side on all pedestrian accesses and we have installed barriers to avoid falls and accidents occurring," Mr Holloway said.
Emergency Information
Byron Shire Emergency Dashboard
The Byron Shire Emergency Dashboard has direct links to the latest information from the BOM, SES, Essential Energy and other agencies. People are asked to have emergency.byron.nsw.gov.au as a bookmark as a quick and easy way to access information about weather, flooding, roads and power outages.
Some roads are flooded and will quickly be affected by further rainfall. People can access My Road Info information via Council's Emergency Dashboard at emergency.byron.nsw.gov.au or directly at www.myroadinfo.com.au.
To report local road closures or trees and debris on roads after hours, call Council's emergency after hours number 02 6622 7022.
For help during floods and storms – call the SES on 132 500.
People needing help during floods and storms should call the SES on 132 500.
Weather updates
The latest information from the BOM is available at www.bom.gov.au or emergency.byron.nsw.gov.au.
Emergency radio station
The Emergency broadcaster for the Byron Shire is ABC North Coast – 94.5FM or 720AM (Murwillumbah area).
The State Emergency Service (SES) advises :
* Don't drive, ride or walk through flood water.
* Keep clear of creeks and storm drains.
* If you are trapped by flash flooding, seek refuge in the highest available place and ring 000 if you need rescue.
* Be aware that run-off from rainfall in fire affected areas may behave differently and be more rapid. It may also contain debris such as ash, soil, trees and rocks.
* After bushfires, heavy rain and the loss of foliage can make the ground soft and heavy, leading to a greater chance of landslides.
* Stay vigilant and monitor conditions. Note that the landscape may have changed following bushfires.
* For emergency help in floods and storms, ring your local SES Unit on 132 500.
/Public Release. This material comes from the originating organization and may be of a point-in-time nature, edited for clarity, style and length. View in full
here
.