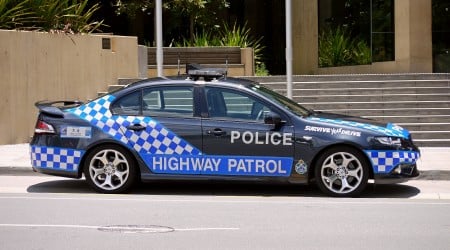 Two teenage boy were arrested and charged after driving an alleged stolen a vehicle in Toowoomba yesterday (December 6), Queensland Police say.
Local police became aware of the vehicle late yesterday afternoon after it had allegedly been stolen from a Glenvale address shortly before 5pm.
Polair were contacted and not long after they arrived in the area the alleged stolen vehicle was sighted in Mort Street, North Toowooomba.
Polair tracked the vehicle relaying its movements to police on the ground.
Around 7.50pm a tyre deflation device (stingers) was successfully deployed on Curzon Street just prior to the intersection with Jellicoe Street.
After running over the stingers the vehicle continued north along Curzone Street before turning into Jellicoe Street where it travelled westbound before colliding with a vehicle at the intersection with Mary Street.
No one was injured as a result of the crash however both vehicles were damaged.
Three male occupants of the alleged stolen vehicle abandoned the car and fled on foot.
One of the teens was located soon after in Mary Street and taken into custody with incident.
Polair and the Toowoomba Dog Squad commenced tracking the other boys before being called to an address in nearby Spiekar Street by the property owner after he heard someone walking around on his roof. Police attended and took the boy into custody.
A 15-year-old Silkstone boy has been charged with one count each of unlawful use of a motor vehicle, stealing,wilful damage and two counts of receiving tainted property.
A 16-year-old boy has been charged with two counts of unlawful use of a motor vehicle.
Police investigations are continuing.
If you have information for police, contact Policelink on 131 444 or provide information using the online form 24hrs per day.
You can report information about crime anonymously to Crime Stoppers.
/Public Release.View in full
here
.