Two-speed housing market
The historic first homebuyer law and stamp duty reform passed in Parliament are likely to create a two-speed housing market over the year ahead, according to Pete Wargent, co-founder of Australia's first national marketplace for affordable buyer's agency services, BuyersBuyers.
Mr Wargent said, "although the law doesn't come into full effect until 16 January 2023, New South Wales now has an advantage over other states, which will still require substantial stamp duty payment to be made by first home buyers. In time this may even help to attract more young talent to the harbour city, in preference to Melbourne."
"This weekend Sydney's preliminary auction clearance rate was 69 per cent, although there were close to 100 properties withdrawn. Seven out of every ten units taken to auction this weekend in Sydney sold under the hammer, which was a stronger result than for detached homes, suggesting that the recovery is ultimately likely to be driven by the lower end of the housing market in New South Wales."
"In particular there were signs this week of first homebuyers becoming active with their searches in the Eastern Suburbs, the City and Inner South, and Inner South-West areas of Sydney. Until now, a first homebuyer buying a property for $1.5 million in Sydney has had to hand over $67,000 in stamp duty to the government, which is a serious disincentive not only to buying but also to subsequently selling and upgrading."
"New South Wales now has an advantage on other states and territories, with 6,000 first homebuyers each year likely to take advantage of the new reform, and this can help Sydney to attract the best and brightest talent from Australia and overseas going forward."
"Henceforth, first home buyers can opt-in to the First Homebuyer Choice and received a refund in January on the upfront stamp duty paid for homes up to the $1.5 million price point. From 16 January first homebuyers opting for the annual payment will not have to pay stamp duty at all, which will be a significant boost for his sector of the market" Mr Wargent said.
Positive reform
BuyersBuyers CEO Doron Peleg said that the reform was a positive move that will increase efficiency in the economy, and in time will ultimately help to smooth the tax take through the housing market cycle.
Mr Peleg said, "Melbourne experienced a much lower preliminary auction clearance rate of only 57 per cent this weekend, with many prospective buyers opting to sit things out until the new year, and until there is further clarity on where the terminal cash rate will land. The final auction clearance rate for Melbourne will likely be closer to just 50 per cent. This is a considerably softer result, of course."
"Furthermore, very few properties were reported as sold under the hammer in Brisbane, with caution abounding. While the market conditions are mixed, generally speaking, higher-priced properties have been declining in price over the past six months, and in some cases, the declines have been very significant, particularly for some hinterland and lifestyle locations."
"State governments had become somewhat addicted to stamp and transfer duties, which are pro-cyclical and inefficient taxes, inhibiting the free movement of the labour force, and making the hurdle to home ownership increasingly too high. Over the 2022 financial year, a total of $14½ billion was collected from transfer duties, which was four times the amount from a decade earlier."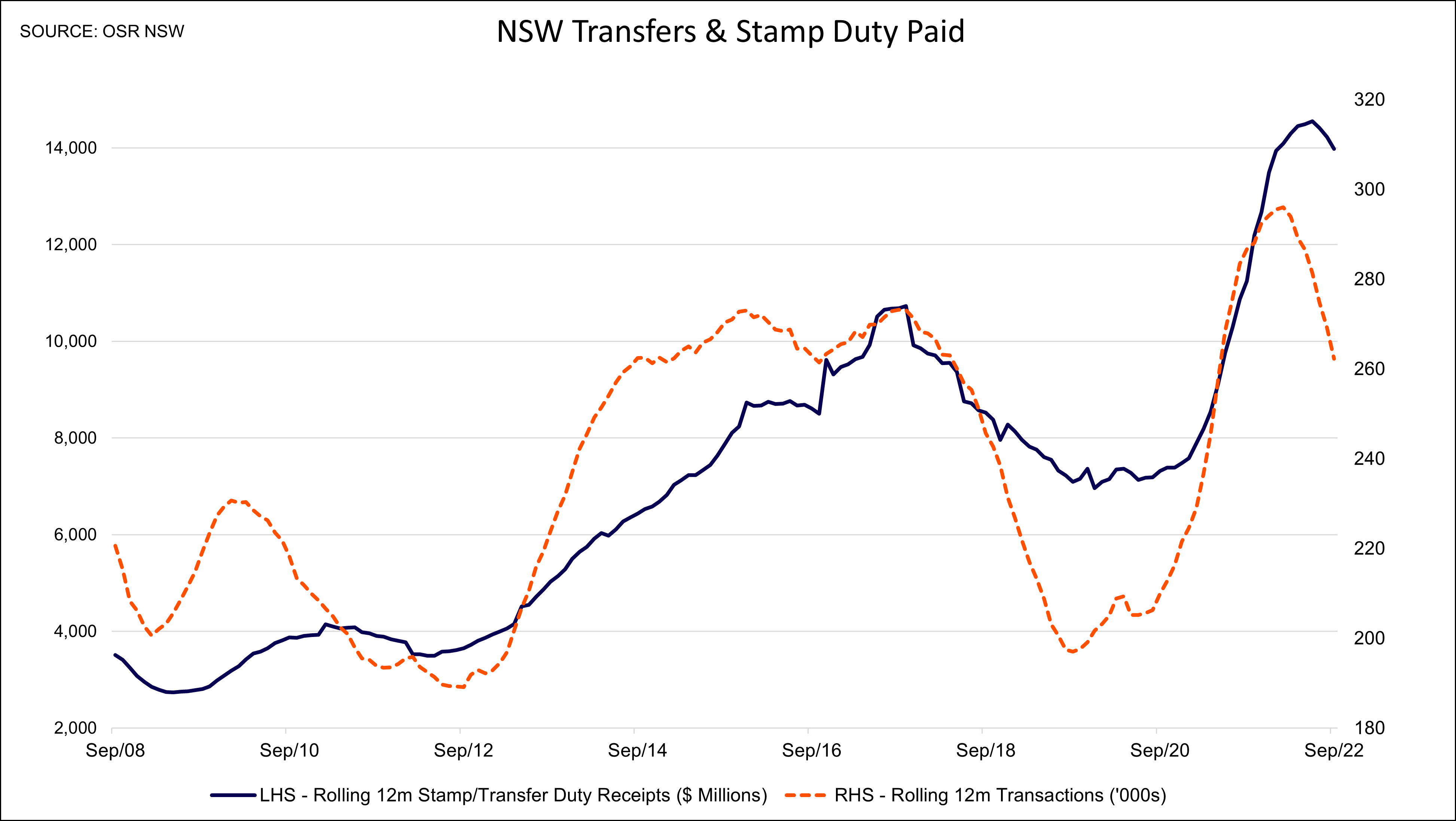 "A first homebuyer buying in New South Wales prospectively can now focus on saving the deposit, without needing to pay more than $40,000 on a $1 million property purchase in stamp duty. Our view is that the lower end of the market in New South Wales will now see significantly more activity and transactions being successfully completed" Mr Peleg said.
Staged implementation
BuyersBuyers co-founder Pete Wargent said that although first homebuyers will be able to take advantage of the reform immediately by applying for stamp duty refunds, the full impact of the reform will take some time to be seen.
Mr Wargent said, "we expect the lower price quartile of the Sydney market to begin its recovery in the first quarter of 2023, as more buyers take advantage of the reforms from January onwards."
"The rental market in Sydney is also continuing to tighten very rapidly as immigration rebounds, which is another factor which tilts the buy versus rent equation for first homebuyers towards buying."
"That's especially true for first home buyers who can gain assistance with saving or coming up with the deposit from the so-termed 'bank of Mum and Dad.' It's worth noting that investors may also now be targeting the Sydney market in the price points up to $1.5 million, which may arbitrage away some of the benefits of the stamp duty saved by first homebuyers over the next year" Mr Wargent said.
/Public Release. This material from the originating organization/author(s) may be of a point-in-time nature, edited for clarity, style and length. The views and opinions expressed are those of the author(s).