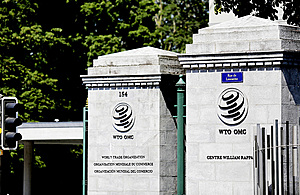 Thank you, Chair.
The United Kingdom is a strong supporter of the WTO dispute settlement system, as a central pillar of the rules-based multilateral trading system.
An effective and binding dispute settlement mechanism ensures that the rules we have negotiated are enforceable, preserving the rights and obligations of Members.
The United Kingdom supports a system which is compulsory, binding, impartial, and with two-tier adjudication, as the best means of ensuring the fair resolution of disagreements and preventing recourse to unilateral measures. This is to the benefit of the whole global economy.
We are greatly concerned that the WTO Membership still has not been able to launch the selection process for new Appellate Body members, with the result that the Appellate Body is unable to hear new appeals.
The United Kingdom therefore continues and confirms its support for this proposal to the launch of the selection process. We also support the statement made by Mexico on behalf of all co-sponsors.
The United Kingdom is committed to finding an urgent resolution to the impasse with the Appellate Body which carries the support of all WTO Members. We understand the long-standing concerns that have been raised, and support further urgent discussions to find common ground including on possible reforms to the system. We recognise that in a consensus-based organisation like the WTO, any dispute resolution mechanism must carry the trust of all Members.
However, we also consider that finding a solution should not stand in the way of the continued functioning of the system and the launch of the Appellate Body selection process. We therefore call on all Members to act urgently to restore the system to full functioning, whilst we prioritise discussions on a long-term solution to the concerns raised.
/Public Release. View in full
here
.