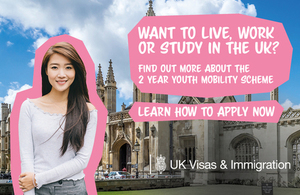 The ballot for the Youth Mobility Scheme 2020 for Hong Kong SAR passport holders will be opened in February 2020. Since July 2019 the selection criteria has changed to a lottery based system managed by UK Visas and Immigration (UKVI). There will no longer be the requirement to provide a Certificate of Sponsorship previously issued by the Hong Kong authorities.
There are 1000 places in total available to HKSAR passport holders in 2020. This will be split into two ballots, one in February and one in July, A total of 800 applicants will be selected for the first ballot in February 2020. The second ballot in July 2020 will be opened for the remainder of places. If your application is successful you will be able to live, work and study in the UK for up to 2 years.
How to apply
If you would like to apply for the scheme you should send one email (only) to:
/Public Release. View in full
here
.