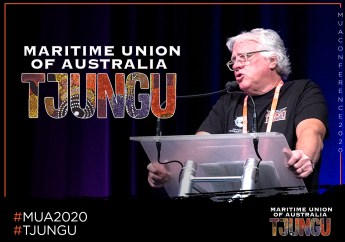 Some 500 rank and file union delegates from around the Australian coast and around the world have come together this week for the Maritime Union of Australia's National Conference at Broadbeach, Queensland in March in the spirit of Tjungu – unity.
The MUA is a division of the Construction Forestry, Maritime, Mining and Energy Union. Tjungu is an Anangu, Western desert word meaning coming together or unity.
"Tjungu means we do things collectively. In unity. Together," special guest Sammy Wilson, Chair Central Land Council from the heart of the nation explained. "The same way we are all here today united."
Thomas Mayor, MUA National Indigenous Officer said it was the first time the union had a conference theme in Aboriginal language.
"Tjungu is unity," he said. "That's also how we have fought off conservative governments and fought for workers' rights."
After a welcome to country from the Yugambeh Traditional Landowners of the Gold Coast, National Secretary Paddy Crumlin took the podium to speak of the appalling treatment of indigenous people in Australia.
"After 200 years of genocide, murder, imprisonment, taking away your rights, it is up to our generation to set things right," he said reaffirming the union's support for constitutional change.
"We don't want deaths in custody. Stolen children stripped from their families and cultures," he said. "What we are meaning to do this week is to come together with one voice. The spirit of Tjungu will resonate."
National President Christy Cain spoke of the recent union amalgamation also as Tjungu.
"We amalgamated for a number of reasons but the main reason was strength," he said. "We are one powerful union. We are proud to lead the struggle for the working class in this country."
Speaking on the challenges facing the union movement, Paddy Crumlin, who is also President of the International Transport Workers' Federation, highlighted how a handful of billionaires have come to own half the world's wealth.
It is a system the World Bank nurtures and is in cohorts with, he said.
"The World's top 2,153 billionaires have more money than 4.6 billion men and women," he said. "Our health care is being privatised, our communities are privatised, the water we drink is being privatised."
Workers face poverty, war and virus pandemics. They face fire and flood induced by climate change, he added. Politicians have failed us, shipping is deregulated, ports privatised. The land we stand on is burnt to the ground after indigenous people successfully nurtured it for centuries.
"The government has disregard for global warming because the big end of the town don't want anything to stand in the way of profits," he said calling for a just transition for workers to renewable industries.
Jobs are digitised, people put under surveillance, values corrupted, men and women disenfranchised and exploited under modern day slavery," he said. "The world is preparing for catastrophe."
Sally McManus, Secretary, Australian Council of Trade Unions spoke on a similar theme of growing inequality and wage theft.
"How come there is so much wage theft?," she asked. "Why do we have record low wage growth? Why is Australian inequality getting worse? Maybe it's because we used to have 50% union coverage and now we have 15%."
She blamed successive conservative governments starting with John Howard for undermining unions.
"When Howard first got elected he pulled apart all the laws that supported workers one by one," she said. "Howard ripped them out. Our membership collapsed over night. We now have easily the harshest labour laws in the world. If nations don't support the trade union moment – the collective voice of workers – things get out of whack. You get a power imbalance."
Manus also blamed the unrestricted power of billionaires on the failures of democracy.
"Clive Palmer put in $80 million for the last election campaign," she said. "Just like Trump put in millions. The problem with democracy is the billionaires."
She called on unions to catch up with the digital age so they can connect with young people who have have grown up with technology
"We are really old and we've been slow to change," she said. "Young people don't want to call the union, they want to connect online. Online, you can organise workplaces you can't even reach."
At the same time unions have to ensure new technology is not used against workers.
"We have to fight to make sure the technology isn't a way of breaking the unions," Steve Cotton, ITF President told Conference.
Companies like Philippines stevedoring giant ICTSI are using automation to undercut the market," he said. "We need to do more to stop them. We have to grow membership."
Together with Paddy Crumlin, Cotton had launched an aggressive strategy to fight for workers' rights globally. More unions are joining the ITF.
"More than ever the global supply chain is where we need to strengthen our position," said Cotton. "We supported Paddy to change the face of ITF. We wanted to capture the MUA spirit and bring that to a global labour movement. We now have nearly 20 million members, the highest in years. "
Crumlin said unions were fighting back and workers' capital was one way to leverage against modern day slavery and support renewable energy.
"There's a class struggle going as attacks on unions intensify," he said. "Corporations have worked out that if you remove unions there's no one to stand up to them.
"We took Chevron on with our WA comrades," he said. "We went after them and made them pay up a $800M tax bill," he added.
Unions are thinking, researching and organising internationally, he stressed.
"Steve and I put action back in the ITF, not just words," said Crumlin. "Together with the ILWU, the MUA has turned the ITF into a fighting international force for the rights and justice of the international working class."
Conference delegates gave a standing ovation to the delegation from the International Longshore and Warehouse Union of the USA, now facing a US$90 million damages fine in the courts brought on by Philippines multinational stevedoring company ICTSI.
"We will stand by the ILWU," said Crumlin.
Conference then recognised all international guests from the US, the UK, Canada, Hong Kong, Singapore, Timor Leste, Japan, Papua New Guinea, Indonesia, the Netherlands and New Zealand with standing ovations.
National Conference, the union's highest policy making body, will run from March 2 – March 6.
Delegates will then return to their workplaces where national president Christy Cain called on every delegate in the room, to educate, agitate and organise, organise, organise.
/Public Release. View in full
here
.