It's Ask A Curator Day and we've pulled together the answers to some of your frequently asked questions.
Ever wondered what the oldest objects we have in the Port Phillip City Collection? Or what the quirkiest item you can find is.
Read on to discover some fascinating finds from the collection. To delve deeper, visit the Port Phillip City Collection online.
What's the oldest object in the collection?
One of the oldest objects in the Collection is a silver trowel which was used to lay the foundation stone of the original St Kilda Town Hall on 12 July 1859, at the corner of Barkly and Grey streets.
St Kilda Council first met on 11 March 1857 at the Junction Hotel. A few years later, on 4 January 1860, Council had its inaugural meeting in the newly completed Town Hall, a municipal complex including the Council Chamber, police station, court and watch house.
St Kilda's growth as a seaside destination and the increasing activities of Council required a new and bigger municipal home. In 1890 St Kilda was proclaimed a City, which coincided with the opening of the new municipal building – named St Kilda City Hall in honour of this occasion.
The trowel was presented to the Honorable Alexander Fraser J.P. M.L.A. and Chairman of the Municipal Council of St Kilda.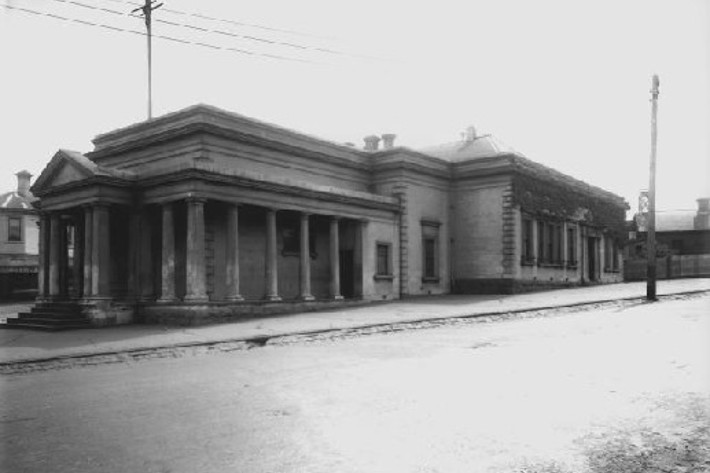 What's the newest?
In 2020 we acquired Sand World by St Kilda artist Despa Hondros, who is based at the Vale Street Artist Studios.
Despa's drawing follows a particular trajectory, working with elemental forms – circles and lines – which are repeated within the visual field. Our attention is drawn to these repeated forms whose effects of movement, depth of tone and contrast are created by the intensely detailed repetition of the marks. It is a visual delight of exquisite detail and fine skill, at once recognisable but reflective of worlds within worlds.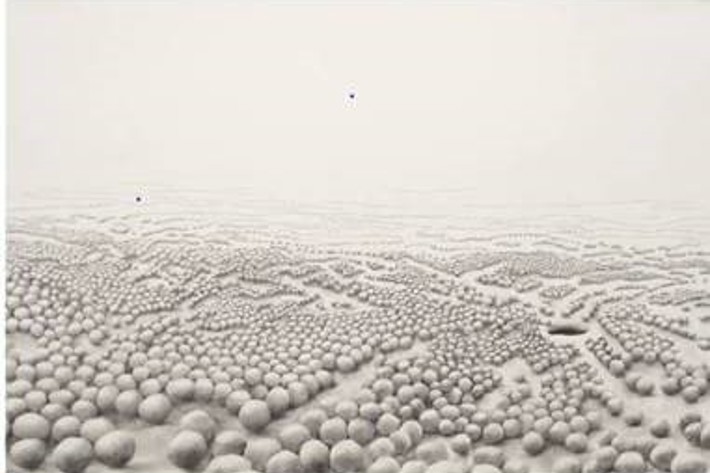 What's the quirkiest?
One of the more unusual objects is related to the work our health inspectors do keeping people safe. This is a City of Port Melbourne Health Inspector's brown leather Gladstone bag, 1960-1990. This leather kit bag was used by the City of Port Melbourne food inspector as he travelled around Port Melbourne checking fresh goods such as meat products, to ensure they were safe for consumption. It contains tape, notebooks, receipts for purchases, plastic bags and lab reports.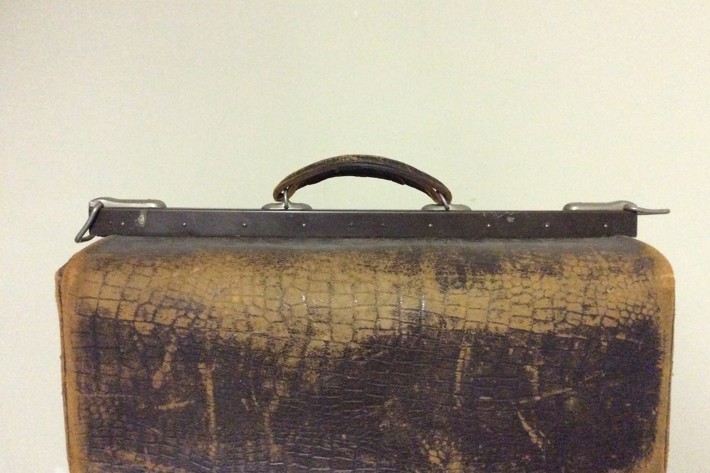 Any favourites?
It's hard to choose but two that spring to mind, because they represent the social history of that period are:
Gun Metal Mirage Jet Fighter Dress, 1980-1981. An example of the early work of Jenny Bannister, this item represents the artists and creatives operating in St Kilda in the 1980s and ties in with St Kilda as Melbourne's heart of music and punk fashion. Bannister went on to become an important figure in the history of Australian fashion.
Esther Paterson's portrait of South Melbourne Councillor and Mayor Dr Janet Cooper in her mayoral robes. These works exemplify the breadth of women's lives and activity in our community, the doctors, councillors, artists, designers and more, and the depth of stories behind people who made and wore these outfits.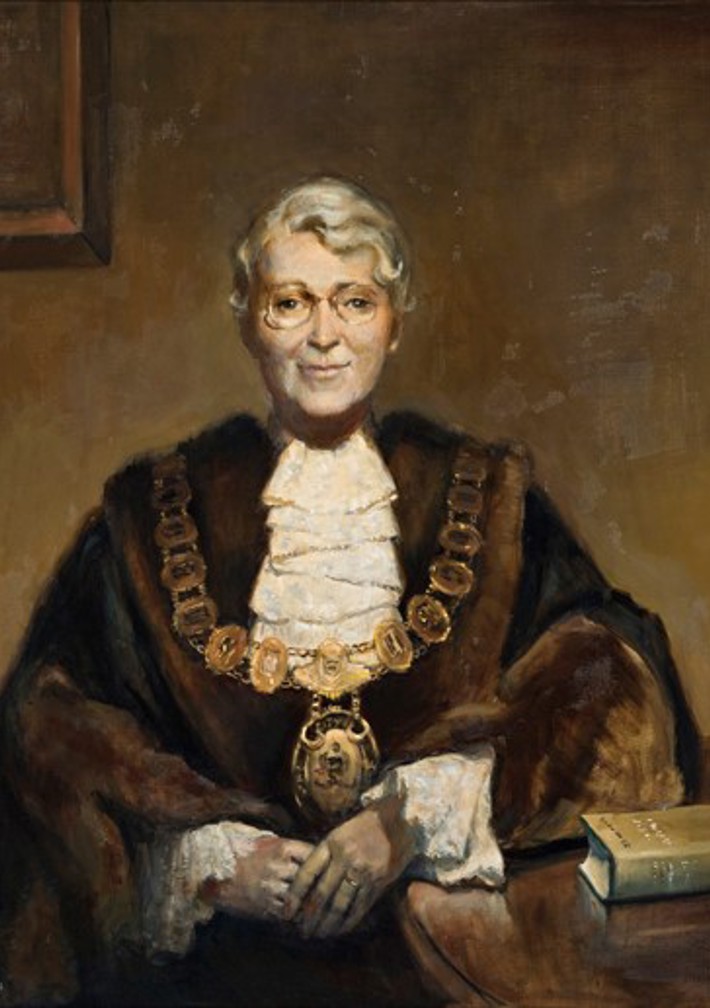 Do we have something with animals?
Horses were a large part of the workforce in the Cities of South Melbourne, St Kilda and Port Melbourne. They pulled carts laden with all kinds of merchandise, such as Plummer Murphy & Co. Brewery's aerated water, cordials, and vinegar, located at 5 Smith Street, South Melbourne, or assisted with beach cleaning, or mowing the grass!
PPCC sm1831, sm0884, pm0994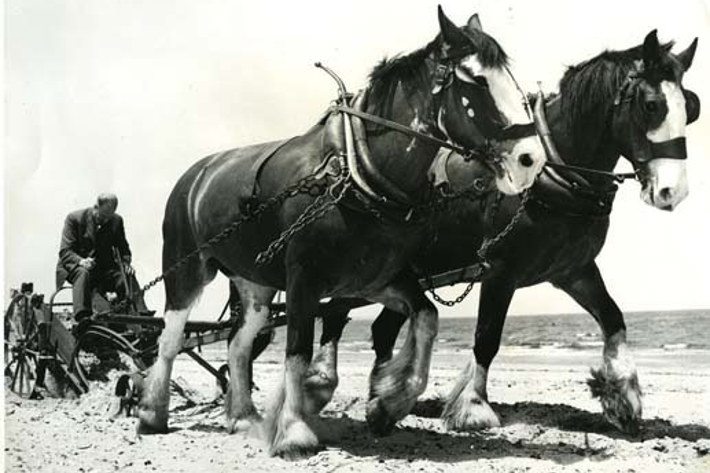 What's the biggest object?
One of the biggest objects in the City of Port Phillip is the South Melbourne Town Hall. Listed on the Victorian Heritage Register for its architectural, historical and social significance to the State of Victoria.
South Melbourne Town Hall, originally known as Emerald Hill Town Hall until the name of the municipality was changed in 1883, was designed by Charles Webb to house the Emerald Hill Town Council, Public Hall, Mechanics Institute and Library, Post and Telegraph Department, Police Department and Courthouse and Fire Brigade. It was built by Gillon and Treeby and officially opened on 30 June 1880. A conservation management plan has been commissioned to help care for the building into the future.
What's the smallest?
One of the smallest types of objects we have in the collection are badges and buttons. Local community organisations worked with Councils to raise money and awareness for important causes. Badges and buttons were used as admission tokens events and were sold to raise funds for causes such as supporting the soldiers of World War One and families during the Depression.
The 'Snapshots from Home League' was formed during World War One with the assistance of the YMCA. This group helped strengthen morale by providing free photographs of soldiers' families and sweethearts. This might be a soldier's only glimpse of a loved one's face for many years. This button was worn by the members of the South Melbourne branch of the Snapshots from Home League.
/Public Release. This material from the originating organization/author(s) might be of the point-in-time nature, and edited for clarity, style and length. Mirage.News does not take institutional positions or sides, and all views, positions, and conclusions expressed herein are solely those of the author(s).View in full
here
.