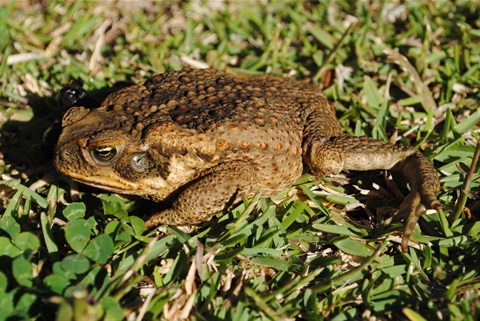 Midcoast Council's Environmental team has confirmed that a cane toad has been found on Oxley Island.
Council has notified the Department of Primary Industries and both organisations have spoken to the community member who discovered the toad.
While it is possible the toad has been unknowingly brought to the area from Queensland or northern NSW, both Council and DPI are concerned it may have already been in the region and has washed on to Oxley Island in flood waters.
"Anytime a cane toad is found in our region this is a huge concern for us because they pose a major threat to our native wildlife," explained MidCoast Council's senior ecologist, Mat Bell.
"A breeding female toad can lay up to 35,000 eggs per year and there is a very high survival rate of tadpoles and toads, which are toxic at all life stages."
"While the toad found on Oxley Island appears to be a male, there is always the potential that more are around. The toad was dead when it was discovered and we are unsure if it was killed in the flood waters."
Council's team will work with the state authorities to continue to investigate the area and are urging the community to be aware and on the look-out for cane toads.
"We are asking that all local residents and visitors be vigilant, particularly in the vicinity of the Oxley Island area, to ensure that there is not a local population of this species."
Mat added that a sighting like this highlights the need for the community to familiarise themselves with the distinct cane toad call as well as the differences between cane toads and native frogs.
Cane toads are regarded as one of Australia's most damaging invasive species. Poison in the glands on the toads' neck and back is toxic to pets and most native predators.
If anyone thinks they may have found a cane toad, the animal should be captured alive and safely secured in a ventilated container. Photographs should be taken and contact should be made with the Department of Primary Industries and Council straight away. The best way to report a cane toad sighting is via Toad Scan (https://www.feralscan.org.au/toadscan/). Reports to this website are monitored and DPI will be in contact within 24-hours to confirm the identification.
"If you see something suspicious – keep it alive, secure, photograph and report it," added Mat.
/Public Release. This material comes from the originating organization and may be of a point-in-time nature, edited for clarity, style and length. View in full
here
.