In his 4th monthly blog, Martin Jones, CEO of the Parole Board, talks about the work the Parole Board is doing to improve victims' experience of parole, including a project to inform members about restorative justice.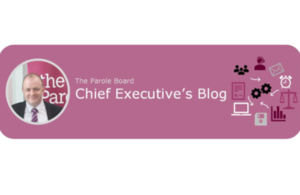 Working to improve victims' experience of parole
The Parole Board makes thousands of decisions each year. The majority of those decisions have the potential to cause anxiety and sometimes upset to victims. Even though the Parole Board's job is focused not on punishment, but on the potential risk if the prisoner is released, we always take careful account of any victim personal statements and should ensure that we treat victims with humanity and sensitivity.
While we can sometimes make unpopular decisions, we should always be prepared to listen and learn. Therefore, I regularly meet with the Victim's Commissioner and with individual victims who have experienced the parole process to consider how we might improve.
Restorative Justice Guides
I am delighted that we have now published some really helpful guides about Restorative Justice (RJ), produced in collaboration with Why me? Victims for Restorative Justice. My thanks go to Lucy Jaffé and her team at Why me? for leading this work.
The initiative for this work came from two very brave women, who were the victims of serious offences. Through RJ, they had both met the men who had been convicted of the offences, and had found the process helpful. They wanted to meet me because they were keen to discuss whether Parole Board members understood RJ and how it works, so that members could make well-informed decisions about the potential relevance RJ may have on parole decisions.
I listened very carefully to these two very courageous ladies and made a commitment to them and the Victims' Commissioner that we would carry out this work. The publication of these leaflets is a great step forward in this work and I am glad that we have delivered on this promise. This was a great piece of work that will undoubtedly help Parole Board members understand more about RJ, and will also help people working in RJ learn about the Parole Board.
For more detailed information about restorative justice and parole, please take a look at the leaflets or go to the Why me? website.
/Public Release. View in full
here
.