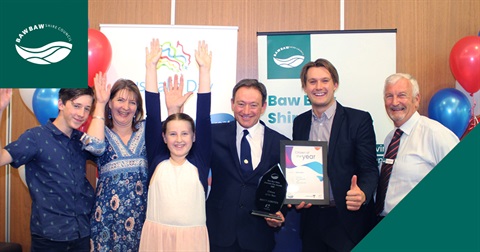 12 local legends and groups have been awarded across a range of categories at the 2020 Baw Baw Shire Australia Day Awards Ceremony.
The annual awards ceremony honour and recognise those who give back to the community every day without seeking recognition. All winners are nominated by fellow community members.
Deputy Mayor Cr Peter Kostos presented the awards, with Councillors and members of the Executive in attendance supporting the winners and their nominators.
Official Australia Day Ambassador, ground breaking radiologist Dr Yvonne Ho AM, featured as a guest speaker and spoke of what it meant to her to be an Australian.
Melina Bath MP Member for Eastern Victoria contributed some closing words after the award presentations affirming the importance of recognising and celebrating the special people who have contributed to our communities so selflessly.
Award categories and winners
Citizen of the Year – Brett Kersten
Young Citizen of the Year – Jessica Hickford
Community Group of the Year – Baw Baw Food Relief
Sporting Achievement Award – Gippsland Pride Roller Derby
Cultural Achievement Award – Multicultural Friendship Group
Australia Day Medallion – Albert Fox
Australia Day Medallion – Steve Vincent
Australia Day Medallion – Dawn Harper
Australia Day Medallion – Merrin Butler
Australia Day Medallion – Jim Crowe
Australia Day Medallion – Faye Vandyk
Australia Day Medallion – Joe Meggetto
Award nomination details
Citizen of the Year – Brett Kersten
Following an impressive career with the Australian Defence Force, Royal Australian Engineers and Victorian Police, Brett has since immersed himself in his community and made an incredible impact.
Brett is involved in several local organisations and continually volunteers his time, energy and money to improve the lives of the young, elderly and disabled. He is an active member of the Warragul R.S.L. and has volunteered many hours raising finds and supporting local Remembrance Day and Anzac Day services. Brett is also a member of the Gippsland Young Veterans and First Responders Support Group and has performed several lectures to raise awareness and funds to help the group thrive.
Over the last few years, Brett has volunteered countless hours and helped raise tens of thousands of dollars for the Warragul and West Gippsland community. He even dips into his own pocket to supply families with groceries, clothing, support and assistance for no reward or recognition.
He is a true leader, teaching by example the true meaning of Aussie mateship and community spirit.
Young Citizen of the Year – Jessica Hickford
Described as always caring, kind, determined, compassionate and a role model for her peers – Jessica runs an impressive list of personal characteristics, academic and sporting achievements.
Jessica participated in the Accelerated Pathway program and has been presented with multiple achievement awards in athletics, swimming, cross country – and even won the Drouin Cricket Club Award for the girls in 2019 for the whole school. Jessica is a keen volunteer and fundraiser, always supporting groups and causes close to her heart.
Jessica's friends and family are especially proud of her and the strong, kind and caring young woman she is growing up to be. She undoubtedly displays many admirable qualities in a young person.
Community Event of the Year – Baw Baw Food Relief
Baw Baw Food Relief is a non-profit charity is supported by 72 unpaid, dedicated volunteers with every effort and dollar raised contributed to the purchase food to feed community members experiencing hunger through financial hardship. Last year alone, the group directly supported 949 families in times of need.
At the time of their nomination, the group received recognition for their efforts to support affected communities as a result of the Bunyip Complex Fires in March last year. The team worked with Foodbank and other companies to gather, sort, store and transport donations of food and vital supplies to victims and volunteers. Their headquarters became a donation centre for the community wanting to donate to those affected by the fires. Since their nomination, the team at Baw Baw Food Relief have been busy supporting the current bushfire crisis affecting our neighbours in East Gippsland.
The group are there for not only our community, but our neighbouring communities in times of heartbreak and crisis, and Council is honoured to recognise their efforts.
Sporting Achievement Award – Gippsland Pride Roller Derby
With grit, determination, teamwork and tenacity, the Gippsland Ranges Roller Derby proudly delivered the first ever Gippsland Pride Initiative in June 2019 – which included the inaugural Gippsland Pride Cup Roller Derby at Lardner Park.
The Pride Cup Roller Derby brought opportunity and visibility for LGBTQI athletes and sporting participants. It brought together community partners and health services to provide resources, entertainment and family friendly activities and spaces. By all measures, the event was an excellent success with over 350 people participating, spectating or volunteering at the event.
Cultural Achievement Award – Multicultural Friendship Group
Formed almost two years ago, the group meets weekly with members coming from many different countries and cultures. Promoting inclusivity and reducing isolation, the group play an important role within our growing community. The group helps connect newcomers with schools, doctors, work and other assistance. They provide a welcoming space to form new social connections and encourage members to join in other community activities and events.
Australia Day Medallion – Albert Fox
Albert has been a local icon in Gippsland for the arts and music with over 60 years of service to our community. Through Fox Music and the Darnum Music Village, Albert has provided a space for the community to come together and share their passion for music and entertainment. Albert remains actively involved in many community groups and continues to support the arts in Warragul and surrounds.
Australia Day Medallion – Steve Vincent
Steve Vincent is a prominent member of the Neerim District community having served in many clubs, committees and contributed to many local projects including the Neerim Trail, Wetlands, Neerim South Stadium, Recreation Reserve and Pool.
Steve is a long-term teacher at the Neerim District Secondary College and regular attendee of community events and activities. At other points in time, Steve has also been a volunteer coach, referee, fundraiser, advocate and friend to many.
Australia Day Medallion – Dawn Harper
Dawn Harper has dedicated countless hours to local committees such as the West Gippsland Healthcare Group, the Rotary, the Jaycettes, Club 88 Quota, St Andrews kindergarten the fund-raising Committee for Cooinda Lodge.
Dawn has also actively involved in organising many Hospital Balls and Cup Day celebrations and supporting local tennis and basketball groups, supporting the Marwarra and the Warragul Primary School and her Church fellowship. As someone committed to her community, Dawn goes about her business quietly and without seeking recognition.
Australia Day Medallion – Merrin Butler
Merrin Butler has deeply immersed herself into varying roles within volunteer groups, at times being both an office bearer as well as an active member. She has made her biggest impacts in the Mount Worth and District Landcare Group, West Gippsland Seed Bank, Ellinbank/Darnum CFA and Friends of Mount Worth. Through these committees she has played crucial roles in administration, event organisation, advocacy, raising awareness and fundraising through grant applications. Described in her nomination as reliable, hardworking and a great leader, Merrin is also a friendly face for anyone speak with and nothing is ever too much to ask of her. Merrins work has helped make her local community an area to proud of.
Australia Day Medallion – Jim Crowe
Jim Crowe has always been an active community member, being described in his nomination as a most public-spirited individual. For many years, Jim was President of the Narracan Coalville Local Neighbourhood Advisory Group and the Narracan Public Hall where he served as President for around 30 years. He was instrumental in the re-build of the hall following the 1999 fire that burnt it to the ground.
In addition to these significant community contributions, Jim has also served other local community groups such as the Young Farmers Organisation, Trafalgar Apex Club, Narracan Landcare Group and Trafalgar/Thorpdale RSL.
Australia Day Medallion – Faye Vandyk
Faye has been a valued member of the West Gippsland Genealogical Society since 1994. Over this time, Faye as dedicated countless hours and skills to the craft. Faye has helped research and produce important record keeping documents of great value to the wider community.
She is responsible for recording the lives of pioneers, WW1 soldiers and history of the area. She has also organised typesetting, scanning, digitising and indexing of many local records for people researching their family history. Faye has never expected individual recognition for her work.
Australia Day Medallion – Joe Meggetto
Joe is a local legend, dairy farmer and keen advocate for mental health. On many occasions Joe has publicly opened up about his struggles with mental health in an effort to break the "male stigma" around the illness. Joe often speaks out about his own personal mental health struggle to create social change in our community and encourage others to speak up about their own issues and seek help. Joe is humble, hardworking and adored by his family, friends and community.
As stated by Mayor Cr Danny Goss
"Australia Day is our day to reflect on our history, celebrate our achievements and our people. Each year these awards recognise and celebrate the special people who go above and beyond the call of duty. We are fortunate to have so many extraordinary people here in Baw Baw, each devoted to making our Shire a great place."
"Several criteria are taken into consideration when selecting award recipients. Many strong nominations were received, and each choice was a difficult one. All category winners should take great pride in their award. Congratulations once again and thank you for your contributions to our community."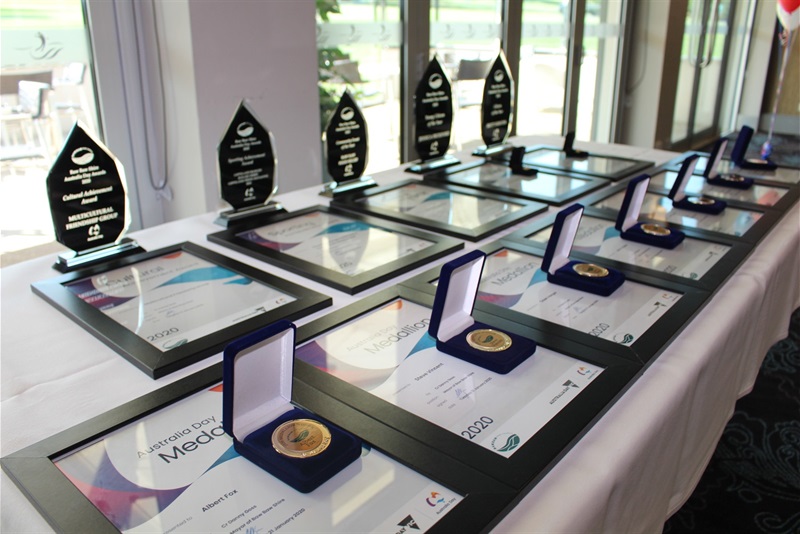 Image: Awards and medallions.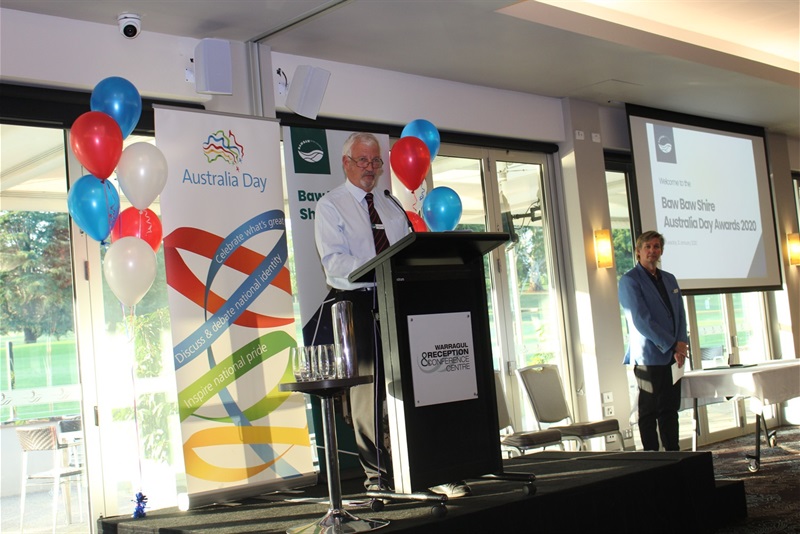 Image: Event host Deputy Mayor Cr Peter Kostos and Cr Michael Leaney.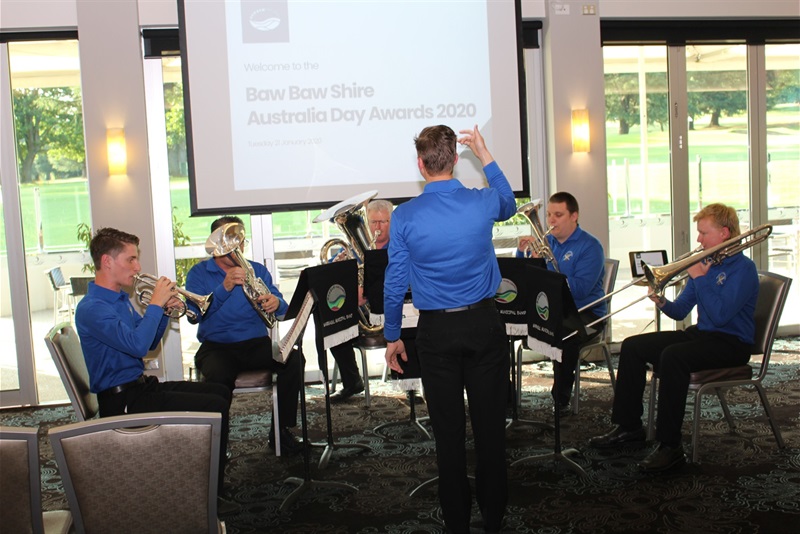 Image: Warragul Municipal Band.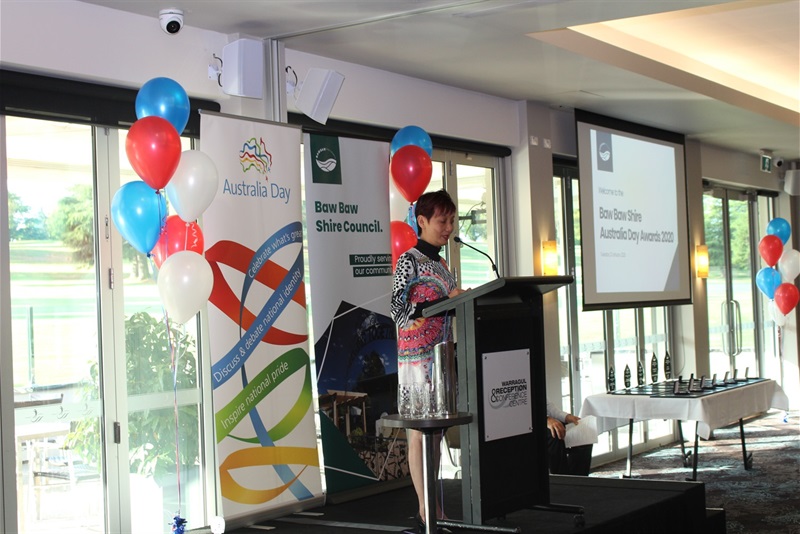 Image: Australia Day Ambassador Dr Yvonne Ho AM.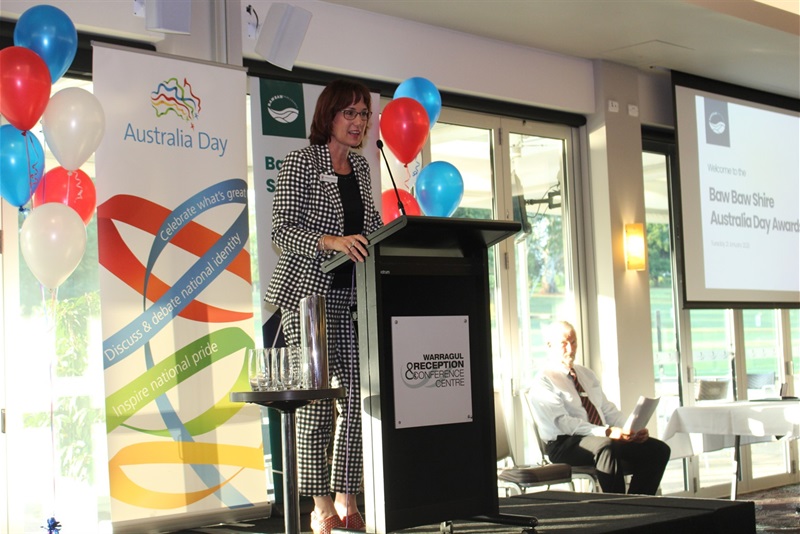 Image: Melina Bath MP Member for Easter Victoria.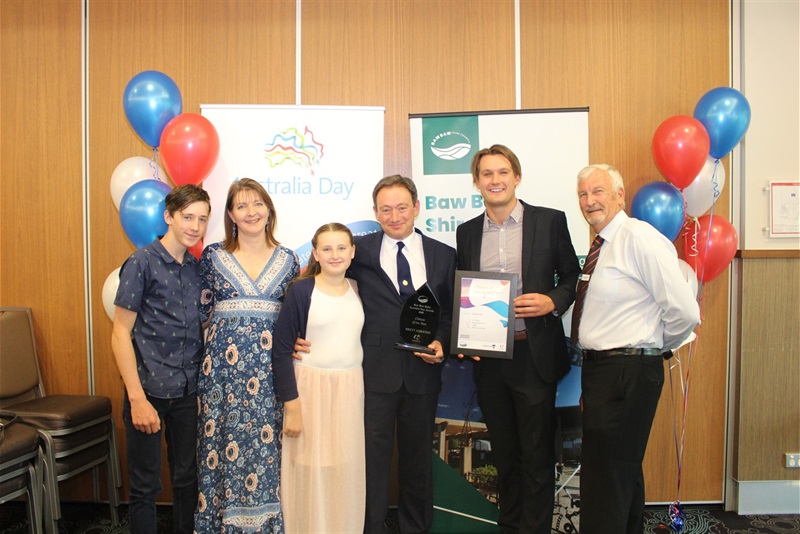 Image: Citizen of the Year Brett Kersten and family with Deputy Mayor Cr Peter Kostos.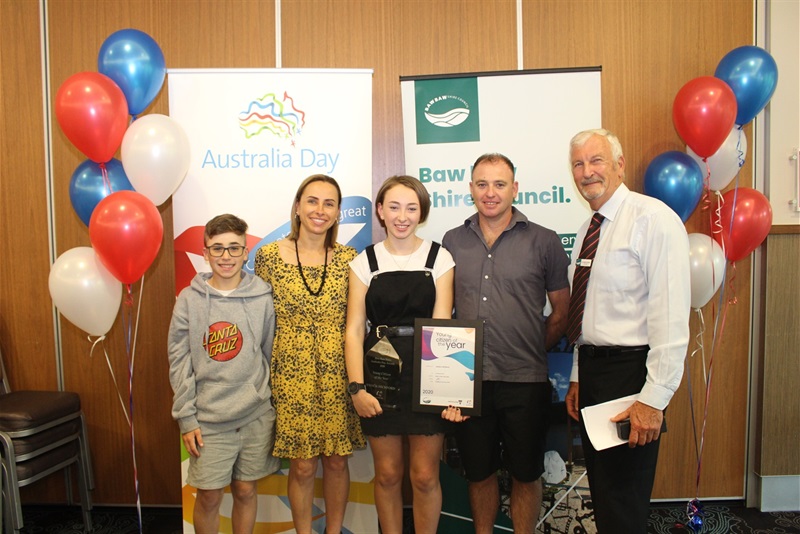 Image: Young Citizen of the Year Jessica Hickford and family with Deputy Mayor Cr Peter Kostos.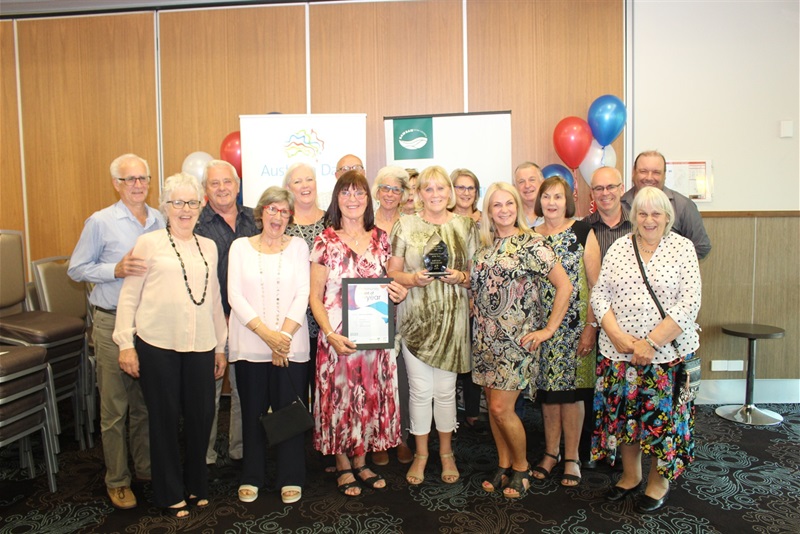 Image: Community Event of the Year Baw Baw Food Relief.
Image: Cultural Achievement Award winners the Multicultural Friendship Group.
Image: Sporting Achievement Award winners the Gippsland Rangers Roller Derby.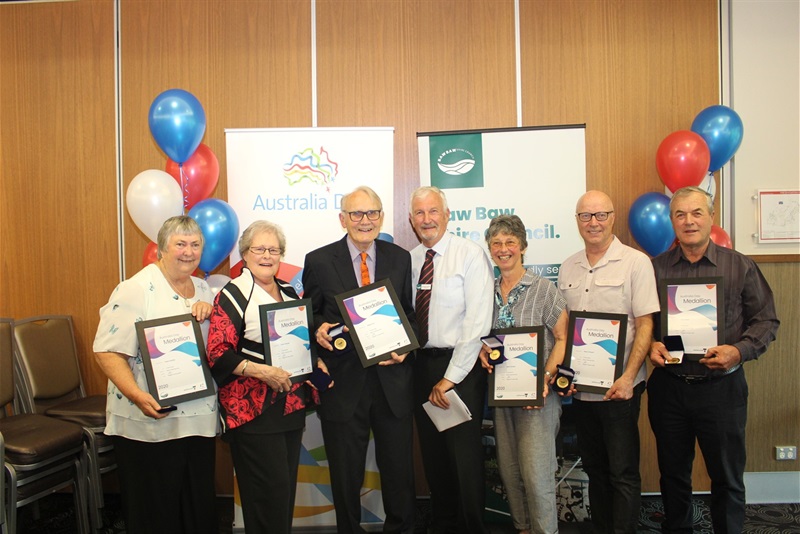 Image: Australia Day Medallion recipients Faye Vandyk, Dawn Harper, Albert Fox, Deputy Mayor Cr Peter Kostos, Merrin Butler, Steve Vincent and Jim Crowe (Absent: Joe Meggetto).
/Public Release. This material from the originating organization/author(s) may be of a point-in-time nature, edited for clarity, style and length. The views and opinions expressed are those of the author(s).View in full
here
.