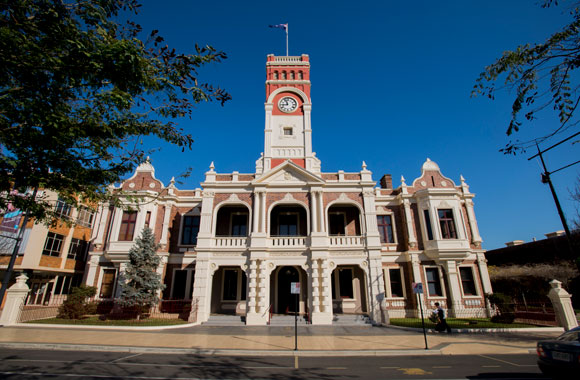 Toowoomba Regional Council (TRC) respects the right of the Combined Unions and their affiliated TRC members to undertake Protected Industrial Action (PIA) in response to ongoing Enterprise Bargaining Agreement negotiations.
TRC CEO Brian Pidgeon said that while Council was disappointed the Combined Unions hadn't accepted any of the three offers to date, it would not prejudice any employees for taking part in the PIA.
"At the end of the day, the Combined Unions and Council both want the same thing – fair working conditions for Council staff," he said.
"But Council needs to ensure that any offers are affordable and acceptable to ratepayers. Unfortunately, the two parties haven't been able to agree on the specific details for a new agreement.
"It should be recognised that Council's offers included in the Enterprise Bargaining process to date benefit all TRC employees. Council's offer does not diminish any existing staff entitlements.
"To date, Council has met with the Combined Unions on 11 separate occasions as part of ongoing Enterprise Bargaining negotiations, including most recently on 6 August, and remains ready and willing to continue negotiations in good faith to reach a positive outcome for all parties, within Council's financial constraints.
"Council's offers are consistent with its Budget and financial sustainability parameters. Any divergence from this approach would be financially irresponsible and negatively affect ratepayers through an increase to rates.
"I sent a letter to the Combined Unions on 1 September 2021 outlining Council's position, and highlighted Union misrepresentations and behaviour which did not display respectful values consistent with a positive workplace culture.
"It was disappointing to see further misrepresentations emerge in relation to media reports about yesterday's strike actions.
"To set the record straight, claims that Councillors received a 2.5% pay increase are incorrect. They have in fact received no increase since July 2020. Claims that the CEO and Council's senior managers have received a 2.5% increase is also incorrect. Over the past two years, and in the current financial year, the elected representatives and senior managers have not received an increase greater than the increases offered to Council's staff.
"I value the contribution of all employees and Councillors and I'm cognisant that the community expects them to be fairly treated and appropriately remunerated.
"There were also incorrect claims that the CEO left workers to divide the organisation's $3.9 million annual wage budget. Council's annual labour wage budget for this financial year is $156.4 million. The total increase that Council has allowed for distribution through the Enterprise Bargaining negotiation process is $3.9 million.
"In relation to incorrect claims about superannuation contributions being below par, Council already pays above the required employer contribution rate of 12%. For the life of this agreement Council has offered a further increase of 0.1% to make this contribution 12.5%.
"While we understand each Union has its own priorities for the members they represent, Council has more than 1650 employees and must negotiate a deal which provides the greatest benefit possible to the majority of Council's workforce.
"Council has been completely transparent and consistent throughout the negotiation process and put forward a fair, reasonable and affordable offer that considers the claims from each individual Union, as well as the needs of the majority of TRC employees who are not Union members.
"Our Enterprise Bargaining team has kept me in touch with outcomes of the negotiations up to this point. I am happy to accede to the Union's request to meet face-to-face with them if it can help end the stalemate."
With negotiations still taking place, TRC Mayor Paul Antonio said he supported the CEO's position in the ongoing process.
"There's no doubt our staff are our greatest asset and through our negotiating team and the CEO, we're working through the Enterprise Bargaining negotiations to ensure they are given a fair and reasonable deal," Mayor Antonio said.
"In doing this, we also need to be financially responsible with the way we spend ratepayers' funds.
"In setting our Budget for this financial year and for future planning, Council works closely with its financial lenders and has set parameters for the CEO to work within to ensure we remain financially sustainable in the years to come.
"Unlike Councillor's wages, which are set by the Local Government Remuneration Commission, Council has control of how it allocates funds for its employees.
"While Councillors have not received a pay increase this financial year, we're committed to ensuring fair and equitable conditions for our staff who provide a valuable service to this community.
"To do this, it's important we stay within our financial parameters to avoid any large-scale increases to rates which impacts our residents.
"If we stray outside our financial parameters, other possible scenarios are for a reduction in service levels for our community or reduction in staff and this is not what we want. It's a balancing act to ensure we look after our staff and our community."
/Public Release. This material comes from the originating organization/author(s)and may be of a point-in-time nature, edited for clarity, style and length. The views and opinions expressed are those of the author(s).View in full
here
.