Australian Health, Wellness and Skincare products company Live Verdure Ltd (ASX: LV1) ("Live Verdure" or the "Company") is pleased to announce its quarterly activities report and Appendix 4C for the three months ended 31st December 2022.
December 2022 Quarter Highlights:
Record quarterly sales of around $871,000.
Record quarterly cash receipts of around $858,000.
Live Verdure's November was a record month across all key metrics.
Edible Beauty acquisition successfully completed with its integration delivering immediate results.
Marketing optimisations continue to deliver positive results: ✓ On a previous corresponding period basis, revenue increased despite a 46% decrease in marketing spend ✓ Return on ad spend (ROAS) continued to increase (to 3.4x).
Live Verdure Reports Record Quarterly Sales and Cash Receipts
The Company delivered unaudited sales for the quarter of around $871,000 in the December 2022 quarter. This record result was up 62% on the figure for the previous corresponding period.
Live Verdure Group cash receipts of approximately $858,000 in the December 2022 quarter (excluding government grants) also represented a record quarterly total.
It is worth noting that these figures do not include Edible Beauty's October 2022 revenue, as this acquisition was not completed until 1st November 2022. The healthy sales figures for Edible Beauty in the November/December 2022 period came as Live Verdure's executive and in-house digital marketing staff quickly and efficiently combined with the Edible Beauty team to deliver a number of successful sales strategy and working capital initiatives. As Live Verdure noted in its September 2022 quarter activities report, this work was commenced ahead of the acquisition completion date.
Indicative of the near-term sales upside flowing from the Edible Beauty acquisition, if October 2022 sales were included on a normalised consolidated basis, Live Verdure Group sales would have been around $992,000 in the December 2022 quarter.
In line with the Company's recent shift to an omni-channel approach, this figure includes more than $100,000 of wholesale sales to retailers, including Heinemann and David Jones.
The total number of orders processed by Live Verdure brands reached a historical high of almost 8,500 in the December 2022 quarter. Within this three-month period, the Company recorded its largest ever monthly online sales and orders processed figure in November 2022 (see ASX announcement dated 12 th December 2022).
Indicative of Edible Beauty's excellent showing in the December 2022 quarter, this recently acquired business achieved record monthly sales in November and had its strongest December since the company was founded.
Live Verdure's strong December 2022 quarter sales performance was in large part attributable to delivery of a profitable customer acquisition strategy (as outlined in previous quarterly reviews) against the Edible Beauty brand that simultaneously targeted customer retention to increase repeat rate and improved return on ad spend (ROAS). Ongoing success here will see the Company progressively move towards being cash flow break even.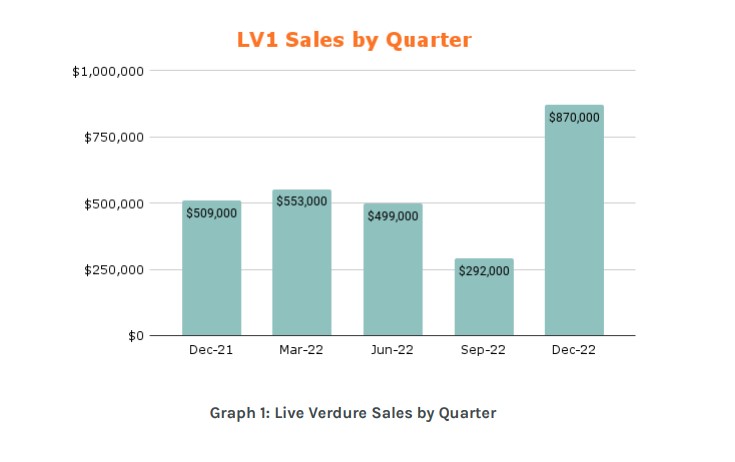 Marketing Optimisations are Feeding Through to Stronger Results
As discussed in the Company's previous Quarterly Updates, marketing optimisations and initiatives have been implemented by the Live Verdure team under the guidance of CEO Mark Tucker. These initiatives are delivering many positive outcomes, such as:
A 62% increase in online sales compared to the equivalent quarter in 2021 despite a 46% reduction in marketing spend.
Further improvement in ROAS, reaching 3.4x in the December 2022 quarter (from 2.4x in the previous quarter). This is particularly impressive, given the concurrent increase in revenue.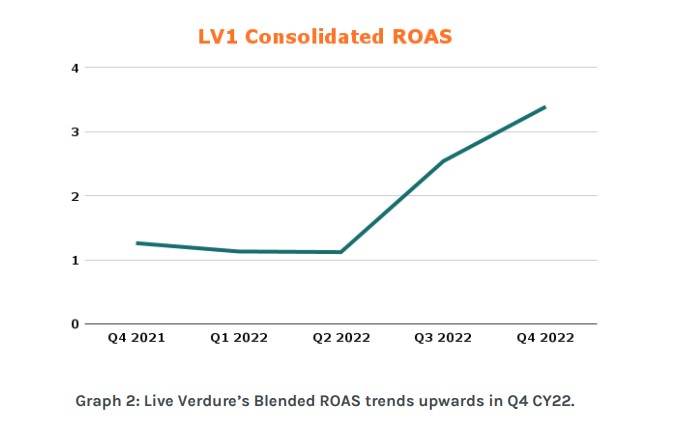 In addition to increasing online sales and improving ROAS, Live Verdure achieved strong results across several additional key D2C metrics, as outlined in the table below.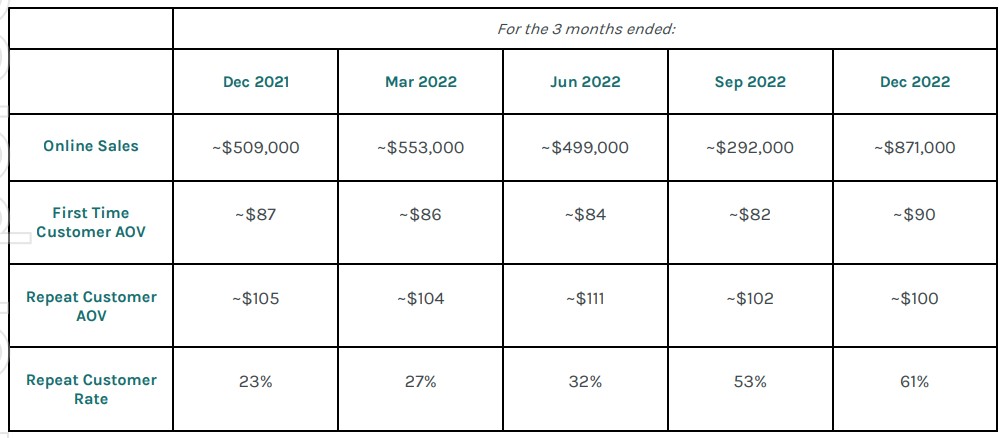 Edible Beauty Acquisition Completed and Integrated
As announced in November (see ASX announcement dated 3 rd November), the Company delivered the successful acquisition of its first brand under a stated M&A strategy first announced to the market in July 2022. The smooth transition of Edible Beauty into the Live Verdure structure has been a multi-stage process that began ahead of the acquisition being completed. Live Verdure's in-house digital marketing expertise were the first resource to be utilised by Edible Beauty (see ASX announcement dated 31st October 2022), with the team quickly remedying an underinvestment in paid advertising and implementing a new customer acquisition strategy. This proactive approach led to the December 2022 quarter becoming the Edible Beauty brand's best quarter for online sales since being founded in 2014.
The next stage of the integration strategy entailed streamlining processes that further leveraged financial resources and existing human capital. For example, utilising the finance function has reduced the breadth of administrative tasks and enabled the Edible Beauty team to pursue brand and revenue growth initiatives.
Simultaneously, the Live Verdure technical team has achieved a reduction in cost of goods sold (COGS) of between 25% – 38% across multiple stock keeping units in the Edible Beauty product range. These savings are expected to flow through to the bottom line in future quarters.
These factors significantly contributed to the Edible Beauty growth profile during the period.
Founder and GM of Edible Beauty, Anna Mitsios, said:
"Joining Live Verdure has been a positive and uplifting experience for the brand, and for me personally.
I have been particularly impressed by the expertise of the board and management team during the transition; the passion that drives this group and alignment of our vision has reinforced that this acquisition was a brilliant decision.
The most exciting part of the last three months has been working through significant growth opportunities, beginning to develop new products and make an impact on new channels, which we should see come to fruition in the very near future!"
Inventory Management
Remaining cognisant of lead times within its supply chain, the Company invested around $516,000 in product manufacturing and inventory in the December 2022 quarter.
Live Verdure now holds more than $1.2M in inventory across all brands.
Excluding these payments for product manufacturing, the Company's net operating cash outflow for the quarter was improved to approximately $129,000.
M&A – Local & International Partnership & Acquisition Enquiries Continue
Since completing the acquisition of Edible Beauty, Live Verdure has continued to field an increased number of inquiries regarding companies, both local and international, looking to partner with or be acquired by the Company.
Live Verdure CEO, Mark Tucker, said:
"We are very proud of what has been achieved by the entire Live Verdure team over the December 2022 quarter. The period delivered record quarterly sales and cash receipts metrics. Delving deeper into these headline numbers, we achieved big improvements in online sales and return on ad spend – all while keeping a lid on key components of our marketing expenses. Importantly, these sales figures did not include the full quarter impact of the recently completed Edible Beauty acquisition, which aligned with our stated M&A strategy.
The successful completion of the Edible Beauty acquisition and its subsequent integration provides us with material performance upside. Its integration into Live Verdure's structure will see this newly acquired business leverage off our superior systems and marketing resources. The sales upside inherent in the Edible Beauty business is already becoming apparent, with it reporting record monthly sales in November and its strongest December since being founded. The latter figures are testament to the pace at which a collaborative approach formed between the existing teams at Live Verdure and Edible Beauty, which quickly fed through to sales performance.
Looking ahead, we are confident that recent improvements in our inventory forecasting capabilities and the Company's enhanced ability to leverage off its working capital will benefit performance. And our growth upside will not just be organic in nature.
We continue to look at other M&A opportunities that, if realised, will open the way for us to repeat the successful Edible Beauty acquisition. We look forward to updating the market on our multi-faceted work-in-train growth strategy over the coming months."
Additional Information:
The table below illustrates the expenditure comparison against the Company's 'Use of Funds' table in the Prospectus dated 26 October 2020:
The amount of ~$55,000 included in section 6.1 of the accompanying Appendix 4C (payments to related parties) relates to Directors fees and superannuation payments for the December 2022 quarter.
The company also received $36,600 from an R&D claim.
In accordance with conditions to the Listing Rule 1.1 condition 12 waiver in the Company's announcement of 11 December 2020, the Company confirms that 5,000,000 performance rights with a nil exercise price were issued to the Managing Director and Non-executive Chairman. 2,500,000 of these performance rights have been exercised and subsequently converted. The remaining 2,500,000 performance rights remain on issue and have not been converted.
About us:
About Live Verdure (ASX:LV1)
Live Verdure is an Australian Health, Wellness and Skincare company making a range of naturally-based products with effective active ingredients. Its products are primarily sold Direct-to-Consumer (D2C), using the Company's websites to market directly to a growing database of loyal consumers. Social media paid advertising is also used to introduce new consumers to Live Verdure's product ranges and database. Live Verdure is committed to making innovative products that are high quality, sustainable and provide effective results for their consumers.
The company is now focussed on both organic growth and expansion by acquisition within the verticals of Health, Wellness and Skincare. Live Verdure's marketing strategy continues to be underpinned by an ability to identify the needs of a growing current and addressable client base, after due regard for the latter's available purchasing power.
/Public Release. This material from the originating organization/author(s) might be of the point-in-time nature, and edited for clarity, style and length. Mirage.News does not take institutional positions or sides, and all views, positions, and conclusions expressed herein are solely those of the author(s).