For Ruma Khatri, the social entrepreneurship initiative by Usha Multipurpose Cooperative Society Limited is an opportunity to earn a livelihood in the face of the COVID-19 pandemic and the resulting income loss.
"I have been working with the sex worker community supported by Usha Multipurpose for the past 10 years. I work at the parlour instituted by Usha. But due to the COVID-19 pandemic restrictions, I took part with the community in the production of sanitizer and masks through Usha to earn supplemental income. Through this social entrepreneurship project, I hope to set an example and further empower the sex worker community," Ms Khatri said. Established with the support of the UNAIDS Solidarity Fund, Usha Multipurpose's social entrepreneurship initiative engages sex workers in producing masks, hand sanitizer and personal protective equipment kits in Kolkata, India.
Sex workers in several parts of the world have faced a huge economic impact due to COVID-19-related restrictions on physical contact and movement. Additionally, the criminalization of sex work in many countries has disproportionately given way to stigma, discrimination, violence and inability to access essential health-care services. Sex workers have also been left out of financial and social support schemes by many governments. These factors, among others, make it challenging for sex workers to engage in supplemental income generation activities.
In response to these challenges, several grantees of the UNAIDS Solidarity Fund are supporting the economic capacity of sex workers across five pilot countries. The Solidarity Fund was set up to provide grant seed funding to empower social entrepreneurs from key populations to scale up existing or develop new business initiatives that can generate sustainable economic value and social impact for their communities.
In northern Uganda, the sex worker and lesbian, gay, bisexual, transgender and intersex communities supported by the Health and Rights Initiative (HRI) recently produced their first set of shea-based products and acquired new machinery to scale up production. Through comprehensive market analysis, they identified the potential of processing shea-nut seeds to create value-added products, such as lotions, bathing oils, soaps and hair oils.
"Small-scale production and sales of shea nut products change the outlook for the members of the sex worker community. Through the support of the UNAIDS Solidarity Fund, our organization can act as a safety net to protect the business and community members as they implement the joint enterprise," said Lucy Akello, the Executive Director of HRI.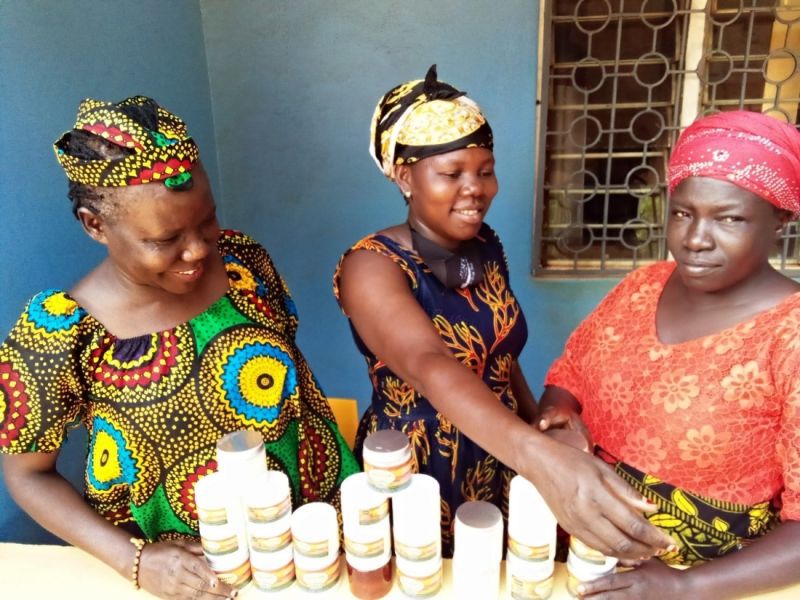 Above, beneficiaries of HRI with shea-based products produced through their social enterprise. Credit: Health Rights Initiative
While production of tangible items is one aspect, the Alliance of Women Advocating for Change (AWAC), also in Uganda, is empowering more than 20 adolescent girls and young women, especially those living with disabilities, to set up social enterprises built on skills such as tailoring and designing. Talking about the Make Her Visible project, Macklean Kyomya, the Executive Director of AWAC, said, "Adolescents and young women, including those with disabilities, are at particular risk due to the socioeconomic impact of COVID-19. Risks include heightened destitution, violence, stigma and discrimination. The Make Her Visible project supports their economic capacities to help them better respond to these challenges." The young sex workers are also being trained in financial management involving credit and savings along with business plan development to effectively manage these enterprises.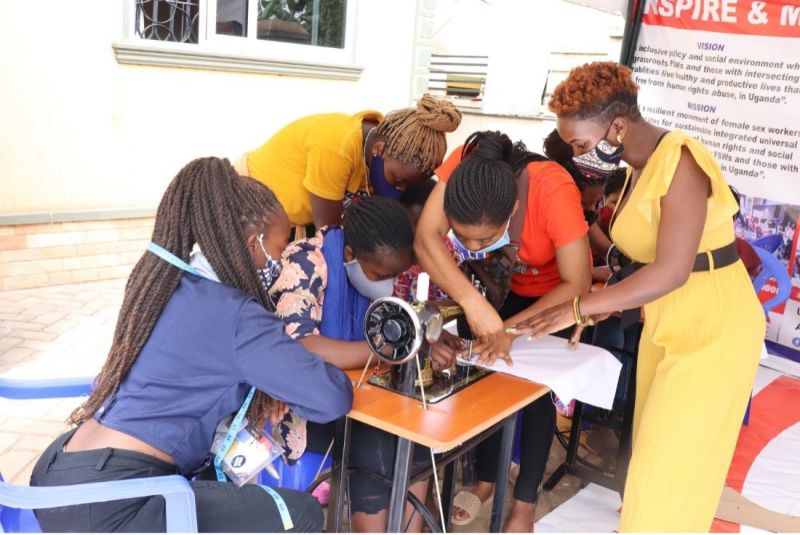 Above, young women being trained in tailoring as a part of the 'Make Her Visible' social entrepreneurship project of AWAC. Credit: Alliance of Women Advocating For Change
Creating strategic market linkages has been the focus of India-based Asha Darpan, a female sex worker-led community-based organization that is creating micro-entrepreneurs out of sex workers based in Mumbai. Their Shakti project is focused on empowering women between the age of 18 and 49 years from urban and semi-urban settings and living in lower-middle class and poor environments to establish their own footwear manufacturing business. Devta Metri sees growth in the future of these enterprises. She said, "No one foresaw the COVID-19 pandemic. The need for sustainable income sources for the sex worker community was amplified when we saw a loss in income sources. My hope is to see our social enterprise grow. In the next few months, our aim is to increase sales of footwear we produce, make a name for Asha Darpan and provide a sustainable income source for the members."
These are thoughts echoed by Sanyu Hajjara Batte, the Executive Director of Lady Mermaid, which is supporting 168 female sex workers organized in 10 Women-Up groups in Uganda. "We have to support sex workers' entrepreneurship skills if we truly want to create supplemental income sources for the community. Lady Mermaid is working to rebuild the sex worker community from COVID-19 pandemic effects through economic recovery programmes," said Ms Batte. Through the grant received by the Solidarity Fund, sex workers are being trained in setting up demand-based social enterprises in areas including food selling, renewable charcoal-making, briquette-making, liquid soap-making and baking, among others. The initiative supports government registration, financial management and implementation to ensure sustainability of the enterprises.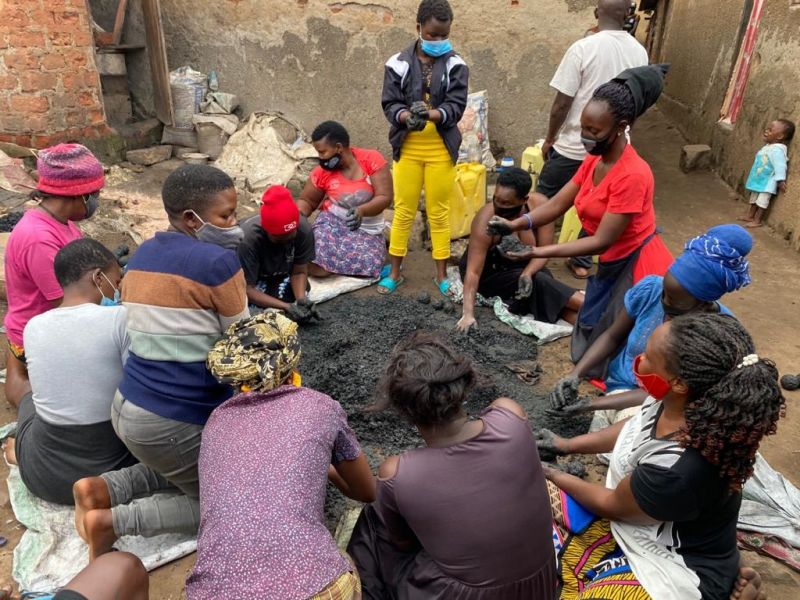 Above, beneficiaries of Lady Mermaid engaged in briquette-making as a part of supplemental income generation through social entrepreneurship. Credit: Lady Mermaid
The Solidarity Fund grantees clearly highlight the ingenuity and leadership role that key population-led organizations and networks play when it comes to building community resilience and supporting communities during the pandemic. As the COVID-19 pandemic remains intertwined with daily realities, communities must be at the centre of pandemic response and preparedness. The response calls for critical action grounded in human rights principles, to protect the health and rights of sex workers. The provision of seed funding enables innovative business ideas owned by key populations to flourish and the creation of sustainable supplemental revenues to empower key populations most affected by the pandemic.
/Public Release. This material from the originating organization/author(s) might be of the point-in-time nature, and edited for clarity, style and length. Mirage.News does not take institutional positions or sides, and all views, positions, and conclusions expressed herein are solely those of the author(s).View in full
here
.