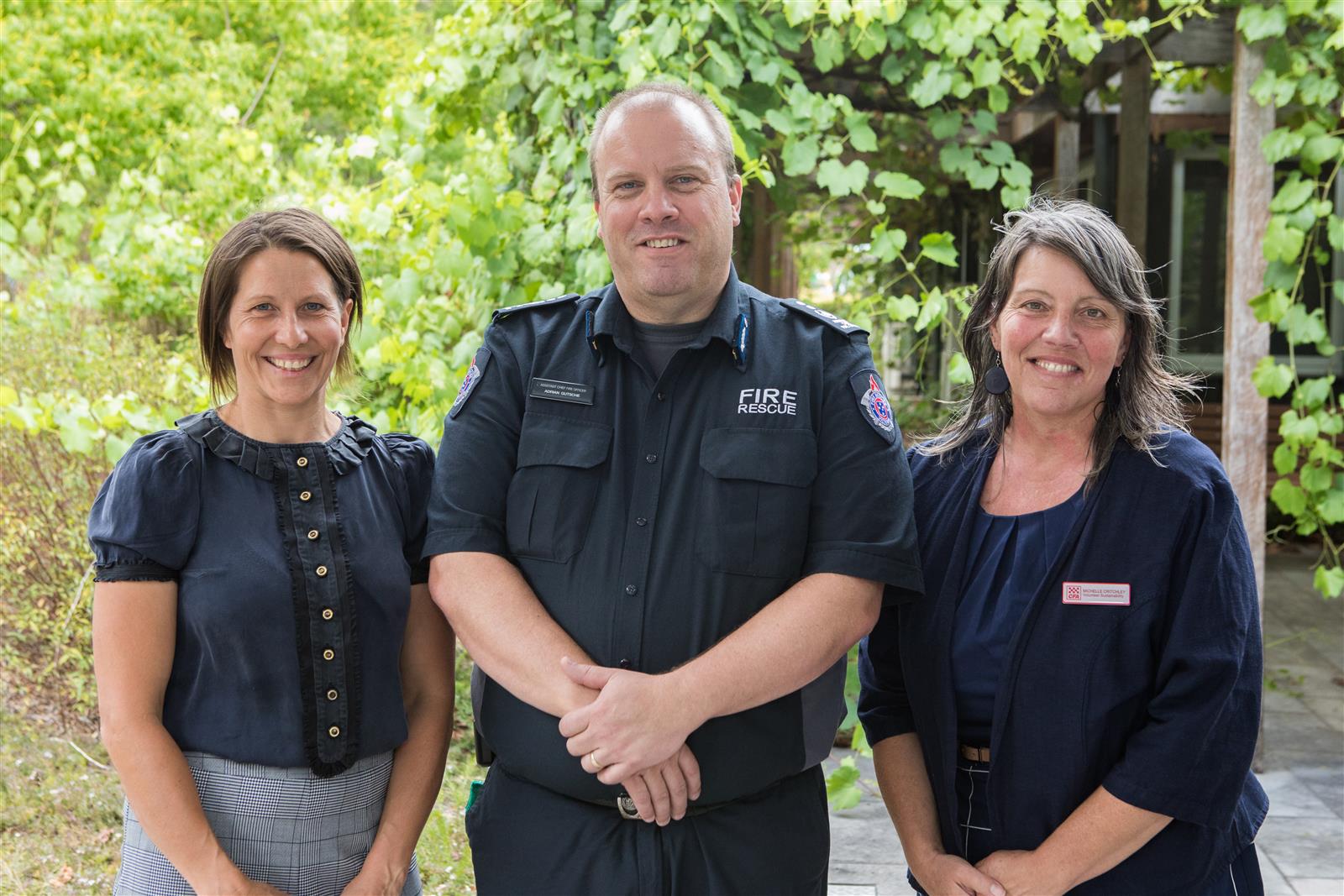 Harrietville CFA volunteer Gianna Verdini-Fensom, CFA District 24 Assistant Chief Fire Officer Adrian Gutsche, CFA's Volunteer Sustainability North East Michelle Critchley
Harrietville CFA volunteer Gianna Verdini-Fensom has followed in the footsteps of fellow CFA representatives, and now leading from the front as she begins her ten-month intensive experience in the Alpine Valley Community Leadership Program based in Wangaratta.
The CFA sponsored state leadership program which has been operating since 1998 aims to assist participants to develop new skills, grow their capabilities, broaden their networks, and create an impact within their community.
CFA District 24 Assistant Chief Fire Officer Adrian Gutsche has been a big supporter of the program, having encouraged a number of CFA members to engage in the course.
"The program is all about not necessarily utilising your internal agency or organisation, but how you as a leader can assist across the community," he said.
"They've got community-based projects as part of their leadership development. It's a lot more about giving back to their community than teaching you how to be a leader in your organisation."
Having been involved with Harrietville CFA for over 10 years, and experience as a current career firefighter with Fire Rescue Victoria in Wangaratta, Gianna was keen to enhance her leadership skills further after hearing such positive things about the program.
"I was invited by CFA's Michelle Critchley, an alumna of the program who currently works in volunteer sustainability in the North East, to come and listen to a guest speaker at one of their program days to get a greater understanding of the initiative," she said.
"I found it was inspirational listening to the experience the participants were having and what the guest speakers were discussing.
"They made it sound valuable and quite niche in terms of learning off other leaders within the community, and organisations within local government and private enterprises."
Up to 25 aspiring leaders embarked on the experiential learning program in late February, attending sessions on every second or third Friday.
Over the last few weeks, Gianna is already discovering the subtle differences between community leadership and general leadership and how to be brave as a leader.
"In terms of my own leadership and personality, I've learned a lot from the exposure of others from different organisations who have taught me so much about the diversity within the regions we live in," she said.
"Community leadership for someone who is driven to make change can seem quite overwhelming because you don't know where to start.
"So, I've really immersed myself in some of the documented guidelines that are out there within our community that shape the strategic priorities of our region. To be able to access them as a starting point for any project has been really beneficial."
Gianna will head to several retreats, where personal leadership skills are developed through a number of study tours, while also engaging regularly with the region's finest leaders through community projects to gain skills and knowledge to build their capacity as a community leader.
"We've already been on a retreat which saw us uncover who we are as leaders and how we work in a team environment," she said.
"Over the course of the program we are educated by guest speakers who discuss a range of topics. Our last program was on healthy connected communities, and our next one is on economic development.
"We're also going on a study tour in Melbourne for our mid-year retreat. We're working with partner organisations to develop community projects and we'll be delivering them at the conclusion of the program in November."
Having attended the launch in February, Adrian said he can see just how worthwhile the experience is for participants.
"Being amongst all the members and leaders showed me just how much is involved in this program, how they go about it, what they've got access to and overall, their ethos that brings community leadership to the forefront," he said.
"It's been such a successful program for over 20 years and has helped our people grow into great community leaders, which has been really rewarding for CFA.
"I've offered up our D24 Wodonga Incident Control Centre (ICC) for one of their forums to use as a learning space. It's a great initiative that I hope we can continue supporting."
While Gianna is only just getting started, she can only praise the program so far and encourages volunteers to look into the opportunity next year to grow their leadership capacity further.
"It can seem like an overwhelming commitment of time, but you will be well supported and the value that you get out of it will give you that time back tenfold." she said.
/CFA News Release. This material from the originating organization/author(s) may be of a point-in-time nature, edited for clarity, style and length. The views and opinions expressed are those of the author(s).View in full
here
.