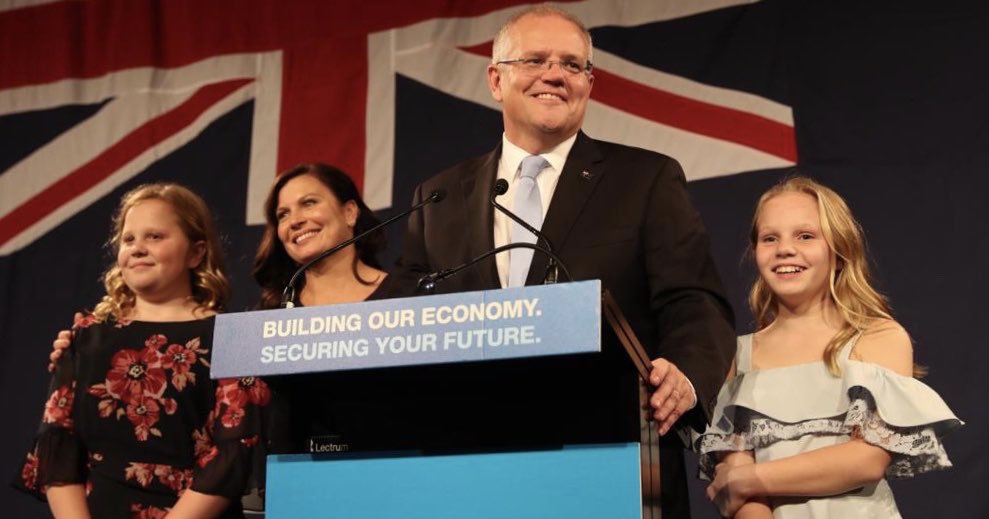 Prime Minister  Scott Morrison last night won an unwinnable election for the Coalition, jumping to a permanent place as a Liberal Party legend and leaving the opposition to pick up the pieces.
Morrison compared his "miracle" win to the births of his daughters, Abbey and Lily who were conceived naturally after 18 years of in vitro fertilisation (IVF) had failed.
"I have always believed in miracles," Morrison, 51, told a Sydney crowd as he claimed the win.
"I'm standing with the three biggest miracles in my life here tonight, and tonight we've been delivered another one," he said.
Besides trampling predictions by opinion polls which all showed his Liberal-National coalition trailing Labor Party, Morrison jumped to a permanent place as a Liberal Party legend because of winning the third-term for the coalition which already had three prime ministers in two terms of government.
The win defied all the major media polls including Ipsos, Newspoll and Nine's election day exit poll, not just recent ones but also them all over the past two years, including 30 Newspolls in a row.
He won just one poll and the only one that mattered. In fact, he didn't just win, he also willy-nilly cleared his path out of former leader Tony Abbott, achieving a dream position to do whatever and however he wants.
With his sharp, piercing messages, Morrison steered the one-man show campaign a referendum on him and Bill Shorten on "I can manage economy, the other guy can't", leveraging his opponent's personal unpopularity and putting the spotlight on risks that could come from Labor's big change policy agendas.
His main focus was to show the contrast of "responsible", and "too ambitious" and "reckless", appealing to "all Australians", avoiding any classification such as the "top end of town".
He drew far further support with promises of massive tax cuts and a tough line on immigration, contrasting with Labor's push for boarder social programs and less-stringent migrant policies.
Border security and immigration has always been a big issue for most Australians, and Morrison sports a strong record in this area. This especially manifested itself in Queensland.
During the entire campaign, Morrison continued to bid for "common sense people" and "quiet Australians" who don't make a lot of noise online or call into radio stations, don't campaign in the streets or protest outside parliament.
"I think there are millions of Australians out there – you know, between elections they are not reading the papers, or following the political news every day," he told a forum in Port Macquarie in early May.
"They are too busy living their lives and fulfilling their responsibilities to others.
"They are caring for parents or they're caring for kids, or they're just being the decent, honest, good-hearted Australians that they are.
"But they turn up every three years at elections and they take a good, close look at what the options are."

Embed:Federal election 2019: ABC Live results
US President Donald Trump tweeted his congratulations after the initial results as the coalition is edging closer to the 76 seats it needs to have a majority in the Australian parliament.
Congratulations to Scott on a GREAT WIN! https://t.co/IKxDrQmHfV

— Donald J. Trump (@realDonaldTrump) May 18, 2019
On Sunday, Morrison and his wife Jenny attended their Pentecostal church in Sydney's south.
In brief remarks, Morrison thanked "all Australians across the country" particularly "the great people of the Sutherland Shire", where his electorate of Cook is located.
The prime minister added he was also thankful to "live in the greatest country in the world".