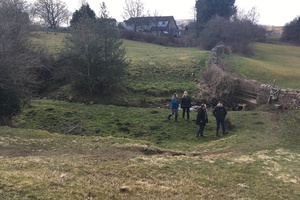 A pilot project is underway in Earby to test how natural solutions such as creating wetlands can be used to help reduce the risk of flooding along the River Aire.
The works at Marlfield Farm on the border of Yorkshire and Lancashire will also include hedge planting, fencing off corners of fields from grazing so that more vegetation can grow and installing leaky barriers to slow the flow of rainwater while also providing better habitat for local wildlife.
The Environment Agency is working with the River Stewardship Company to deliver this work by Christmas. It is hoped that this will be the first of many of these natural flood management (NFM) schemes in Earby. The Environment Agency is keen to work with any landowners in the area who are interested in getting involved.
This work is part of a wider flood risk programme which has been funded by Leeds City Council to work with nature to reduce flow of water from upstream so the landscape can hold more water in times of flood.
This is the first time that natural processes have been used to reduce flood risk in this way, and over such a large area. The wider Leeds NFM programme includes tree and hedge planting, re-channelling rivers to their natural courses, soil aeration, wetland creation and moorland restoration all of which have lots of benefits for people and wildlife.
Chris Milburn, Project Executive at the Environment Agency said:
As the country faces a national and global climate emergency, restoring our natural environment on a major scale like this is an important part of the toolkit to help reach net zero emissions in the future. Natural Flood Management offers huge potential for climate mitigation, for example, creating wetlands, restoring our uplands and planting trees can help to capture tonnes of carbon from the atmosphere.
We are very grateful to the landowners, the Procter's, for working with us to trial these NFM techniques on their land which will contribute to local flood risk reduction and provide wider environmental benefits, slowing the flow of water locally and to downstream communities including Leeds.
Earby has a history of flooding and these natural techniques will not prevent this from ever happening again, but we are appealing for more landowners to come forward and work with us to install more of these measures which will have a cumulative benefit and should help the landscape to hold more water during flood events.
Mr Daniel Procter, together with his wife Heather and parents Howard and Lynda, own Marlfield Farm, which is a small farm located just outside Earby.
Mr Procter said:
We are pleased to support the trial of natural flood management techniques on our farm. We've witnessed first-hand how quickly the river reacts to flash flooding and hope that these measures will go some way to help reduce the flood risk in the village. We are also excited about the added environmental benefits of these measures.
His wife Heather added:
We keep rare breed sheep and are keen to strike a balance between farming and conservation. The creation of new ponds, wetland habitats and hedgerows will complement our existing efforts to boost the biodiversity on our farm and in the local area.
Leader of Leeds City Council Councillor Judith Blake said:
This is one of five pilot sites which will allow the team to research techniques and gather evidence on the benefits of using natural solutions to reduce flood risk. The pilot programme is also being used by Leeds City Council and the Environment Agency to develop a joint approach to working with landowners and partners such as the National Trust and River Stewardship Company. This will help to develop future plans for the catchment.
Adam Rollitt, Chief Executive of the River Stewardship Company who are carrying out the works on behalf of the Environment Agency said:
Our River Stewardship Company is currently delivering an ongoing programme of river channel maintenance and engagement works in Leeds as part of the Leeds Flood Alleviation Scheme.
We are really excited to have the opportunity to bring in our expertise around waterways and land management to such a fantastic project further up the catchment, contributing to the wider, long-term outcomes of the Scheme.
Emma Wren, Natural Flood Management Lead at Mott MacDonald said:
It's great to see the implementation of this project in Earby, and we're really pleased that our specialists have contributed to the scheme design from initial discussions to a final masterplan. The delivery of this pilot site marks an exciting point in Mott MacDonald's continuing support of the programme which aims to replicate these natural flood management techniques on a wider scale.
Any landowners interested in using natural flood management techniques on their land can contact the nfm project team by emailing:
/Public Release. The material in this public release comes from the originating organization and may be of a point-in-time nature, edited for clarity, style and length. View in full
here
.