A PhD researcher from the University of Huddersfield is contributing to a display at the world's most prestigious architecture exhibition that is showing how the British high street could be revived.
Dr Jonathan Orlek is one of the designers behind 'High Street of Exchanges', one of six immersive rooms in the British Pavilion at the Venice Biennale.
The installation "…reveals how the high street currently acts as an infrastructure for diverse social exchanges and seeks to amplify and strengthen this role to ensure sustainable and equitable futures for communities." Held over from 2020 due to COVID-19, the Biennale is widely seen as architecture's premier global showcase.
Dr Orlek has worked on the installation alongside Mark Parsons, Dr Cristina Cerulli, Dr Julia Udall and Dr Anna Holder, who are all directors of Studio Polpo, a social enterprise architecture collective based in Sheffield.
Take a tour around the British Pavilion at the Venice Biennale 2021
'There can be more to the high street than shops, eating and drinking'
One of the key questions the installation addresses is whether the high street can be reimagined as something more than just places for shopping and consumption. The pandemic may have also prompted a need for town and city centres to reflect a desire to live more sustainably and with better social interaction.
"We think that practices of care, mutuality, education and social exchange on the high street shouldn't just 'pop-up'," says Dr Orlek. "During the pandemic, we saw how vital grassroots responses, such as mutual aid groups, were. They were often located in or connected to spaces on the high street. These diverse activities and transactions should be supported and recognised as central within long-term high street proposals.
"Discussions about the death of the high street often focus on retail and the need to attract high-end retail to city and town centres. This framing limits what the high street can be. An unsustainable over-reliance on multinationals and large retail units within high street design is something which our installation addressed before Covid. Alternative proposals are now even more important, as the pandemic has exacerbated the decline of retail-led functions of the high street."
'High Street of Exchanges' also uses sound as a key component, with input from sound artist Alex De Little.
"The project looks at how soundscapes and listening practices can be used as a way of noticing diverse transactions on the high street," Dr Orlek adds. "This can be a starting point for collective action on the high street, so the use of soundscapes is important. Our installation brings approaches from art, architecture and music together in this immersive world. When sound art and listening practices and architecture combine, it's really exciting."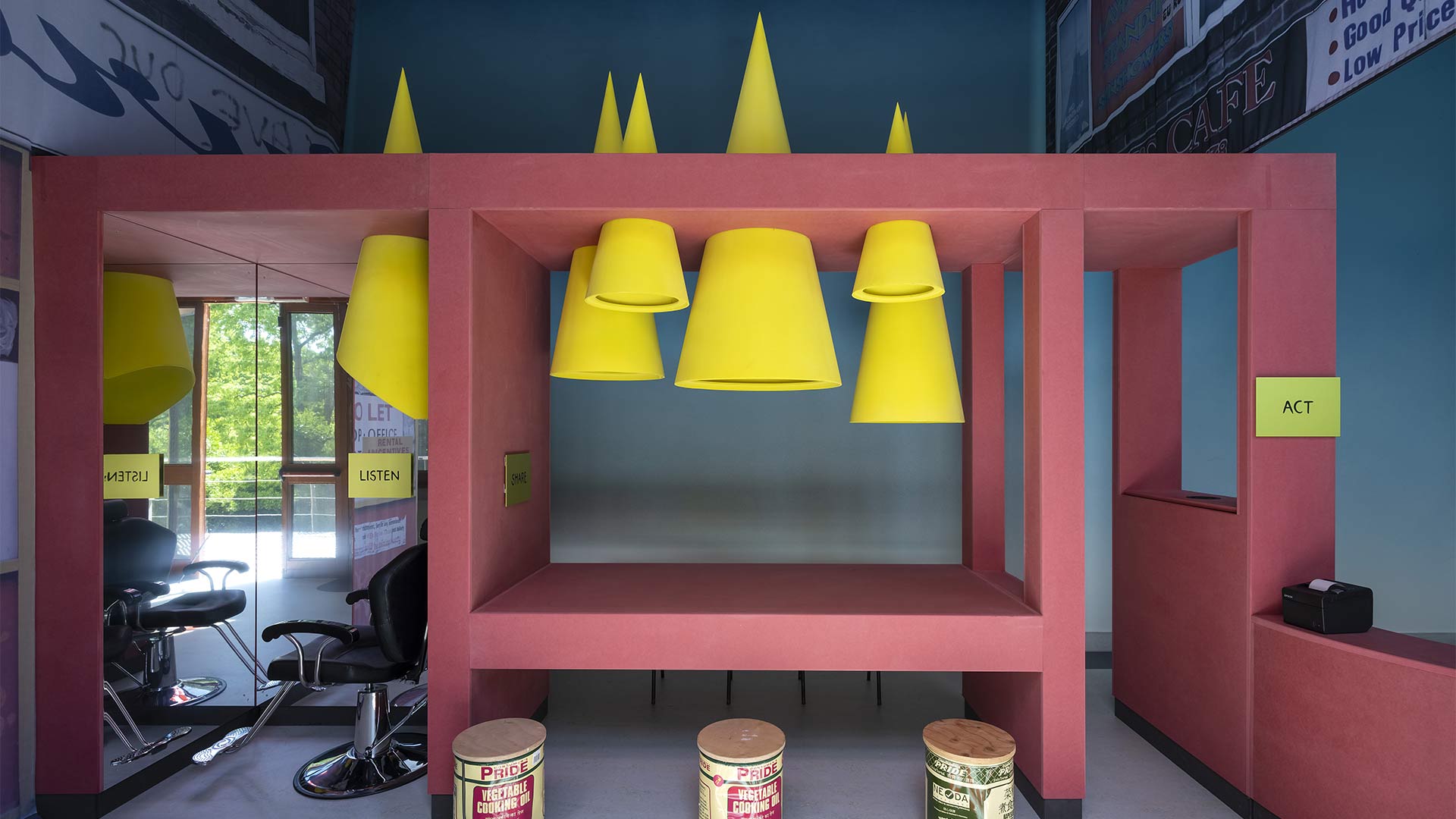 'High Street of Exchanges' draws attention to a broad range of activities on the high street: conversations in a barber shop embody practices of care; a self-managed kitchen serves food that would otherwise be thrown out by supermarkets, revealing economies and ecologies of food production and consumption; a library can give advice and support that potentially produces public sites of learning.
The installation was designed to amplify these aspects of the high street before the pandemic – learning from and supporting them is even more important in a world living with its effects.
"We have occupied an entire room at the pavilion to create an immersive environment," says Dr Orlek.
"We see this immersive room as design-led research. It is pushing design-led research within exhibition-making and architecture. The curators of the British Pavilion this year (Manijeh Verghese and Madeleine Kessler) were keen to explore immersive environments, rather than show conventional models or drawings. They pushed all the contributors to explore immersive environments as a form of architectural practice and research."
Researcher network leads to creativity and idea exchange
While working on his PhD – 'Moving in and out, or staying in bed: Using multiple ethnographic methods and positions to study artist-led housing as a critical spatial practice' – Dr Orlek developed a network of contacts and creative collaborators. Being embedded within East Street Arts, an artist-led organisation based in Leeds, was pivotal to this.
His connections with other Huddersfield PhD researchers embedded at The Hepworth in Wakefield, the Yorkshire Sculpture Park and the Henry Moore Institute also helped drive his research into new areas. Together they have subsequently created Plant, a network for embedded research.
"As I director of Studio Polpo, I have undertaken projects exploring alternative models for housing and the crossovers between performance art and architecture. This led me to a PhD about artist-led housing, which allowed these ideas to be developed while embedded in an arts organisation.
"It is an incredible honour to be part of the Biennale, and I hope that people engaging with our installation will be provoked into thinking differently about how the high street can work."
/Uni Public Release. This material comes from the originating organization and may be of a point-in-time nature, edited for clarity, style and length. View in full
here
.