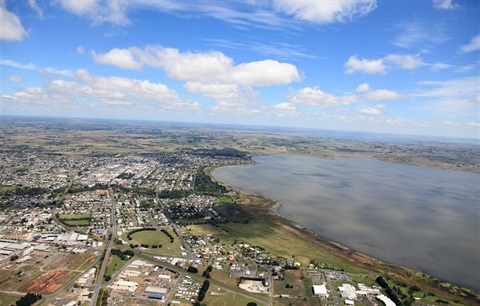 Independent panel report on Amendment C97 – Colac 2050 Growth Plan received by Council
A report prepared by an independent panel in relation to the Planning Scheme Amendment C97 and associated Colac 2050 Growth Plan has been received by Colac Otway Shire Council.
The draft 2050 Growth Plan provided a strategic framework to identify areas suitable for residential development over the next 30 years to guide future planning in areas across Colac.
Council also prepared Amendment C97 to make the 2050 Growth Plan a statutory document in Colac Otway's Planning Scheme.
General Manager of Development and Community Services Ian Seuren said Council had resolved at a March Special Council meeting to refer submissions received from the public exhibition of Amendment C97 – Colac 2050 Growth Plan to an independent panel for their consideration.
"The panel acknowledged Council's extensive and innovative community engagement process in developing the Growth Plan, which included the Citizens' Jury process.
"The report is now available for public viewing on Council's website and concludes the Amendment C97 accurately translated the key directions of the Growth Plan with the recommendation the Amendment be adopted by Council with a number of suggested changes," Mr Seuren said.
"The panel's recommendations are in relation to a number of specific zone choices identified in the framework plan, particularly in relation to areas identified for housing near industrial land.
"Some recommended changes the panel report identified were to include land south of the Wyuna residential estate up to Florence/Friends Road as rural living or low density development, and to highlight the prioritisation of rezoning land west of Wyuna Estate as residential.
"The panel also recommended the Framework Plan include the development of a Precinct Plan for the Marriner Street area south of Flaxmill Road and also the area south of Flaxmill Road and in the Marriner Street precinct be classified as 'Precinct Plan review area' designation.
"This will create a plan to guide development next to the abattoir which explores suitable land uses that avoid conflict with important industrial operations," Mr Seuren said.
Written submissions received regarding the Amendment C97 – Colac 2050 Growth Plan were considered by the independent panel. The panel also conducted a public hearing in May where they heard from nine submitters, including the EPA.
"The panel noted that the low number of opposing submissions to the Growth Plan and Amendment C97 and submissions received in support of the plan indicate what's proposed is for the most part embraced by the wider Colac community.
Mr Seuren said the next step is for Council to make its final decision on the Growth Plan and amendment now recommendations from the panel have been received.
"Council will consider the panel's report at an upcoming Ordinary Council meeting."
/Public Release. View in full
here
.