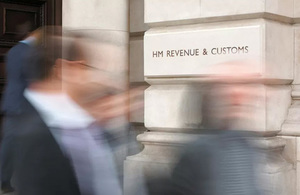 We have carefully considered the recommendations of the Committee of Public Accounts, sent via letter on 30 October 2019, following the inquiry on the HMRC Annual Report and Accounts on 21 October 2019.
This memorandum sets out the government's response to each of the committee's recommendations.
Tax gap
Recommendation
HMRC should establish a stretching annual target for reducing the size of the tax gap. This should be in place by 1 April 2020.
Government response
The government does not accept the committee's recommendation.
HMRC maintains its long-term strategic ambition to drive down the tax gap and accept that it is right to be assessed on movement in the tax gap over time. The department continues to measure and publish estimates of the tax gap and agrees with the committee that this provides important information to monitor HMRC's long-term performance in managing tax compliance.
However, in line with the government's previous comments on the matter, HMRC believes that tax gap reduction is not suitable as an annual performance target. This is because it cannot be measured in a timely way and cannot directly inform resource deployment and other operational decision making.
Nonetheless, HMRC is fully committed to work to both prevent growth of, and tackle, the existing tax gap. This is already reflected in HMRC's long established compliance yield targets, which drive decisions on policy and operational compliance interventions. Compliance yield captures the impact of HMRC's activity to tackle the tax gap in a timely and practical way.
The department uses a range of operational targets, which are set each year by HM Treasury (HMT) ministers, to focus on performance. HMRC will continue to keep the basket of measures and targets under review in discussion with HMT.
Maintaining the relevance of the tax system
Recommendation
HMRC should set out how it will tackle the risks arising from the growth in self-employment, including:
how it will support these individuals to get their tax affairs right
how it intends to support taxpayers in selecting tax agents that have demonstrated high professional standards
Government response
The government accepts this recommendation in part.
An increasing share of the workforce are self-employed, rather than employees. Typically, the self-employed declare their income and pay their tax through Self Assessment instead of having their tax deducted by a third party under Pay As You Earn (PAYE).
Strategically, HMRC is constantly looking for new ways to ensure these customers' tax affairs are right and reduce the opportunities for them to get things wrong.
93% of Self Assessment customers file their tax return online and HMRC continues to make it easier for customers to file accurate returns this way by using upstream methods to promote compliance such as prompts, nudges and pre-population of the Self Assessment tax return where HMRC holds the data.
As set out in the response to a recent call for evidence, HMRC is also expanding the range of help for gig workers and other self-employed people, including YouTube clips, webinars and interactive guidance. For example, HMRC is currently testing new interactive guidance for customers to help them better understand the tax implications of the money they're earning and when they need to tell us about income, and also ensure they don't complete a Self Assessment return unless they need to.
HMRC is also exploring the scope for greater use of withholding, which is already a core feature of the UK tax system. As part of this, HMRC has established an industry working group to take forward the announced work on VAT Split Payment. HMRC will also explore options for further practical steps to enable more real-time data-sharing and payment, drawing on recent work by the Office for Tax Simplification.
HMRC currently offers a pilot Making Tax Digital service for self-employed customers who pay Income Tax through Self Assessment. Under Making Tax Digital, self-employed customers use software to record their income and expenses as they go.
Their software prepares a quarterly summary update, which is sent to HMRC when the customer approves it. The software also prepares the end-of-year information, which the customer can adjust if necessary, and submits it to HMRC.
This helps the self-employed get their tax affairs right by helping them keep on top of their business administration as they go, reducing the opportunity for mistakes in calculating or copying figures. It also removes the need for them to submit a Self Assessment return.
This pilot is open to around one million sole trader businesses and landlords with straightforward affairs, and HMRC continues to develop the service so that it can be used by more self-employed people.
Self-employed customers who are registered for VAT can join the Making Tax Digital for VAT service (those with turnover above the VAT threshold are required to do so), and will already be benefiting from greater digitisation, including reducing the risk of making some types of error.
Digital record keeping has wider benefits for the self-employed beyond better tax compliance. For example, the Enterprise Research Centre (2018) found that for microbusinesses, web-based accounting software delivered productivity increases of 11.8%.
HMRC is also supporting taxpayers by seeking to remove tax agents with poor professional standards from the market, and are working with the professional bodies and representative groups to identify what more can, and should, be done to raise standards within the tax advice market. The government has announced that a call for evidence will be published to support this work.
HMRC is currently updating guidance on the 'Get help with tax' content on GOV.UK to support taxpayers in choosing a professional and reputable tax agent. This is in addition to ongoing work to improve content and navigation for tax agents themselves.
Making Tax Digital
Recommendation
In preparing for the Spending Review, HMRC should reevaluate the case for Making Tax Digital in light of the delays in implementing the Income Tax and Corporation Tax components of the programme.
Government response
The government accepts this recommendation.
At Spring Statement, the then government announced that it would not be extending mandation of Making Tax Digital to other businesses or taxes in 2020, in order to focus on supporting businesses to transition to the new VAT service.
Progress in rolling out the Making Tax Digital VAT service has been encouraging, with over 1.3 million businesses having signed up, over 2.3 million VAT returns having been successfully submitted using Making Tax Digital-compatible software and over £26 billion in payments having flowed through the service.
The benefits that these kinds of tools can bring to businesses are clear, and over a quarter of VAT-registered businesses with turnover below the VAT threshold have chosen to join Making Tax Digital voluntarily.
Now that the VAT service has been launched, the government is reviewing plans for Making Tax Digital going forward. As part of that process HMRC is revisiting the business case to ensure that it reflects experiences from the roll-out of the service to date.
Customer service performance
Recommendation
HMRC should set targets that provide a broader overview of customer performance by 31 March 2020 at the latest.
Government response
The government partially accepts this recommendation.
Over the past year HMRC has published more operational and customer experience data and HMRC will continue to publish
/Public Release. The material in this public release comes from the originating organization and may be of a point-in-time nature, edited for clarity, style and length. View in full
here
.