Kelly Warren is a manager with MUSC's Enterprise Campaigns and University Communications. Warren volunteered to be a participant in the MUSC/AstraZeneca COVID-19 vaccine trial. She shares her experiences so that others might also feel comfortable receiving the vaccine. This is part three. Read part one here. Read part two here. Read part four here. Read part five here.
Two months ago, on Dec. 3, I received my second shot in the AstraZeneca COVID-19 vaccine trial. After my experiences with the first shot, I was a little nervous about a possible reaction. On the "sickness scale," that round really wasn't bad. However, my immune system tends to be solid, and I don't get sick often, besides allergies, so even one night of fevers and aches was a shock to my system.
After receiving the second shot, I headed back to my house and finished the work day, with half of my mind devoted to my to-do list and the other half on guard for any possible symptoms. As afternoon turned to evening, and I put away my work, my mind went on overdrive, as I no longer had work distractions. I tried to stay busy, but it's hard to turn the brain off.
Fortunately, when all was said and done, it turned out that I was worrying for nothing, as I never even felt the symptoms I'd experienced after the first shot. The only thing I noticed was a headache, but those are a frequent presence in my life, so this one was just likely a "normal life" thing.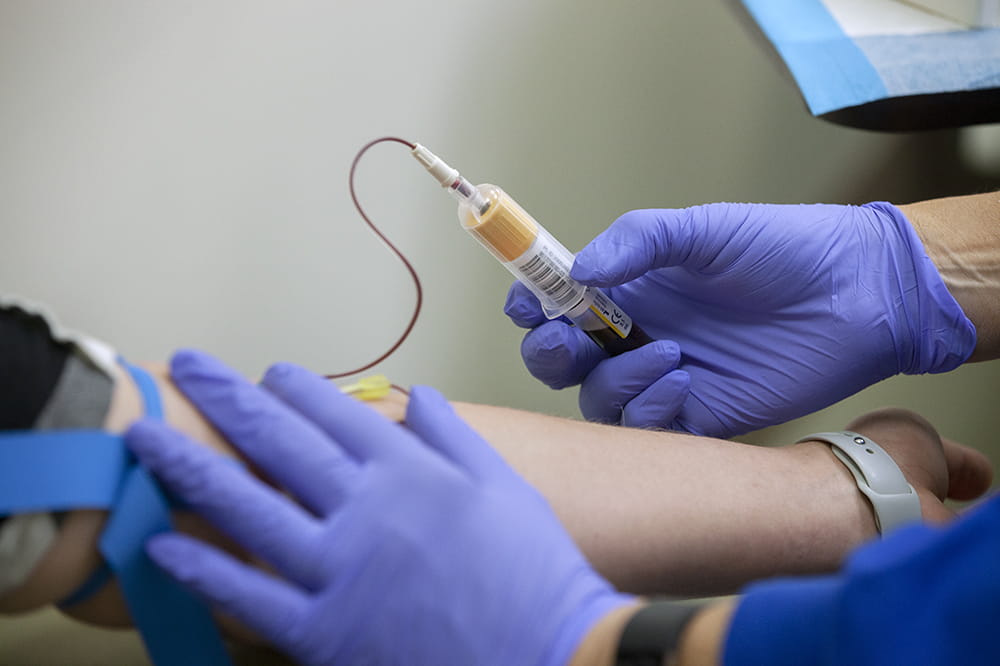 When I woke up the next morning, I was a little worried that something would crop up as a delayed reaction. But, it seemed I was all clear. The next few days I never experienced any of the chills, aches, fatigue or fever of round one. My arm where I received the shot was sore for a few days, but again, this didn't seem any different from my flu shot.
For a week after the shot, I completed my daily diaries, noting the lack of symptoms and dutifully taking my temperature. The next week, I returned to campus for another appointment. It was a quick round of questions and a small blood draw before they sent me on my way.
During my appointment, I asked where we would go from there. I was told that I would have another appointment in two weeks, similar to the one that I'd had that day. Then, appointments would be more spaced out to 30, 90 and 180 days apart.
I was also curious about when I would officially find out if I had received the vaccine or placebo and how my antibodies look. When the study was initiated, they planned to unblind this data two years from the first visit. But with vaccines being approved and distributed, I assumed this information would be released sooner. Because of my age and health, it'll be a while before I qualify to receive a vaccine. However, if I don't have antibodies from the two study "vaccines" I've received, I would certainly want to be vaccinated as soon as possible.
I learned subsequently that researchers were allowed to "break the blind" for people as they qualify to get the vaccine. In other words, the researchers told study participants now eligible for the vaccine what they received so they could make informed choices about getting the vaccines currently in distribution.
So, until I am eligible, and/or find out that I did receive it, I'll just keep masking, distancing and sanitizing, hoping for the best but not taking chances.
NOTE: Since this last appointment, I have continued with occasional appointments and digital diaries. I'm not sure when I will be eligible for the vaccine, so this temporarily concludes my entries. Stay tuned for my return, hopefully soon, after I find out what I actually received. In the meantime, stay safe, keep your masks on and spread the word to anyone with any vaccine hesitation!
/Uni Release. This material comes from the originating organization and may be of a point-in-time nature, edited for clarity, style and length. View in full
here
.