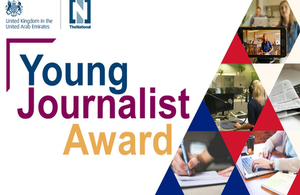 The British Embassy's UAE Young Journalist Award, a new initiative launched in partnership with The National, aims to highlight the growing talent among pupils in the UAE in media and journalism. The United Kingdom remains committed to supporting the growth of journalism around the world and particularly amongst aspiring youth. Now known as a leading regional media hub and home to a growing number of outlets, the UAE is well positioned to push forward the passion for journalism in education and youth.
A young nation, the UAE has in a short time developed an appetite for storytelling and news that has paved the way for establishment of various news organisations including The National. Headquartered in Abu Dhabi, The National is a source for regional news and analysis. There are a variety of domestic print, online, TV, and radio outlets across the UAE catering to a wide range of languages, reflecting the country's diverse demographics.
This year's award will focus on the Year of Tolerance and will invite finalists to an award ceremony with Her Majesty's Ambassador to the UAE, Patrick Moody, as well as Editor-in-Chief at The National, Mina Al-Oraibi, among other leaders in the field. Award winners will be announced at the reception and all nominated pupils will have the opportunity to attend and engage with journalists, producers, writers and industry leaders.
Application guidelines
All pupils in the UAE aged 16 to 18 are invited to submit a commentary, opinion piece or story in any format (written, photography, video or audio).
The awarded pupil will be given:
a one day work experience at The National and another day at the British Embassy in the media and communications team
an opportunity to engage with industry leaders at the award ceremony
a one-year print subscription to The National printed paper
an opportunity to have their entry published in The National
Submission details
Submissions will be assessed on their creativity, storytelling, relevance and appeal to audiences, each an important quality of good journalism today. It is important to follow the laws of the UAE (government.ae/en/media/media) when creating your project. Be sure to get permission before filming, photographing or recording any subjects and be sure to photograph or film only in permissible locations within the UAE.
pupils are only allowed to submit one piece
submissions must be in English
for written pieces only: maximum word count is 600
for video/audio only: project should not be longer than 2 minutes
for projects that use a combination of written, video and/or photography, please judge based on the above guidelines
pupils are permitted to use a project that was completed as part of their formal class work, so long as it also complies with the application guidelines for this award
Pupils must submit:
completed application form(ODT, 84.6KB)

(download and complete to submit with project)

project: written pieces may be submitted to the below email directly as a PDF file. Video and other media must be submitted through media transfer (WeTransfer) to the same email. Please include both the project and pupil name in the subject of your email/Wetransfer.
/Public Release. View in full
here
.