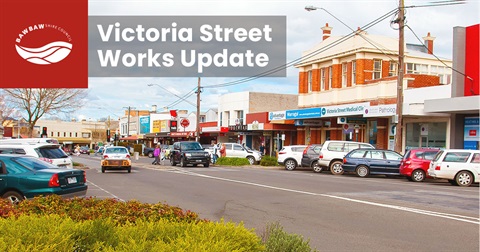 Works to repair, refresh and beautify areas along Victoria Street in Warragul will begin in early 2020.
Forming the eighth stage of the nine-stage Warragul CBD Streetscape Project, the section of Victoria Street being addressed is between Smith Street and just north of the Palmerston Street roundabout.
Works will improve function and amenity including:
Repair of the Victoria/Palmerston Street roundabout to address long-term damage from heavy vehicle use and strengthening the foundation for future use.
Replacing existing footpaths with new patterns similar to those in Palmerston and Smith Streets to improve the aesthetics and provide a better pavement to walk on.
Beautified landscaping with new trees, garden beds and plantings.
Installation of historical signage.
Refreshed street furniture and shelters at the pedestrian crossing/traffic lights.
Upgrading the taxi rank shelter to meet disability access standards.
Being a main arterial road, Victoria Street is owned and managed by Regional Roads Victoria (VicRoads). Much of the works will address footpaths and surrounding areas that tie into the road and other areas of the Warragul CBD, which are managed by Council.
The tender for the works was awarded at the Wednesday 27 November Council meeting to local contractor Mad Cat Constructions who will carry out the works valued at almost $700,000.
Works will be significantly less disruptive in comparison to other stages of the project. Many learnings from works on Palmerston and Smith Streets will be applied to accelerate the works and reduce construction presence.
There will be no change to the number of carparks along Victoria Street. There will be a reshuffle of the loading zone bays and improvements to a disabled parking bay for better access and functionality.
Additionally, Council is working with Regional Roads Victoria to explore options to improve timings and traffic flow through the pedestrian crossing along Victoria Street. The pedestrian signals are operated by Regional Roads Victoria.
At this stage, works are scheduled to commence in February 2020 and will be timed (mostly afternoon and night) to further reduce impact on traders and the community. Completion is expected by the end of March.
These upgrades have been planned to coincide with Gippsland Water main works in the same area. Council and Gippsland Water have worked closely together to plan the works to reduce impact on the community and minimise damage to existing infrastructure as a result of utility works. Gippsland Water main works should be largely completed prior to Council works commencing.
Each stage of this project is being delivered in close consultation with local businesses and shops to support Warragul's retail industry.
The final stage of the overall project will address minor improvements to Queen Street during the 2020/21 financial year.
For a detailed outline of the nine-stage project, download the Warragul CBD Streetscape Project Update – December 2019 (Print Version)(PDF, 2MB)
As noted by Mayor Cr Danny Goss
"These works will really refresh, beautify and bring new life to some of the more tired looking parts along Victoria Street such as the footpaths, street furniture, pedestrian shelters, taxi rank, and garden beds. Historical signage will be a great new edition to complement the patterned paths and celebrate the old and new in our beautiful town."
/Public Release. View in full
here
.