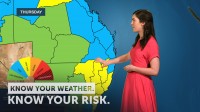 Diana Eadie, meteorologist: Hello from the Bureau of Meteorology. We're here with an update on the ongoing fire situation over parts of eastern Queensland and northeast New South Wales, with fire dangers increasing again over the coming days.
Numerous fires are scattered across the landscape, with smoke impacting many communities along the east coast of Australia.
Very high fire dangers could result in renewed fire activity over fire sites in New South Wales from Thursday and Queensland from Friday.
Dry and gusty conditions have hampered firefighting efforts in recent days, however more recently we've seen a return of south to south-easterly winds with moisture gradually extending inland yesterday and today.
This lull in fire dangers, however, will only be brief with temperatures beginning to climb again from Thursday. These warmer conditions will be accompanied by a freshening of the south to south-westerly winds, resulting in very high fire dangers over fire-affected areas in northeast New South Wales.
These stronger winds will extend into Queensland by Friday, with fire dangers increasing across the southeast.
The much warmer airmass will cement itself over southern Queensland and northern New South Wales over the weekend, with maximums up to eight degrees above average. Winds will slacken somewhat, but conditions will remain dry with no rain forecast, so the situation remains dangerous.
That's all for today.
/Bureau of Meteorology Public Release. View in full
here
.