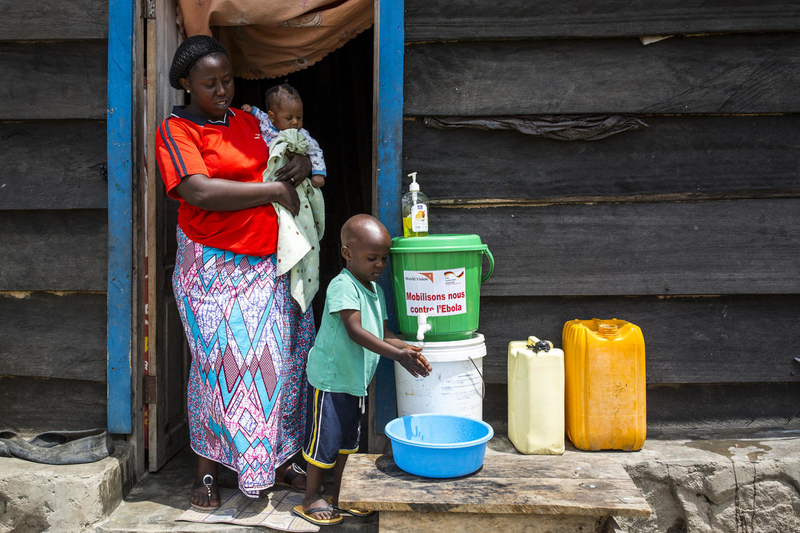 World Vision Australia CEO, Claire Rogers, has today called on the Australian government to step up and take action in the Democratic Republic of Congo (DR Congo) following the declaration of a Public Health Emergency of International Concern by the World Health Organisation.
"Today's declaration by the World Health Organisation could not be clearer: the Australian Government must step up and join other world leaders to fund the DR Congo emergency response," Ms Rogers said.
"How far does this have to go and how long must the crisis last before we start to care?
"It is our responsibility as one of the wealthiest nations to help address humanitarian crises like the one crippling the DR Congo right now. Australia has ignored the dire needs of the DR Congo for years, and the Ebola crisis has escalated since it was first identified in the DR Congo 11 months ago."
World Vision's Ebola Response Director in the DR Congo, Moussa Sangara, says: "Ebola is a violent, terrifying disease. It has already claimed thousands of lives, including hundreds of children, who make up about 30 per cent of Ebola cases.
"We welcome the WHO's announcement today, which comes at a critical time as the crisis escalates and recent cases have been recorded in Goma and possibly Uganda. It will unlock much-needed funding to help health workers on the ground delivering life-saving aid in the midst of two wars: the fight against Ebola, and the ongoing conflict in north eastern DR Congo."
Humanitarian organisations are working around the clock to limit the spread of the deadly virus in the volatile North Kivu zone.
The region is suffering from militia fighting and attacks on Ebola Treatment Centres which have severely impacted health operations. Since January, there have been almost 200 attacks on staff and clinics, with seven health workers killed.
World Vision is calling for more funding to meet all urgent humanitarian needs in the Ebola zone and improve community acceptance of the response.
There have now been 2500 confirmed and probable cases of Ebola in the DR Congo, and 1676 deaths – including that of a pastor in Goma on Tuesday. His was the first case of Ebola in the major trading city bordering Rwanda, sparking fears that the virus could soon spread into neighbouring countries.
"If the international community doesn't increase its support, we can expect the Ebola crisis to escalate. How many more people must die, families be torn apart or children orphaned?" Ms Sangara said.
"Just five years ago more than 11,000 people were killed in the West Africa outbreak, and we are on the brink of a second catastrophe on a similar level. World leaders cannot afford to wait until Ebola is threatening their own borders before acting. The declaration today should be a wake-up call."
World Vision is working in north eastern DR Congo, including in Goma, to train pastors and imams on how to prevent contracting Ebola. As trusted members of the community, they are among the best placed to break the chain of transmission. We have already reached more than 400,000 people through this programming.
World Vision staff in western Uganda and South Sudan are on standby preparing to respond should Ebola leap across borders again.
/Public Release. View in full
here
.