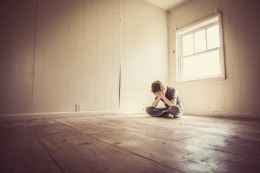 The first results from a study of South Australian children over the past 30 years shows that just over seven per cent have been the subject of a Child Protection investigation at some time from birth to 18 years. This is about10 times the rate identified in annual reporting.
The study is the first analysis of long-term data of the SA population and links de-identified child protection data with birth registry, perinatal statistics, deaths, hospital, schools and NAPLAN data for a cohort of almost 609,000 children.
Researchers have found that over the 30-year period of the data set, the percentage of children involved with the child protection system in SA increased between 1986 to 2003 before stabilising and in some instances declining.
Funded by the NHMRC and working closely with the SA Department for Child Protection, lead researcher Professor Leonie Segal says the research provides invaluable information on how resources are being deployed and where policy improvements could and should be made.
UniSA's Chair in health economics and social policy, Prof Segal says while the study shows the child protection system is identifying many children at risk of harm, only a small proportion will enter out-of-home care.
"The anomaly here is that a huge proportion of the Child Protection budget, some $425 million in 2017-2018, was spent on children in out-of-home care, those who have already been removed from risky family environments, but just $34.4 million was spent on intensive family support services for children and families reportedly still at risk," Prof Segal says.
"Similarly, while research has shown that a cross-portfolio response is crucial in tackling child protection issues, our own studies have revealed that just $25 million was allocated to community child and adolescent mental health, when we know poor mental health and traumatic relationships are a common feature in families where children are at risk."
In accordance with global research that shows marginalised and disadvantaged communities have higher rates of at-risk children, Prof Segal says the SA study showed Aboriginal children were more likely to come in contact with the child protection system.
"Rates of entry to out-of-home care (mostly with extended family under kinship care or other families in foster care) are 1.5 per cent for non-Aboriginal and 13 per cent of Aboriginal children, for periods from one day to an entire childhood," she says.
"What is significant about this work is that it is uncovering important trends over time and across childhood – information that is not clear from annual snapshots of the system – and importantly, we have a child protection Department in South Australia that is really keen to learn from that information.
"Our research team is working on a range of studies to understand the relationship between different categories of involvement in the child protection system and the social, health and economic outcomes across childhood, adolescence and into adulthood.
"Ultimately we hope the work serves to underpin policy decisions that will improve life outcomes for at-risk children and for families that are struggling."