Rescuers raced against time early on Saturday to find survivors of a fresh nightly Scud missile attack in Azerbaijan's second largest city of Ganja, which the country said killed at least a dozen people and wounded at least 50 others, according to Reuters and Radio Free Europe (RFE/RL).
The originally reported death toll rose from 6 to 10 and then to 13. There were 3 children among the dead and 5 among the wounded. 2 children were still missing at the time of reporting.
RFE/RL said the missile strike in the early hours of October 17 hit a residential area in the densely populated city while people inside were sleeping. 
A Soviet-made Scud (R-17) tactical ballistic missile destroyed or damaged about 20 residential buildings in the city, the Associated Press reported.
Rescuers periodically called for silence so they could detect sounds of survivors as the hours passed, the Guardian reported from the site. About 100 rescuers are working to reach people believed to be trapped under the rubble, BBC Azeri said.
Another missile attack around the same time hit the city of Mingachevir – the country's third most populous city, where a large dam is located, RFE/RL's local service reported. No damage was confirmed there.
According to media reports and photos from Azerbaijan's presidential aide, the missiles are of the Scud series, a Soviet-made ballistic missile that became known in the West after Iraq fired them on Israel during the Gulf War. According to Wikipedia, Armenia possesses 8 launchers, 32 missiles of this type.  This missile type was reverse-engineered and manufactured by North Korea as Hwasong-5/6 which was later acquired and locally produced by Iran as Shahab 1/2. Russia also sold to multiple third-world countries. 
According to ANAMA missiles fired to Ganja is SCUD/Elbrus Operative-Tactical Ballistic Missile. Fragments from the impact zone prove it. Targeting SCUD missile against densely populated civilians shows complete immorality and schizophrenic mindset of Armenia's pol-mil leaders pic.twitter.com/zXGbKmyvzS

— Hikmet Hajiyev (@HikmetHajiyev) October 16, 2020
Armenian authorities have neither denied nor accepted the responsibility, but the separatist authorities in Nagorno-Karabakh put out a statement listing alleged "legitimate" military facilities in the city of Ganja, although they stopped short of claiming direct responsibility for the attack, the Associated Press reported. 
Azerbaijan insisted Scud missile launchers only exist in the territory of Armenia, and couldn't have been fired by the separatists.
The fresh attack comes after media reports on October 11 said nightly missile strike killed at least 9 and injured scores in the city of Ganja.
Earlier Russia had brokered a humanitarian ceasefire meant to allow ethnic Armenian armed forces and Azerbaijan to swap prisoners and bodies of people killed in two weeks of fighting over Nagorno-Karabakh, which is internationally recognised as part of Azerbaijan but controlled and populated by ethnic Armenians, according to Reuters. However, the new ceasefire has frayed quickly as both sides accused each other of fresh attacks.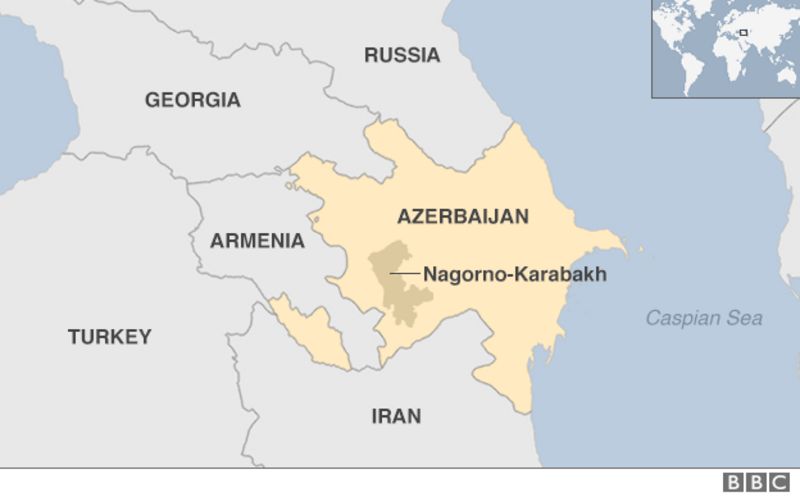 The city of Ganja lies 100km (62 miles) from the frontlines of Nagorno-Karabakh, over which Armenia and Azerbaijan went to war in 1988-94, eventually declaring a ceasefire.
The latest outburst of fighting began on Sept. 27 and has involved heavy artillery, rockets and drones, risking a humanitarian disaster, especially if it draws in Russia and Turkey.
Turkey pledged support for Azerbaijan while Russia, traditionally seen as an ally of Armenia, called for an immediate ceasefire and talks to stabilise the situation.
The conflict in the Caucasus Mountains has remained unresolved for more than three decades, with periodic bouts of fighting.
The region called Nagorno-Karabakh lies within Azerbaijan and is internationally recognised as part of Azerbaijan but has been under the control of ethnic Armenian forces backed by Armenia since a war there ended in 1994.
According to BBC, stalemate has largely prevailed since a 1994 ceasefire after the war displaced an estimated one million people and killed about 30,000.