Rangeland goats have proven to be a more profitable enterprise than trading cattle during drought for central western Queensland producers, Anita Dennis and Joe Taylor.
Key Points:
A three-year benchmarking project has provided key insights for goat producers, Anita Dennis and Joe Taylor
Benchmarking has identified strengths and any potential weakness in the business
An enterprise comparison analysis showed rangeland goats to be more profitable than cattle or sheep during drought, and goats provided far more stable profits relative to sheep and cattle.
Rangeland goats have proven to be a more profitable enterprise than trading cattle during drought for central western Queensland producers, Anita Dennis and Joe Taylor.
That's one of the insights Anita and Joe have gained from participating in a three-year Meat & Livestock Australia (MLA) goat enterprise benchmarking project.
Based at 'Coolagh', near Blackall, Anita and Joe today run a managed rangeland goat herd and a Kalahari Red seedstock herd, as well as wool sheep and a cattle trading enterprise behind wild dog exclusion fencing.
Prior to 2010, Anita and Joe were on an enterprise mix roller coaster after being forced to move out of sheep and into beef cattle due to pressure from wild dogs.
The 11,569 ha Coolagh comprises a mix of soil types including sandy loams and heavy black soil, while the main pasture types are buffel and Mitchell grass.
Anita and Joe weren't convinced that a beef-only enterprise was the best way of utilising their resource base, so they investigated options for the re-introduction of alternative enterprises.
In 2011, after analysing the business case, they considered there were adequately high returns from livestock enterprises susceptible to wild dog attacks to warrant investment in dog fencing.
The Barcoo and Alice rivers, which both run on Coolagh, make dog proofing extremely difficult, if not impossible, over the part of the property where they flow. This country, representing approximately 20% of the total area, was treated separately to the remaining area.
In 2011 the property, exclusive of the flood out zones which consist primarily of Gidyea and downs country, was prioritised for exclusion fencing on the basis that returns could be increased from running alternative enterprises relative to beef. More recently, the whole property has become part of a larger dog exclusion fence cluster.
Adding goats to the enterprise mix
Anita and Joe's interest in goats as a managed enterprise started with wild harvested goats.
The wild goats moved unrestrained in the channel country and would be harvested as the opportunity arose.
Once harvested, the goats were trucked to Western Meat Exporters at Charleville, 400 kilometres away.
Goats and sheep became part of the core enterprise mix once the exclusion fence was complete.
The wild harvested goats moved from being processed to becoming the core breeding animals of a managed herd which today comprises approximately 6,000 head.
The enterprise mix is still changing, with the sheep enterprise contracting and the goat enterprise growing over the last three financial years.
Long-term rainfall at Coolagh is 425 millimetres, however the three-year average over the period of the benchmarking project from 2016 to 2018 was 345mm.
Rainfall varied over this period from 277mm to 405mm.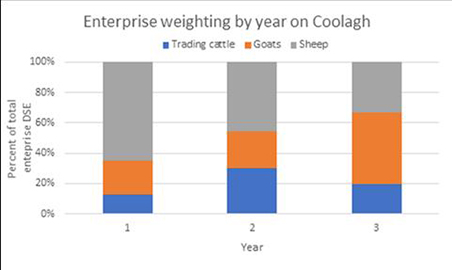 Benchmarking the goat enterprise
Joe and Anita contributed their data to the MLA goat enterprise benchmarking project to understand how they were performing relative to other producers, but more importantly, to identify the strengths in their business and the opportunities for improvement.
One of the benefits of their involvement, despite it not being part of the project, was their ability to take the goat benchmarking data and compare it with the performance of their other enterprises.
"We record all our inventory by livestock species as well as by livestock class within each species," Anita said.
"In addition, we record natural increase and purchases and sales by livestock class. This makes the job of calculating inventory change using market values and livestock numbers at opening and closing simple and effective."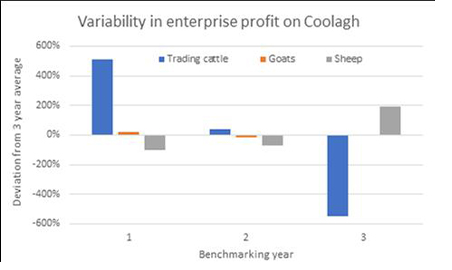 Enterprise comparison analysis
The enterprise comparison analysis on Coolagh revealed some valuable insights for Joe and Anita.
It found that over the three benchmarked years, goats provided far more stable profits relative to sheep and cattle.
Cattle profits have only been slightly lower than goats on average, but the volatility in profitability is significant.
In drought, goats have proven to be far more profitable than trading cattle. And while trading cattle still has a place, profits tend to be highest when feed supply is high.
Of all the enterprises on Coolagh, goats have returned the highest three-year profits of all enterprises, reinforcing observations about the suitability of goats to the rangeland environment.
Identifying opportunities
Benchmarking has shown Anita and Joe's labour efficiency is lower than average compared to other rangelands goat operators.
"However, this is most likely due to the additional time that comes with the extra operational handling and management that we do," Anita said.
"For example, we tag all kids with a NLIS tag despite it not being necessary from a compliance perspective. We find that it adds value to be able to identify goats to our management.
"Our labour requirements have also increased as we have moved to introduce a small Kalahari Red seedstock herd to our business.
"This increases the need for labour to ensure that objective breeding records are kept. We think that Kalahari Reds as a breed are well suited to our environment and will provide the additional growth to the existing rangelands herd while still being resilient enough to withstand our climatic conditions.
"The benchmarking has been great as it has identified a potential weakness in the business in labour efficiency.
"When we looked into this further we weren't worried that we had lower labour efficiency as we think that the cost of additional time will be more than offset by the benefits in production that are coming from the additional investment in time.
"This is exactly the type of information and insight that we hoped the benchmarking would deliver."
/Public Release. This material from the originating organization/author(s) may be of a point-in-time nature, edited for clarity, style and length. The views and opinions expressed are those of the author(s).View in full
here
.