An investigation by Unearthed has found that garment waste from clothes made for Nike, Ralph Lauren, Diesel and other big brands is being burnt in brick kilns in Cambodia. As the majority of these garments are likely to be made from polyester, the burning of this plastic exposes bonded workers to toxic fumes and microplastic fibres. See the fashion brands' replies here.
A closer look
Despite the claims about sustainability by big brands, today's fast fashion system depends on shifting its waste problem onto countries in the Global South where the lack of regulation and enforcement has led to the exploitation of workers and the environment.
In the last decade, Greenpeace's Detox My Fashion campaign has exposed the pollution of waterways in the Global South with hazardous chemicals and showed how the impacts of pollution in the supply chain are felt disproportionately in these countries.
This Unearthed investigation shows that without transparency about actual practices on the ground, claims of zero waste and worker standards in supply chains, even including the avoidance of modern slavery, are no more than greenwashing.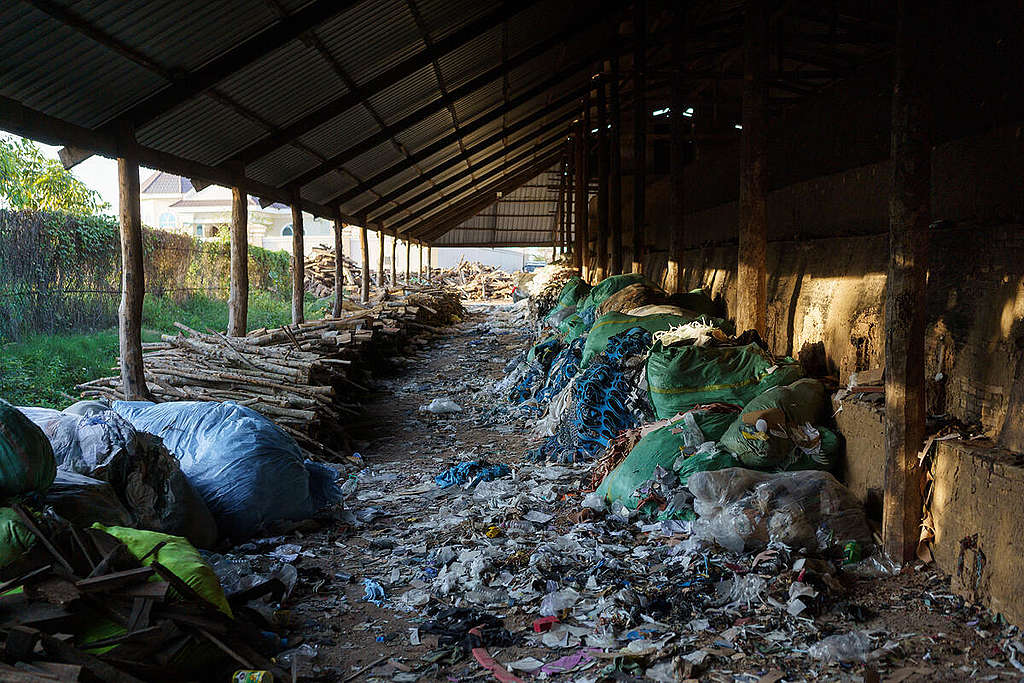 For fashion consumed in the EU, 84.7% of the environmental impacts take place outside the EU, mainly in Asia and Southeast Asia, including Cambodia. The problem in Cambodia has been heightened by the pressures of Covid, where brands suddenly dropped their orders, leading to the closure of some factories and greater insecurity for workers already impacted by the impacts of climate change on farming and fisheries. Many have been forced into debt bonds with brick kilns in order to survive – a form of modern-day slavery.
The fashion industry is already notorious for its post-consumer waste; earlier this year a team from Greenpeace Africa and Greenpeace Germany went on a research trip to Kenya and Tanzania to find out where many of the cheap clothes produced by fast fashion brands end up once their short lives are over. They found that at least 40% of the donated second hand clothes exported to East Africa were dumped in huge dump sites, burnt on open fires, discarded along riverbeds and washed out into the sea.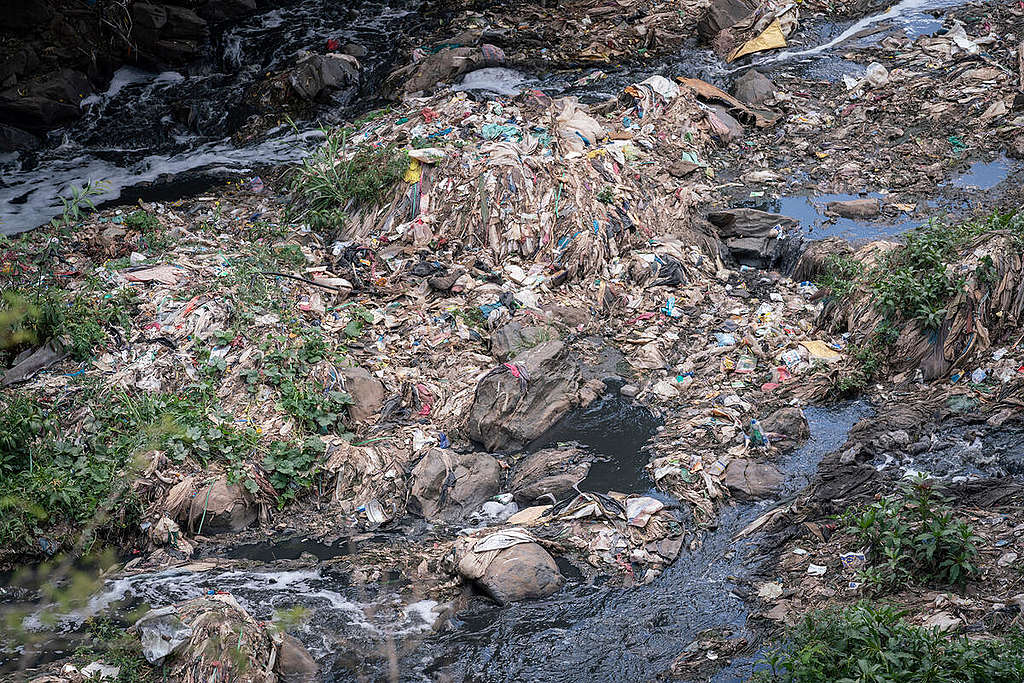 But the impacts of waste in fashion supply chains are just as concerning – and this is a problem that is more easily controlled by brands. Wastefulness in clothing supply chains is designed into the linear fast fashion system as a result of the incredible pressures that brands put on their suppliers to deliver their orders to tight deadlines at minimum cost.
A 2017 survey found that at least 25% of purchased materials went to waste, with some factories wasting nearly half of the materials brought in. These materials are for the most part perfectly usable but tight timelines and minimum orders mean that neither suppliers nor designers have the space to make effective use of them, and instead create waste at a level that would not be tolerated in other industries.
What needs to happen
When the EU implements its new textiles strategy, it has the opportunity to make full transparency of the environmental impacts and conditions for workers in fashion supply chains a legal requirement. While the EU must now make sure that both environmental and social problems are regulated in global supply chains, we need global fashion brands to act on their wastefulness and stop their exploitation of the countries and people of the Global South. The industry needs to make a U-turn away from fast fashion, and start producing fewer clothes that are also designed to be better quality, longer lasting, repairable and reusable.
If fashion brands can finally give up their linear business models, change their mindsets that are stuck on the delivery of new products at all costs, and become providers of services to maintain, repair, re-sell and share clothes, we will have a chance to make exploitation a thing of the past while preserving our precious resources and beautiful planet for future generations.
Viola Wohlgemuth is a Circular economy and Toxics Campaigner at Greenpeace Germany.
/Public Release. This material from the originating organization/author(s) might be of the point-in-time nature, and edited for clarity, style and length. Mirage.News does not take institutional positions or sides, and all views, positions, and conclusions expressed herein are solely those of the author(s).View in full
here
.