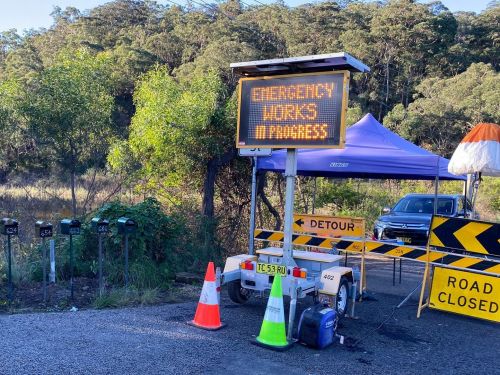 Hawkesbury City Council is establishing a new infrastructure recovery team to prioritise the repair of roads damaged by floods following a decision by the NSW and Commonwealth Governments last month to allow the extra funding under the Disaster Recovery Funding Arrangements.
The new team will be tasked with repairing the estimated $50m-$70m in required road repairs stemming from the 2021 and 2022 floods. This team will allow for a focused approach to flood repairs without affecting the delivery of other important budgeted projects.
Recruitment for the new temporary team is already underway and the funding has been guaranteed for up to two years to ensure that essential repairs are seen through to completion.
Mayor Conolly said the new funding and the formation of the infrastructure recovery team is a major win for the community.
"I have been fighting for this funding since March and have spoken to our local MPs, NSW Ministers as well as to the Premier and former Prime Minister directly about this need – it's a relief to know that they have heard and understood the gravity of what Council has been left to deal with on behalf of our community"
"Council is acutely aware of the frustration in the community at the state of the roads following two years of floods. I, along with many of our staff, drive these roads every day," Mayor Conolly said.
"With up to $70m worth of repairs needed, it is important that we have a dedicated and funded team to focus on delivering these repairs as quickly as possible without impacting the delivery of other important projects across the City.
"Council is continuing to work closely with State and Federal agencies to accelerate road repairs in the Hawkesbury as much as possible, which is why in March, I set up a regular forum for Robyn Preston MP, Susan Templeman MP and myself to discuss these issues."
Council anticipates that the costs of road repairs arising from the floods will also be covered by Disaster Recovery Funding.
Since March, Council has been carrying out geotechnical and engineering inspections on damaged roads which are essential to inform upcoming repair and reconstruction works, as well as carry out immediate reconstruction where possible and temporary emergency repairs where necessary.
The following projects have so far been identified and are underway:
Major Projects
Under Construction
Greens Road, Lower Portland
Replacement of Upper Colo Bridge
Design Stage
Cornwallis Road, Cornwallis – Replacement of damaged 2700mm diameter corrugated pipes. Geotechnical investigation completed. Design underway.
Thomas James Bridge, Settlers Road, Wiseman Ferry – Surveying, geotechnical, and ecologist report completed. Concept design underway.
Upper Colo Road – Reconstruction of damaged slopes and road pavement. Geotechnical report completed. Review options next week
Minor Projects
Package 1 – Design Stage
Valley Way, Tennyson
Cornwallis Road, Richmond Lowlands
Pitt Town Bottom Road, Pitt Town
West Portland Road, Sackville
Grono Road, Wilberforce
Sackville Road, Sackville
Cornwallis Lane, Richmond Lowlands
Cupitts Lane, Cornwallis
Bensons Lane, Richmond Lowlands
Package 2- In the process of calling quotations
Council is in the process of seeking suitably experienced and qualified design consultant to undertake to develop detailed design of the following roads and cost estimate services of the various elements to support the detailed designs.
Mountain Lagoon Road, Bilpin (various sections)
Wollombi Road, St Albans (various sections)
Webbs Creek Road, Webbs Creek (various sections)
Tizzana Road, Sackville (various sections)
Percival Street, Clarendon (various sections)
Colo Heights Road, Upper Colo (various sections)
Gross Vale Road, North Richmond (various sections)
Package 3 – Inspection completed
Comleroy Road, Kurrajong (gravel section) – temporary works commence this week
Council is providing regular updates on road repairs across our City, including Greens Road at Lower Portland, Upper Colo Bridge, and the hard-hit regions of Cornwallis, Colo and the Macdonald Valley, at www.hawkesbury.nsw.gov.au/emergency/flood-emergency/flood-project-updates
/Public Release. This material from the originating organization/author(s) might be of the point-in-time nature, and edited for clarity, style and length. Mirage.News does not take institutional positions or sides, and all views, positions, and conclusions expressed herein are solely those of the author(s).View in full
here
.