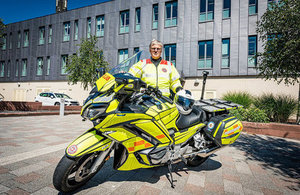 The Sellafield Ltd Peer to Peer safety scheme encourages employees to talk to each other about safety by reinforcing good practice and challenging unsafe behaviour.
And for every conversation recorded, £1 goes into a charity pot to be shared between good causes nominated by employees and trade union representatives.
Euan Hutton, Sellafield Ltd's chief nuclear officer, said:
Safety and security are our overriding priorities at Sellafield. When it comes to safety, it's good to talk.

That's why we encourage our workforce to start a conversation when they spot a safety concern or want to share good safety practice.

It's all about looking out for each other and feeling comfortable in challenging each other and being challenged.

It helps us look after each other, raise the bar on safety, and make a real difference to our communities.
Sellafield Ltd helped to launch Blood Bikes Cumbria in 2014 contributing towards the cost of their first motorbike.
Since then it has grown into an essential service for the area. Last year Blood Bikes Cumbria carried out 160 emergency runs. The first 5 months of this year has already exceeded last years total with 170 emergency runs recorded so far.
Through the generosity of many organisations and businesses and through their own fundraising efforts, the charity now owns 6 motorbikes and 4 cars to deliver this essential service.
Gareth Cresswell, Fleet Manager at Blood Bikes Cumbria explained:
Our annual running costs exceed £66,000, this covers the fuel, insurance, maintenance and public liability for our vehicles as well as tracking devices and storage.

The money given to us through the peer to peer scheme will go towards those costs, so we are extremely grateful to all those Sellafield Ltd employees who raise peer to peers and generate a cash injection into deserving charities.

The life span of our bikes is around 4 years or 50,000 miles whichever is reached first, then they need to be replaced, continued support is imperative if this service is to continue year on year, so every penny we receive is very much appreciated.
Not only has Sellafield Ltd helped Blood Bikes Cumbria with a cash injection, but over 20 employees give up their time to volunteer at the charity, making a total of 110 volunteers ranging from riders, drivers, fundraisers and controllers.
/Public Release. View in full
here
.